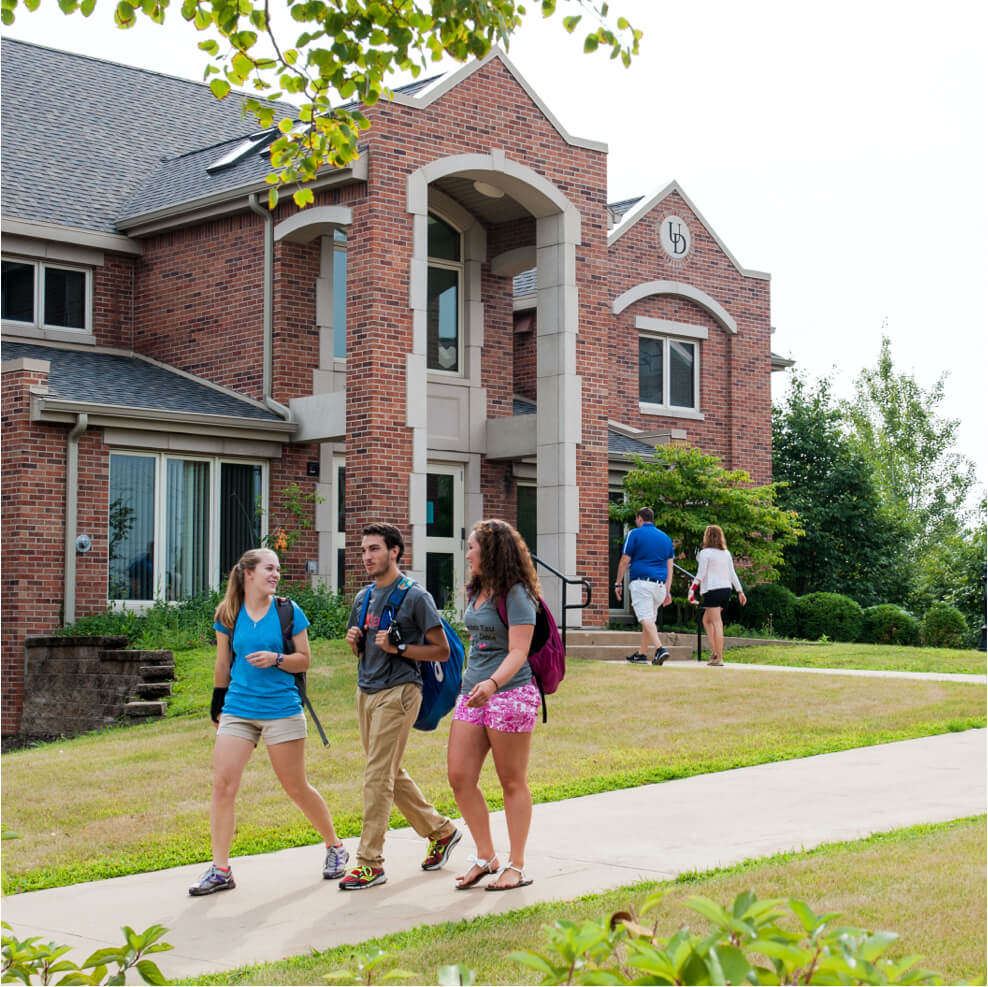 Residence Life

Make yourself at home.
A Space to Live, Learn, Play, Grow
The community of residence halls, on-campus, and off-campus housing is the backdrop to your UD education. Our mission is to facilitate dynamic learning environments that feel like a home away from home. More information about UD Residence Life can be found in the Student Handbook.
Food Service
We offer a flexible on-campus meal plan service to students featuring a variety of dining options and menu alternatives available through our dining services. University policy requires residents of Aitchison, Cassat, Donnell, and Chlapaty halls to enroll in a meal plan. For upperclass students living in other UD housing, the purchase of a meal plan is optional. Park Village Apartments, Townhouses, and campus houses are equipped with full kitchens.
Vending Machines
Each residence hall is equipped with snack and soda vending machines for your convenience.
Laundry Facilities
Each residence hall is equipped with full-service laundry rooms; a charge of $40 per semester will be added to your student account for use of the laundry room in your housing unit.
Electronic Services
Computers are permitted in individual residence hall rooms and access to the internet is provided. All computers and other electronics (except cell phones) must be registered with the HelpDesk prior to use. For more information on internet accessibility, please visit Technology Services or contact the Technology Help Desk at 563.589.3737.
Parking
Limited parking spaces are available on campus. Students must register their vehicles and purchase parking stickers within 24 hours of bringing a vehicle on campus from the Office of Safety and Security in Smith Hall to park on the University property. Please see Vehicles and Parking for additional details, policies, and lot locations.
US Postal Service
All students are assigned an on-campus mailbox within the Campus Post Office in the Heritage Center. There is a $5 fee for your personal mailbox key.
If you plan to ship belongings to UD, please ensure that they will arrive after you.
All mail and packages must be addressed as shown below. Failure to include "University of Dubuque" and your campus post office (CPO) box number could cause delivery issues with the U.S. Postal Service:

(Your Name)
CPO Box #_______
University of Dubuque
2000 University Avenue
Dubuque, IA 52001-5099
Wondering how much it costs to live on campus?