University of Dubuque Announces Retirement of Stan Zweifel as Head Football Coach
By Paul Misner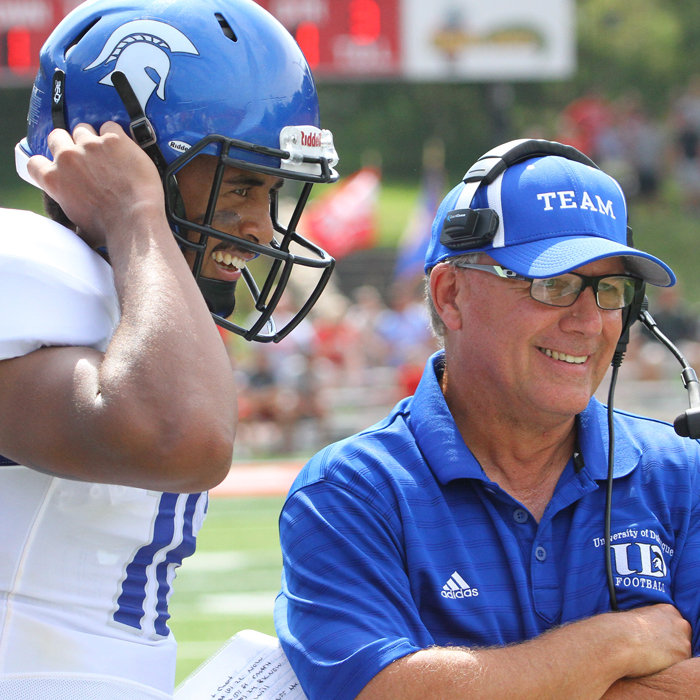 DUBUQUE, Iowa - The University of Dubuque has announced the retirement of head football coach Stan Zweifel after coaching football for his 50th season overall and 14th season at UD. The University has named former Dubuque Senior High School Head Coach Dale Ploessl as interim head coach and will begin an expedited national search for their 21st football coach in the school's history.
Zweifel joined the University of Dubuque in December 2008. Under his tenure, the Spartans won the 2011 and 2015 Iowa Conference Championships, qualified for the 2011 and 2015 NCAA Division III Championships, and tied for second place in the Iowa Conference multiple times (2012, 2016, 2018). Twice Zweifel was named Iowa Conference Coach of the Year (2011, 2015) and was a finalist for the Liberty Mutual National Coach of the Year (2011).
"I will be forever grateful for Coach Zweifel, and his impact on our football program and for his contributions to the entire University," added President Jeffery F. Bullock. "Stan is a consummate football coach; hard-working, a tireless recruiter, an enthusiastic presence, and a mentor to innumerable young men. He has served the University and its Mission with enthusiasm and passion. He will be greatly missed on our campus, and I will personally miss him as a friend and colleague."
Prior to joining the Spartans as head coach, Zweifel was the assistant head coach/offensive coordinator at Minnesota State University-Mankato where he helped lead the Mavericks to a 9-3 season in 2008, an NSIC-South Division Championship, and a berth in the 2008 NCAA Division II Football Championships. Prior to being a member of the Maverick coaching staff, Zweifel was the assistant head coach and offensive coordinator at the University of Wisconsin-Whitewater for 16 seasons. During that time, the Warhawks enjoyed unparalleled success. They won six WIAC Championships and played in 12 NCAA Division III playoff games. Those culminated into two NCAA Division III National Championship games in 2005 and 2006.
"I have had the pleasure of knowing Coach Zweifel and his family for over 30 years," commented Nelson Edmonds, vice president of student engagement and intercollegiate athletics. "Like many who have known him, he has been a valued colleague, trusted mentor, and more importantly, a friend. The impact he has made on the campuses and communities he has served is invaluable, and the impact made in the lives of countless student-athletes and coaches has been transformative and will be carried on for many years to come. On behalf of UD Athletics, a heartfelt thank you to Coach Z and Diane and the Zweifel family!"
Zweifel was named the Wisconsin Football Coaches Association Assistant Coach of the Year twice and was a finalist for National Assistant Coach of the Year twice. In 2008, Zweifel was inducted into the Wisconsin Coaches Association Hall of Fame. In addition to the success Zweifel enjoyed as a part of his accomplished coaching staffs, he has also written six books on offensive football and has produced 29 videos on the technical aspects of quarterbacks, wide receivers, and offensive line play. He has also presented at the American Football Coaches Association (AFCA) national clinic and has twice been featured in AFCA national publications. The AFCA made Coach Zweifel the first University of Dubuque football coach to have his technical and drill work published by the AFCA in the AFCA Technical Manual 2009. Zweifel is nationally known for his clinic lectures, as well as being a highly sought camp director across the country.
Coach Zweifel has been married to his wife, Diane Heimerl Zweifel, for 47 years. She has been a dental hygienist for 48 years. The Zweifels have four children. Saree was a teacher in San Diego, California, but now owns her own business, 'Girls On Target', and teaches yoga in San Diego. She graduated from the University of Minnesota and was a four-year letterwinner for the Golden Gophers in track and field. Saree and her husband, Steve, reside in San Diego with their children, River and Sage. Shannon, a 2008 graduate of University of Wisconsin-River Falls, was a three-time All-American in track for the Falcons. She is a teacher and coach in San Diego, California. Michael is a 2011 graduate of UD and spent the summer of 2013 playing for the Vienna Vikings in Europe. He helped the team win the European Football Championship after starting on both sides of the ball as a WR and DB. Michael is the founder, owner, and head of sport performance at Building Better Athletes, LLC since 2012. He earned his master's degree in Kinesiology from the University of Texas at Tyler in 2015 and was the wide receiver coach at UD since February 2022. In August 2016, he married Jennifer Fischer (C'14), who was a four-year letterwinner on the women's basketball team for the Spartans, and they have a daughter, Ainsley. Recently the couple relocated to La Crosse, Wisconsin, where Michael is an assistant with the UW-La Crosse Eagles football team. Zweifel's youngest son, Mark, graduated in May 2013 from UD where he majored in business. He is married to Ashley Blitzen (C'13), and they have a daughter, Teagen. Mark works for the McKesson Corporation as a medical business analyst and completed his master's degree in sports management from the University of Illinois - Urbana-Champaign campus in 2016.
Zweifel graduated from Evansville High School in 1970 where he was a three sport letterwinner. He graduated from UW-River Falls in 1974 as an eight-time letterwinner, four in football and four in baseball. Upon graduation, Zweifel became the head football coach at Markesan High School. Zweifel was the head coach at Markesan High School, New Ulm High School in New Ulm, Minnesota, Yankton College, and the University of Minnesota-Morris. He was also the offensive coordinator at Northern Colorado University, Minnesota State University-Mankato, and the University of Wisconsin-Whitewater.
Zweifel helped produce 36 All-Americans, 170 All-Conference players, and four Iowa Conference MVPs. Seventeen players have continued on to play professional football. He trails just Moco Mercer in career victories at UD. Mercer coached from 1939-1961 and finished with a mark of 95-65 overall and a conference record of 79-48-6.
Coach Zweifel Record at UD
YEAR
OVERALL
CONFERENCE
2009
5-5
4-4
4th place
2010
4-6
3-5
6th place
2011
9-2
7-1
1st place * ^
2012
5-5
4-3
2nd place
2013
5-5
4-3
3rd place
2014
4-6
3-4
5th place
2015
8-3
7-0
1st place *
2016
8-2
6-2
2nd place
2017
6-4
4-4
4th place
2018
7-3
6-2
2nd place
2019
7-3
6-2
3rd place
Spring 2021
1-0
1-0
N/A
2021
6-4
5-3
4th place
2022
6-4
6-2
2nd place
2023
5-5
5-3
4th place
TOTAL:
86-57
71-38
* IIAC Coach of the Year
^ West Region Coach of the Year