Spartans of UD - Brooke Bunjes
By University Relations Staff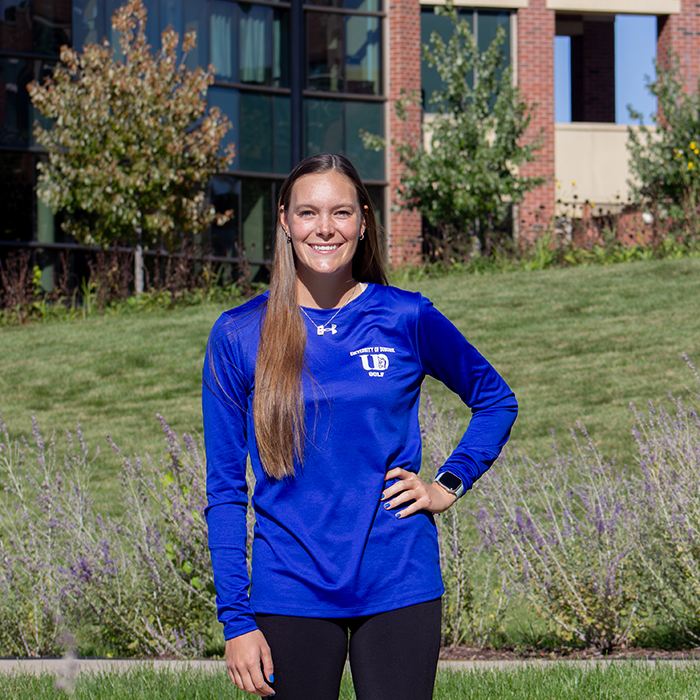 Spartans of UD highlights what makes the University of Dubuque special - the people.
Brooke Bunjes, of Rockford, Illinois, is a senior business major and member of the women's golf team. With the team's American Rivers Conference (A-R-C) championship win earlier this week, Bunjes has been part of three championship teams and won three tournaments while a golfer at the University of Dubuque. She is also a four-time A-R-C All-Conference golfer.
How did you start playing golf?
"I started playing golf at a young age. My dad has always played golf and introduced that to me from the early years of life by giving me my first club at the age of two. As I got older, I was in LPGA camps and began to take lessons. I played on my first team in middle school as well as in tournaments throughout the summers from middle school to senior year of high school. I was always told by my dad that I would make lifelong friends from playing golf and this has been true. I have always enjoyed the competition as golf is a team as well as an individual sport."
As a senior, what advice did you share with your teammates before the American Rivers Conference Women's Golf Championship on October 7 - 9, 2023, at the Ames Golf & Country Club in Ames, Iowa?
"Before the A-R-C Championship, we spent a lot of time together as a team working on our game as well as building team chemistry. One thing we really focused on this year was playing for each other and being ourselves on the course. Each day we talked about staying focused and keeping positive energy throughout our rounds. We have worked hard all year for those couple of days and it was our time to go out and see all of the work pay off. Another thing we talked about at this tournament as well as every other is getting better the next day and cleaning up some small mistakes we may have made. We were able to come together as a team and see everything we've done come together."
How did you prepare for the championship?
"To prepare for this championship, it starts from day one every year. One thing that our coach has talked about with us is showing up to practice to get 1% better every day. Our team did a great job of that this year. Everything we practiced, we were able to achieve on the course. We do a lot of short game throughout the season and this has been a huge help to all of us in our games. Because of all the practice we have had, we felt confident going into the tournament and fully prepared to play."
What life lessons have you learned from your time with the Spartans women's golf team?
"I have learned that no matter what, this team will support each other through the ups and downs. We have a special group this year and have been able to accomplish many goals that we had set before the season started. Being positive and motivational to one another has helped us tremendously on and off the course. This is something I will take with me even after I graduate. Everyone is going to have a bad day and the people you surround yourself with can either make it better or worse, and this team has turned my bad days into good ones."
In your opinion, what makes the University of Dubuque unique?
"I think that UD is special because of all the opportunities it provides in and out of the classroom. All of our professors are so caring and willing to help students at any time with anything. As it is a small school, it feels like we are one big family and there is support for everyone all around. If I could go back to senior year in high school when I was being recruited, I would choose UD again without a doubt."