Spartans of UD - Sidney Kohl
By University Relations Staff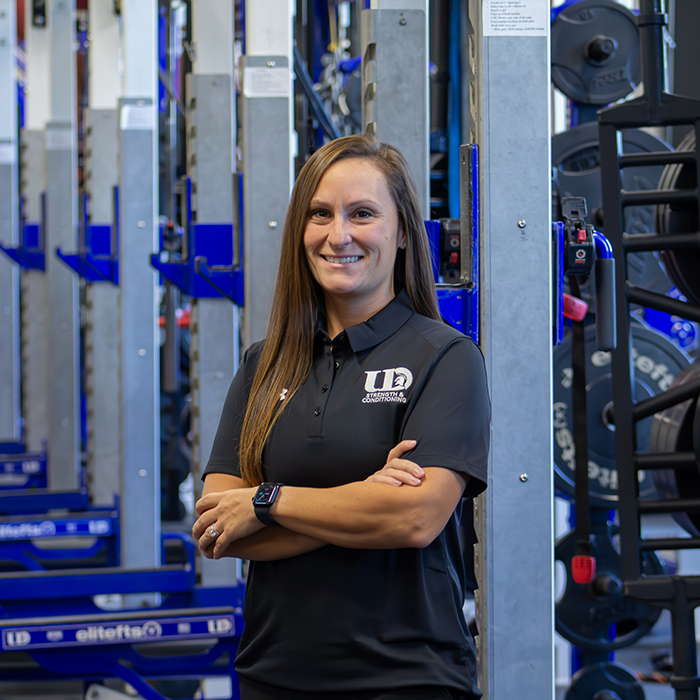 Spartans of UD highlights what makes the University of Dubuque special - the people.
Sidney Kohl (C'11, MBA'16) is the head strength and conditioning coach at the University of Dubuque. During her undergraduate degree, Kohl was a four-year starter on the women's soccer team and holds the school record for most consecutive starts (83). She was named the UD Female Athlete of the Year in 2011 and was inducted in the University of Dubuque Athletic Hall of Fame in 2019.
What inspired you to become a strength and conditioning coach?
"Serving as a strength and conditioning coach allows me to help each athlete improve performance and reduce the risk of injury as well as the ability to help boost athletes' self-esteem, health, and well-being. This was given to me through years of training in soccer. My then personal trainer, now mentor, gave me the tools to pursue a degree in health and wellness."
How does it feel to help student-athletes become stronger and healthier at your alma mater?
"When I graduated 12 years ago, it was always a goal of mine to come back to UD. Lifting weights and training gave me the ability to start and play in every single game in my four-year career here at UD. Building upon the core values of personal growth, integrity, grit, loyalty, commitment, and empathy provides the best opportunity for the long-term success of our student-athletes. I am extremely grateful the administration took a chance on me. The love for this university and the ability to change student-athletes' lives through exercise is a what motivates me every day."
What improvements have you made to the strength and conditioning program on campus?
"One of the biggest improvements in the strength and conditioning program is the introduction of the Fuel Center. After every workout, our student-athletes are able to have a protein shake and a food item. The short supply of food at certain times of the day was what sparked this idea. The collaboration between strength and conditioning, athletic training, and our administration in athletics was a big reason the Fuel Center started. Waking up early for a lift and then having to go to class, some students wouldn't be able to eat until lunch. Basic knowledge of having a healthy lifestyle is the need for food. We found immediate success with our athletes once the Fuel Center opened."
What is the most important piece of advice you share with your student-athletes?
"My biggest life lesson I try and instill on my athletes is time management. Early is on time; on time is late. This is a huge life lesson when it comes to the workplace. Time is extremely important, and we can't waste our time or other people's time. It was an adjustment for some but is extremely beneficial beyond the weight room."
In your opinion, what makes the University of Dubuque unique?
"The University of Dubuque is unique because of our beautiful campus. The growth with all the amazing facilities is what keeps students and alumni coming back."