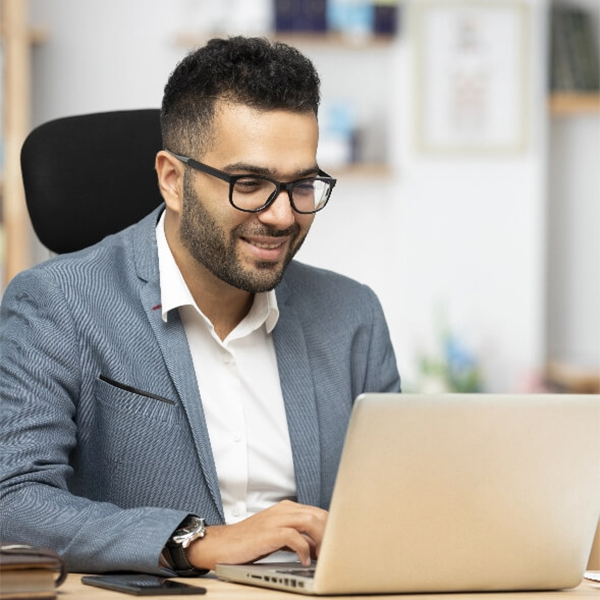 30-Credit Hour Programs offered in eight-week-per-course formats include Aviation Leadership, Organizational Diversity and Inclusion Leadership, and Sport Marketing and Management
The Master in Management (MM) Program Mission
The Master in Management (MM) program's mission is to help graduates develop an understanding and application of management practices and leadership skills in an organization. In addition to gaining practical competence in a specific field of study through a real world work experience, graduates will be prepared to think strategically, integrate and construct new knowledge, develop intrapersonal and interpersonal competencies, and apply excellent moral character to the practices of an organization.
Graduates are equipped to:
Lead and manage with in-depth knowledge in key areas of finance, human resources, operations, and strategy.
Exercise character and ethics in decision making.
Communicate effectively across the global business landscape.
Think and act both tactically and strategically in complex business situations.
Using an applied approach to learning, graduates are well-equipped to leave UD ready to take on management and leadership roles. Each graduate student will participate in a work experience (internship, graduate assistantship, or related job) that is founded in Council for the Advancement of Standards in Higher Education standards, specifically: 1) knowledge acquisition, integration, construction, and application, 2) cognitive complexity, 3) intrapersonal development, 4) interpersonal competence, 5) humanitarianism and civic engagement, and 6) practical competence. Throughout their studies, each graduate is challenged to develop the moral character needed to manage and lead with integrity, justice, and compassion.
Programs of Study
The MM program has several tracks from which graduate students may select to best match their personal interest:
Master in Management - Aviation Leadership
Master in Management - Organizational Diversity and Inclusion Leadership
Master in Management - Sport Marketing and Management
Each track shares a common core of business courses taught by faculty who possess real-world business experience as well as advanced degrees in their fields. Then each specific track offers courses essential to successful management and leadership roles in their industry. Each program of study offers the business knowledge, coupled with communication, leadership, problem solving, and decision-making skills specific to a discipline that will help graduates become a productive team member in:
Small or large companies;
Careers that are community focused or international focused; and
Any business segment, whether it be in sport management, communication management, human resource management, aviation management, manufacturing or service, government or private enterprise, profit or nonprofit organizations, or entrepreneurial ventures.
Program Highlights
Based on intensive industry research
Focuses on in-depth day-to-day managerial operation within a discipline-specific context
Provides hands-on experience enriched by most recent theories in the field
Applied internship requirement
Students can complete their degree within one year
Program allows credit for life learning experience
Program Admission
The successful University of Dubuque applicant has these credentials:
Bachelor's degree. A bachelor's degree in most any discipline. Students from outside the US may substitute a bachelor's equivalent (these vary from country to country).
Language proficiency. Students who have not studied or worked in institutions where English is spoken should take the Test of English as a Foreign Language (TOEFL. A minimum score of 550 on the paper-based test (or minimum of 80 on the internet based test) is needed to handle the language level used in the program. A score of 6.5 or better on IELTS may be substituted for the TOEFL score.
For additional information, contact the following:
University of Dubuque
Office of Graduate and Adult Studies
2000 University Avenue
Dubuque, IA 52001
Phone: 563.589.3246
Email: GradStudies@dbq.edu