World-Famous Vienna Boys Choir Performance Kicks Off Dubuque Arts Council's 55th Anniversary Public Events
By University Relations Staff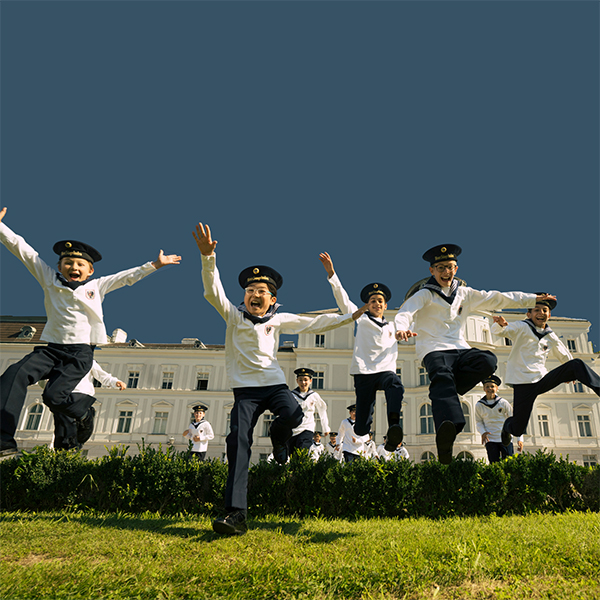 DUBUQUE, Iowa - The Vienna Boys Choir, presented by the Dubuque Arts Council, will perform at 7:30 p.m. Friday, November 17, 2023, in John and Alice Butler Hall, Heritage Center, University of Dubuque.
"Through the generous support of Mark and Cheryl Falb and the Falb Family Foundation, we are delighted to bring the Vienna Boys Choir back to Heritage Center. The Vienna Boys Choir performs around the world and we are grateful to have them here as part of our 55th anniversary special events performances. We remain focused making world-class arts and cultural performances accessible to all," said Dan Flynn, president of the Dubuque Arts Council.
The Vienna Boys Choir is one of the most famous choirs in the world - and one of its oldest. For centuries, the choir has been delighting music lovers across the globe with their purity of tone, distinctive charm, and diverse repertoire that includes everything from medieval to contemporary to experimental music.
In 1498, Emperor Maximilian I moved his court to Vienna to establish the Chapel Imperial along with the Vienna Boys Choir. Over the centuries, the court attracted musicians like Wolfgang Amadeus Mozart and Anton Bruckner. Joseph Haydn, Michael Haydn, and Franz Schubert were themselves choirboys.
Today, the Vienna Boys Choir maintains a primary school, a junior high school, and a senior high school. Three hundred boys and girls between the ages of six and 19 attend the Vienna Boys Choir's schools in Vienna's Augarten. They receive individual voice lessons and sing in one of the choirs. About a third of the students go on to become music professionals.
There are 100 boy choristers between the ages of nine and 14 who are divided into four choirs. Between them, the choirs perform around 300 concerts each year, reaching almost half a million people around the world. Since 1924, Vienna Boys Choir has presented over 1,000 tours in 100 different countries, which has resulted in a staggering 29,000 performances. At the Sunday services in Vienna's Imperial Chapel, they perform with members of the Vienna Philharmonic Orchestra and the State Opera Chorus.
The Vienna Boys Choir's singing tradition is listed by UNESCO as intangible cultural heritage in Austria. Professor Gerald Wirth, himself a former choirboy, is the artistic director of the entire campus.
These gifted musicians with voices of unforgettable beauty are a beloved institution, presenting a diverse array of vocal music that is both appealing and inspiring.
A free pre-show reception for "International Photography Exhibit: Photos by UD Students, Staff, and Faculty" will be held from 6:30 to 8:00 p.m. Friday, November 17, 2023. The exhibit will be open Wednesday, November 1, 2023, through Thursday, November 30, 2023.
The Vienna Boys Choir performance at Heritage Center is made possible by the Falb Family Foundation, Mark and Cheryl Falb.
Tickets for the Vienna Boys Choir are $35 to $55 plus fees. Tickets can be purchased from 11:00 a.m. to 2:00 p.m. Monday through Friday and 90 minutes prior to events at the Farber Box Office, Heritage Center, University of Dubuque, 2255 Bennett Street; by calling 563.585.SHOW; or by visiting www.dbq.edu/HeritageCenter.
The Vienna Boys Choir is a bonus event hosted by Dubuque Arts Council at Heritage Center.