UD President has Initiated Process of Stepping Away from Presidency
By Stacey Ortman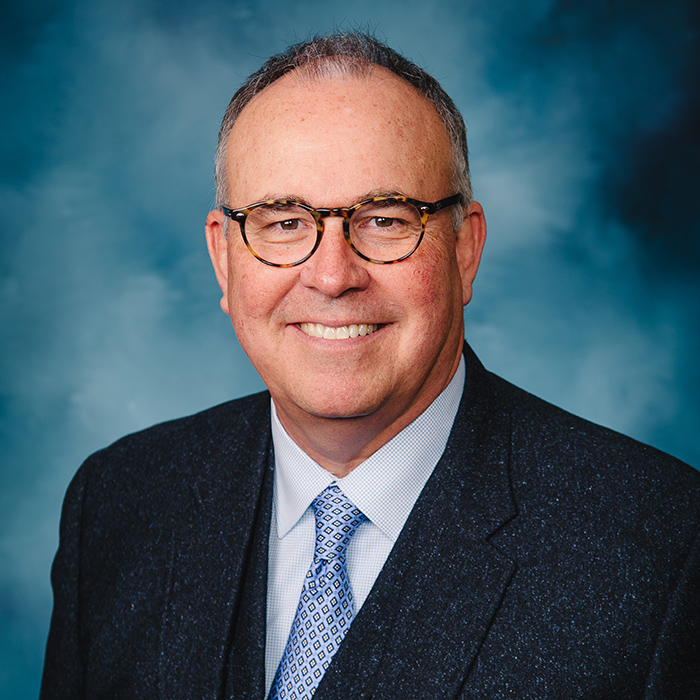 DUBUQUE, Iowa - University of Dubuque President Rev. Jeffrey F. Bullock, PhD, initiated with the Board of Trustees earlier today, Tuesday, March 21, 2023, the orderly process of stepping away from the presidency after 25 years of service. Bullock will continue to serve as president until a new president is in place in roughly 16 to 30 months, depending upon the search process. Afterwards, Bullock will not retire or resign but instead serve in an of counsel capacity for the University.
"This is not an emergency and there is nothing wrong. I feel like the work I was called here to do, I have done," Bullock said, adding, "I have spent considerable time discerning the timing of this transition and reflecting upon my presidency. As I hope you know, I have never been one to think about legacy. Instead, I have preferred to be forward-looking and I have come to the conclusion that, after 25 years, it is time for the Board of Trustees to begin the process of identifying another leader that, in partnership with the Board, faculty, staff, students, and alumni, will carry forward the important Mission of the University of Dubuque. In sharing this transition at this time, I am providing ample notice in order for the Board to undertake an intentional search for a new president and effectuate a smooth transition for this office."
The Board of Trustees will utilize the Board Educational Conference in April to begin the process of orienting towards a Presidential Search. Afterwards, Board Chairman Joseph Chlapaty (C'68, DHL'98) will convene the Board to review the recommended next steps for the search process.
Chlapaty noted, "This is not a sudden decision but simply a normal progression of leadership whether it's a university, a college, or a business. Jeff has been president for 25 years, and he has worked hard to take the University of Dubuque to a level of prominence as a school of distinction that I think most people would not have thought possible when he assumed the presidency in 1998. It's been a tremendous accomplishment, and we today have a university that has a beautiful campus, outstanding academic programs, and a unique culture. We, the Board of Trustees, are grateful for the successful effort that Jeff and Dana have put forth and the accomplishments that we have had."
Chlapaty added, "I believe this will be a positive development as it relates to the next chapter in the University of Dubuque's life along with Jeff. Jeff will remain with the University of Dubuque after this period in an of counsel role, and I look forward to working with the new president and Jeff as we continue to move forward."
Bullock began his service in Dubuque on July 1, 1996, as dean of the University of Dubuque Theological Seminary and vice president of the University of Dubuque. On June 1, 1998, Bullock became the 11th president of the University of Dubuque, replacing Acting President J. Bruce Meriwether.
"My wife, Dana, and I have deeply loved this Mission, and each of the people that make it work, and who have been a part of these challenging and historic years. As I have said on many occasions, when I walk this campus, I don't see buildings; I see people. I see students that now have children attending here. I see alumni who welcomed us into their 'family.' And I see colleagues and trustees - some still here and many of whom are now gone - with whom we have had the privilege of sharing this journey together. It truly has been a breathtaking experience," Bullock said.
Under Bullock's leadership and with guidance from the Mission, Vision, Action Plan adopted by the Board of Trustees, the University of Dubuque continues to provide leadership, innovation, and change in the church and society. During Bullock's presidency, UD's endowment has grown from $13 million to $220 million and fundraising efforts have raised around $400 million. Student enrollment has increased from 600 students to approximately 2,000.
The University of Dubuque has also grown its campus footprint under Bullock in the most extensive transformation of UD's history. Those projects include the dedications of the Jackaline Baldwin Dunlap Technology Center, Charles C. Myers Library, South Campus, Charles and Romona Myers Center, University Science Center, Goldthorp Hall, Mary Chlapaty Hall, Chlapaty Recreation and Wellness Center, Mercer-Birmingham Hall, Heritage Center, Chlapaty Hall, Sergeant Jeffrey B. Dodge Veterans Center, Linda Chlapaty Hall, Babka Aviation Learning Center, Wallace Common, Smeltzer-Kelly Student Health Center, Peter and Susan Smith Welcome Center, and Grace Plaza, among other buildings and renovations. Additionally, UD has expanded off campus with Wolter Woods and Prairies Environmental Stewardship and Retreat Center in Sherrill, Iowa, and Learning Institute for Fulfillment and Engagement (LIFE) program sites in Dubuque as well as Cedar Rapids, Iowa; Tempe, Arizona; and Meridian, Idaho.
"Our post-pandemic finances are stronger, recruiting is turning around, retention is at an historic high, philanthropy continues to be a highlight, our educational community is united, and an opportunity to build on this emerging new time in the life of the University we love is before us. A new president will have the privilege of partnering with a supportive Board of Trustees, strong President's Cabinet, and a gifted staff team. In addition, he or she will inherit a faculty that is tremendously gifted, committed, and purposeful, and a student body that is smart, engaged, and a real joy, and a cadre of alums that are as enthusiastic as they are supportive. Although it is difficult for me to comprehend, over 10,000 of our 16,000-plus living alumni have graduated during my presidency," Bullock said.
Once a new president assumes office, Bullock will continue his service to UD in an of counsel capacity.
"I'm sure that Dana and I will fill our additional time with meaningful opportunities for work and service. I also look forward to enthusiastically supporting our next president," Bullock said, adding, "Until then, I will continue to stay focused on the immediate work before us and will remain supportive of our Chair and Trustees, as they make their way through the next exciting chapter of our University's nearly 175-year history."