The University of Dubuque Heritage Center To Celebrate 10th Season
By Stacey Ortman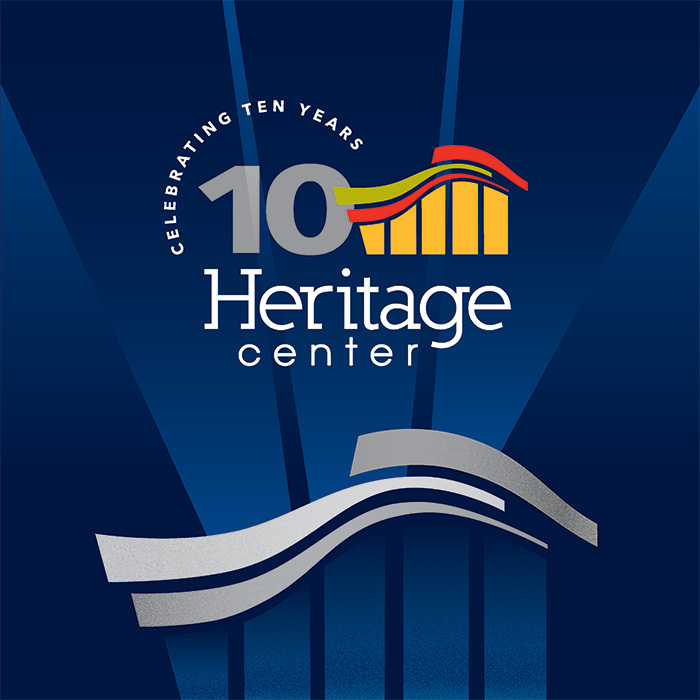 UPDATE
Nebraska Theatre Caravan made the decision to cancel its annual national tour of Charles Dickens' A Christmas Carol due to lingering concerns with the COVID-19 pandemic. In its place, Heritage Center is pleased to announce it will host a stop on Perseverance Productions' seventh national tour of A Christmas Carol at 7:30 p.m. Monday, December 5, 2022. Tickets purchased for the originally scheduled A Christmas Carol date will work for the rescheduled date. Patrons who are unable to attend the new date may call the Farber Box Office at 563.585.SHOW.
---
ORIGINAL PRESS RELEASE
DUBUQUE, Iowa - The University of Dubuque Heritage Center will celebrate its 10th annual Live at Heritage Center Performing Arts Series with a special lineup of artists including audience favorites Tony Danza (C'72, HON'04), B2wins, LightWire Theater, Neil Berg and Rita Harvey, and many more.
"Our 10th anniversary season has wonderful things in store including tributes to iconic superstars like Tito Puente, Neil Diamond, and ELO as well as a blockbuster production of Charles Dickens' classic A Christmas Carol. Public appetite for live performances is growing as we approach this special year including meaningful event partnerships with the Dubuque Arts Council and the Academy of Ballet. Add a dash of Shakespeare, world class family theater presentations, and some of the USA's top organ talent, and we end up with a captivating mix of cultural arts attractions," said Thomas Robbins, executive director of Heritage Center.
The 2022-2023 Live at Heritage Center Performing Arts Series will open with B2wins on Thursday, September 1, 2022, and close with Neil Berg's 103 Years of Broadway on Saturday, May 6, 2023. UD alumnus Tony Danza will celebrate his 50th class reunion with a Homecoming performance on Saturday, October 22, 2022.
Tickets are on sale now online at www.dbq.edu/HeritageCenter! Tickets will be available beginning at 11:00 a.m. today, Thursday, July 21, 2022, in-person at the Farber Box Office, Heritage Center, University of Dubuque, 2255 Bennett Street, or via phone at 563.585.SHOW.
Farber Box Office's summer hours are 11:00 a.m. to 2:00 p.m. through Friday, August 12, 2022. Regular hours of 10:00 a.m. to 5:00 p.m. and 90 minutes prior to events begin Monday, August 15, 2022.
New this season, the Heritage Performing Arts Loyalty System (H-PALS) allows patrons to earn rewards with most ticket purchases. For every $200 spent on eligible events, patrons will receive one free ticket (valued up to $50) to their choice of eligible event. The more shows patrons buy, the more they will save. Reward points are redeemable for Live at Heritage Center Performing Arts Series events only. For more details, please visit www.dbq.edu/HeritageCenter.
UD students can purchase a special all-access H-PASS for $39 that allows them to attend most Live at Heritage Center Performing Arts Series events for one flat rate in a general admission seating section. To order an H-PASS, visit www.udhcstudenthub.com.
To request a season brochure, please call the Farber Box Office at 563.585.SHOW.
Conlon Construction is the presenting sponsor of this milestone season.
SCHEDULE
B2wins
7:30 p.m. Thursday, September 1, 2022, John and Alice Butler Hall

Pronounced "B-Twins," Brazilian twins Walter and Wagner return to Heritage Center for what has become a traditional kick-off to the Live at Heritage Center Performing Arts Series and the University of Dubuque's academic year! B2wins have been exciting audiences worldwide for years, featuring a lead electric violin and ukulele, joined by additional musicians playing piano and drums. B2wins perform interpretative instrumental covers of popular music in a variety of genres, integrating humor, movement, and lively audience participation. Their onstage charisma hooks audiences of all ages and puts smiles on the faces of everyone they encounter.
Comedian Mike Paramore
8:00 p.m. Friday, September 9, 2022, John and Alice Butler Hall

Mike Paramore is the guy you fight to sit next to in a movie theater, on a long car ride, or during a boring lecture. His natural ability to infuse everyday situations with energetic, uplifting humor, combined with the ability to put you at ease, is key to his personal brand of comedy. Winner of the Cleveland Comedy Festival in 2015, Laughing Devil Festival in New York City in 2016, and Laugh Fest's Best in the Midwest competition in 2017, Mike Paramore's smooth delivery and powerful punchlines make him a force in stand-up comedy.
Tito Puente Jr. and His Latin Jazz Ensemble
7:30 p.m. Friday, September 16, 2022, John and Alice Butler Hall

Son of the legendary American salsa and Latin jazz musician Tito Puente, Tito Puente Jr. has big shoes to fill. And boy does he! Honoring his father's legacy, Tito Puente Jr. has made a name for himself as one of the most exciting Latin musicians touring today. He and his hot 10-piece ensemble have become an audience favorite in casinos, performing arts centers, symphony halls, and jazz festivals worldwide. It's your turn now to be a part of the enlivened crowd engaging in the high voltage celebration and exhilarating Latin rhythms guaranteed to get your feet moving!
Wiesenthal: The Nazi Hunter
7:30 p.m. Monday, September 19, 2022, John and Alice Butler Hall

Upon retirement, the famed "Nazi Hunter" Simon Wiesenthal welcomes one final group of students to his Jewish Documentation Center in Vienna, Austria. With warmth, wit, and surprising humor, this charming man known as "The Conscience of the Holocaust" recounts the remarkable story of how, after cheating death at the hands of Hitler's dreaded SS, he dedicated his life to tracking down and bringing to justice the worst mass murderers in human history. Wiesenthal recounts, like a gripping spy thriller, how he solved his most sensational cases, unmasking such notorious villains as Franz Stangl, Franz Murer, and the infamous "Architect of the Holocaust," Adolf Eichmann. It's time for this 20th century hero to finally leave the war behind, but not before warning his young friends that, although progress has been made since the dark days of Nazi Germany, the human savage still lurks just below the wafer-thin veil of civilization.
Matt Vee's Music of Neil Diamond: I Am... He Said
7:30 p.m. Tuesday, October 4, 2022, John and Alice Butler Hall

Matt Vee along with cousins Jeff and Tommy Vee, sons of the legendary Bobby Vee, join forces with their family and friends as The Killer Vees to celebrate the music from Neil Diamond's timeless catalog. Songs like "Crackli' Rosie," "Song Sung Blue," and "Sweet Caroline" helped Neil Diamond sell over 100 million records worldwide. He made music that became the soundtrack to one generation after another with hits spanning five decades. "This is not a tribute show," Tommy Vee said, "This is a celebration of an amazing musical icon we all love!" The UD Choir and Julien Chamber Choir join as special guests.
Organist Dexter Kennedy, John and Alice Butler Pipe Organ Recital Series
3:00 p.m. Sunday, October 16, 2022, John and Alice Butler Hall

As the winner of the Grand Prix d'Interpretation at the 24th Concours International d'Orgue de Chartres, Dexter Kennedy has established himself internationally as "one of the greatest organists of our times" - Iceland Monitor. Praised for his "prodigious technique and grand style musicality" in The American Organist, his concert programs are fiery and historically informed, exciting both music connoisseurs and people who have never experienced the organ in concert setting.
Tony Danza: Standards & Stories (UD Homecoming)
8:00 p.m. Saturday, October 22, 2022, John and Alice Butler Hall

Star of TV's Taxi and Who's the Boss, Tony Danza (C'72, HON'04) is making his remarkable return and celebrating his 50th class reunion at the University of Dubuque! The New York Times raves, "Tony's a live wire who tap-dances, plays the ukulele, tells stories, and radiates irresistible charm. He exudes the kind of charisma that can't be taught!" Tony Danza and his four-piece band combine timeless music with wit, charm, storytelling, and a dash of soft shoe and ukulele - performing a selection of his favorite standards from the Great American Songbook while interweaving stories about his life and personal connection to the music
Riders in the Sky
7:30 p.m. Friday, October 28, 2022, John and Alice Butler Hall

Winners of two Grammy Awards, Riders in the Sky stand hats and shoulders above the rest of the purveyors of comedy and western! For more than 30 years, they have kept the flame passed on by Gene Autry and Roy Rogers, becoming modern-day icons with their wacky humor, western wit, and cowboy way of life. Riders in the Sky pay tribute to and poke gentle fun at the classic cowboy songs of the 1930s and 1940s. The group is made up of lead singer Ranger Doug (born Douglas B. Green), Woody Paul (born Paul Chrisman) on fiddle and vocals, Too Slim (born Frederick Owen LaBour) on string bass and guitar, and, since the mid-1990s, "Cowpolka King" Joey Miskulin on accordion.
Peter & The Wolf, performed by Eulenspiegel Puppets
1:00 p.m. Saturday, November 5, 2022, Babka Theatre

Listen to Sergei Prokofiev's beloved music as you watch Peter outsmart the wolf! Eulenspiegel Puppets use beautifully crafted large tabletop puppets and rod puppets to tell this classic tale of a young boy, his grandfather, his pets, and the creatures that live in the meadow and the forest. Three puppeteers bring this fairy tale, written by Prokofiev in 1936, to life - cultivating a musical appetite in children and introducing them to instruments of the orchestra.
Piano Fondue: Dueling Pianos
8:00 p.m. Saturday, November 5, 2022, Babka Theatre

Piano Fondue presents a fully-interactive, high-energy, sing-along show! Two entertainers take their places behind two baby grand pianos on stage, and the audience controls the set list on their smartphones. Audience members can visit Piano Fondue's request website, view the set list, and manipulate it in real-time. They can add songs to the list or move songs around. The whole show is crowdsourced.
Christmas at Heritage Center "Heaven and Nature Sing!"
7:30 p.m. Friday, December 2, 2022, John and Alice Butler Hall

This UD tradition returns to bring spiritual meaning to your Christmas season. UD's Department of Fine and Performing Arts celebrates the birth of Christ through a concert presentation featuring the John and Alice Butler Pipe Organ, UD choirs, and UD Concert Band with live narration. Complimentary holiday refreshments and live music from UD's Jazz Band will immediately follow the concert.
A Christmas Carol, performed by Nebraska Theatre Caravan
7:30 p.m. Tuesday, December 6, 2022, John and Alice Butler Hall

This celebrated Charles Jones adaptation of Charles Dickens' A Christmas Carol is rich with thrilling ensemble music, alive with color and movement, and created to tell this great and enduring tale in a manner that people of all ages will enjoy! Woven throughout are beautiful new arrangements and moving renditions of holiday songs such as "God Rest Ye Merry Gentlemen," "Wassail," "Good Christian Men Rejoice," "Away in a Manger," "Greensleeves," "The Boar's Head Carol," and many more. A cast of 24 performers, live musicians, and Broadway-style scenery and costumes revitalize this sumptuous holiday classic.
The Magic of Bill Blagg LIVE!
7:30 p.m. Friday, January 13, 2023, John and Alice Butler Hall

Early beginnings paved the way for what is now known as The Magic of Bill Blagg. Today, Bill Blagg is one of the nation's top touring illusionists. He is known for instantly teleporting across theaters, squishing his body from 6 feet to 6 inches tall, passing through the blades of an industrial fan, and much more! His theatrical brand of magic thrills thousands, leaving people in complete disbelief as he achieves the impossible in a way that only he can.
Warriors Don't Cry, performed by TheaterworksUSA
7:30 p.m. Monday, January 23, 2023, John and Alice Butler Hall

Reluctant to cope with one more tragedy in a school - raise your hand if you feel me! - young activist Ya Girl is ready to call it quits on leading her million-plus Instagram followers in the fight for social justice. When Melba Pattillo Beals steps out of history and into Ya Girl's phone to share the story of her battle to integrate Little Rock Central High School in 1957, Ya Girl learns to see herself in Melba - and in all the young warriors who came before her to raise their hands and make a difference. This production is a catalyst for deeper discussion about social responsibility, civil discourse, social media, and community engagement. Warriors Don't Cry features original music, spoken word, and video projection.
Evil Woman - The American ELO presents The Electric Light Orchestra Experience
7:30 p.m. Thursday, January 26, 2023, John and Alice Butler Hall

Widely recognized as America's premier tribute to Jeff Lynne's Electric Light Orchestra, the 12 musicians and singers of The Electric Light Orchestra Experience featuring Evil Woman - The American ELO promise brilliant arrangements, flawless musicianship, and superlative vocals. ELO expanded the concept of great melodies, epic song structures, and grand orchestrations. This tribute performance embodies those achievements and features many of the progressive rock hits that led to ELO becoming one of the most popular groups of the 1970s. Those hits include "Evil Woman," "Mr. Blue Sky," "Telephone Line," "Livin' Thing," "Don't Bring Me Down," "Xanadu," and more.
Organist Joby Bell, John and Alice Butler Pipe Organ Recital Series
7:30 p.m. Friday, February 3, 2023, John and Alice Butler Hall

Born in 1968 in Statesville, North Carolina, organist Joby Bell earned a bachelor of music in organ and piano from Appalachian State University and a master of music and doctor of musical arts in organ from Rice University. He has served on the faculty of the Hayes School of Music at Appalachian State University since 2004 where he teaches organ and church music studies. His teaching specializes in practice techniques, memorization, service playing, choral accompanying, and maintaining grace under pressure - lessons always best taught by example.
Romeo and Juliet, performed by The Acting Company
7:30 p.m. Tuesday, February 7, 2023, John and Alice Butler Hall

William Shakespeare's iconic and timeless Romeo and Juliet is one of the greatest love stories in literature. The gripping drama spun out of the ancient grudge between two families makes Romeo and Juliet as relevant to modern society as it was to audiences four centuries ago. Star-crossed lovers follow their passion to the ultimate tragic end. In Romeo and Juliet, Shakespeare offers some of the most glorious poetry ever written. Spoken by complex and memorable characters, the poetry establishes the standard for all love stories written since. With gorgeous costumes and music, enchanting parties, moonlit nights, dank graveyards, and blood-strewn streets, The Acting Company's fresh production breathes new life into this outlasting tale.
The Legendary Count Basie Orchestra
7:30 p.m. Friday, February 10, 2023, John and Alice Butler Hall

Nearly 30 years after his passing, pianist and bandleader William James "Count" Basie is an American institution that personifies the grandeur and excellence of jazz. Count Basie is the only bandleader in the history of jazz to have his orchestra still performing sold out concerts internationally. During their record-breaking tenure, the Count Basie Orchestra has scored 18 Grammy Awards, performed for royalty, and featured some of the greatest soloists in music history. Rapidly-paced fanfare filled with groove and Louisiana-inspired dirty trombone licks make this lively performance a momentous and rare treat for audiences of all ages.
Doreen's Jazz New Orleans, presented in cooperation with the Dubuque Arts Council with special guests UD Concert Band and UD Jazz Band
7:30 p.m. Tuesday, February 21, 2023, John and Alice Butler Hall

Celebrate Mardi Gras! Doreen Ketchens' Jazz New Orleans brings the best of New Orleans to our stage. Combining clarinet, tuba/trombone, vocals, drums, and piano, this group's primary interest lies in spreading the culture and traditional music of New Orleans all over the world through performance and outreach. Doreen's Jazz New Orleans has traveled the world performing their joyful, energetic, original, and soulful music in 47 states and 24 countries and counting. They have established a stellar reputation with millions of fans around the globe as well as online fame with over 85 million views and viral videos!
Paddington Gets in a Jam, a Jonathan Rockefeller Production produced by Bear About the House, LLC
1:00 p.m. Sunday, March 5, 2023, John and Alice Butler Hall

For over 60 years, British-born writer Michael Bond has delighted children and families all over the world with his stories about Paddington. Paddington is popular with both children and adults who feel a deep affection and warmth towards him. Paddington Gets in a Jam was selected as a New York Times Critic's Pick when it debuted Off-Broadway in November 2019. Paddington's adventures have been adapted several times for television and twice on the big screen, with Paddington and Paddington 2, with a third film in the works. A new Paddington TV series launched on Nickelodeon in 2020.
Organist Daryl Robinson, John and Alice Butler Pipe Organ Recital Series
3:00 p.m. Sunday, March 19, 2023, John and Alice Butler Hall

Daryl Robinson has earned international acclaim from critics and audiences alike, being described by The American Organist as an artist with "driving muscular poetry underpinned by nimble technique and nuanced sense of style" and possessing "flawless technique and rhythmic verve." Winner of both First Prize and Audience Prize in the 2012 American Guild of Organists National Competition in Organ Performance, he has since maintained an active career as a recitalist, collaborative artist, church musician, and passionate educator. Holding degrees from the Moores School of Music at the University of Houston and the Shepherd School of Music at Rice University, Robinson's studies were directed by distinguished instructors who impressed upon him the importance of using his talents in service to others.
The Pirates of Penzance, performed by New York Gilbert & Sullivan Players
3:00 p.m. Sunday, March 26, 2023, John and Alice Butler Hall

Everyone has pretended to be a pirate at some point! Set sail with this classic musical comedy that boasts one of the most famous patter songs in musical theatre history and America's preeminent professional Gilbert & Sullivan repertory ensemble - now in its 46th year of operation - the New York Gilbert & Sullivan Players. Since its founding in 1974, the company has presented over 2,000 performances of the Gilbert & Sullivan masterpieces throughout the United States. This tale features a band of tenderhearted pirates celebrating the coming of age of Frederic, who was mistakenly apprenticed to the pirates until his 21st birthday. A ludicrous leap year snag threatens to keep him apprenticed to the pirates for life! Throw in a bevy of beauties, a brash Pirate King, and the delightfully stuffy Major-General Stanley, and you've got what The New York Times calls, "An endearing production with high musical standards and spirited performances."
The Adventures of Tortoise & Hare: The Next Gen
1:00 p.m. Sunday, April 2, 2023, John and Alice Butler Hall

As seen on America's Got Talent, LightWire Theater returns to Heritage Center with another favorite. Beginning with Aesop's classic fable of The Tortoise and the Hare, this adaptation eventually finds them 10 years down the road, now with children of their own and exploring modern day distractions. Smart phones and video games create a new landscape of lost connections to life experiences. The Next Gen features Tortoise Junior and Lil' Hare in a whole new kind of race, where their adventures lead them into unexpected territory. Old Man Tortoise and Big Daddy Hare must come together despite their differences to find and save their children. What hurdles will they have to overcome to make it to the finish line? With dazzling visuals, poignant storytelling, and the creative use of music from classical to pop, this production brings this tale into a new brilliant light.
American Midwest Ballet's The Wizard of Oz, presented in collaboration with Dubuque's Academy of Ballet
7:00 p.m. Friday, April 21, 2023, and 1 p.m. Saturday, April 22, 2023, John and Alice Butler Hall

It's The Wizard of Oz you know and love - except that the characters are live on stage and in full color. Oh, and everyone dances the whole time! Based on both the book and the classic 1939 movie, The Wizard of Oz brings Frank Baum's unforgettable story to life while giving it a ballet twist. As Dorothy, Toto, and their three Ozian friends search for a brain, a heart, some nerve, and a path back to Kansas, they encounter munchkins, monkeys, and a witch. But while the Yellow Brick Road may be a familiar path, the clicking red shoes take a few unexpected steps here and there. Choreographer Erin Alarcon let her imagination run free in this original ballet. She blended roles for the company's professional dancers with parts for 50-plus young guest dancers from the Dubuque area, led by the Academy of Ballet.
Neil Berg's 103 Years of Broadway, presented by the Dubuque Arts Council in cooperation with Heritage Center
7:30 p.m. Saturday, May 6, 2023, John and Alice Butler Hall

Direct from New York and featuring Dubuque native Rita Harvey, producer/pianist/composer Neil Berg returns to Heritage Center with a sequel to his hit Broadway revue with a cast of stars from Broadway's greatest musicals. Neil shares the songs and stories behind the music that changed the world. 103 Years of Broadway recreates the greatest moments from the finest shows of the past century.