Spartans of UD - Nicole Lewis
By University Relations Staff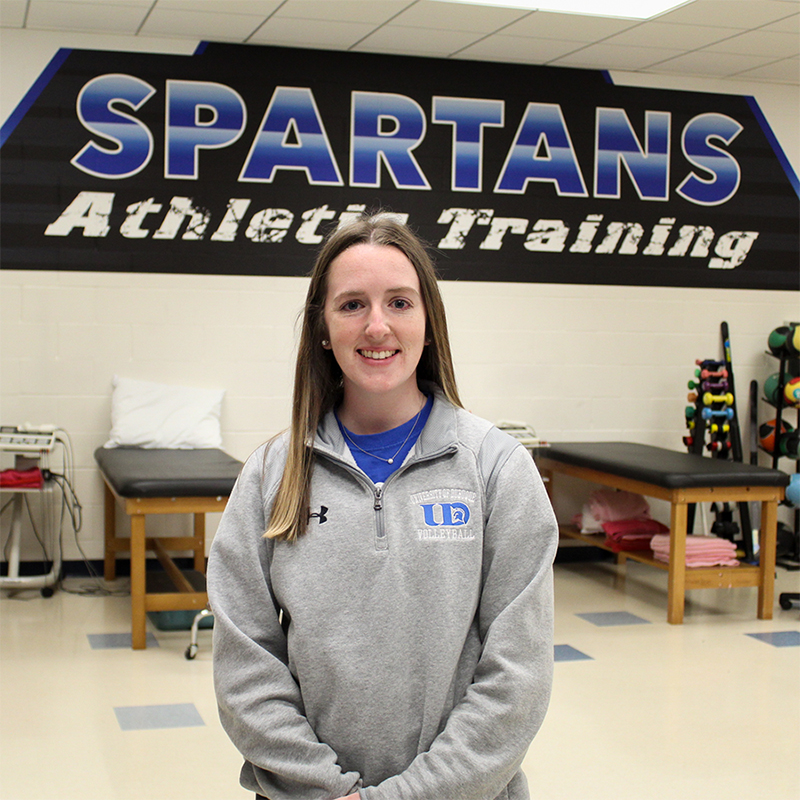 Spartans of UD highlights what makes the University of Dubuque special - the people.
Nicole Lewis, MS, is an assistant athletic trainer at the University of Dubuque who works primarily with women's volleyball, men's basketball, men's lacrosse, and football. In honor of National Athletic Training Month, we are celebrating all our athletic trainers.
What inspired you to become an athletic trainer?
"My inspiration to become an athletic trainer came through my own personal experiences. I was involved in numerous school and club sports my entire life and throughout that journey, I never once had an athletic trainer available to me. I witnessed several serious injuries go misdiagnosed or untreated throughout that time which really opened my eyes to the importance of the profession. As I prepared to enter my freshman year of collegiate athletics, I became extremely ill and experienced first-hand what it was like to have my athletic ability affected by my physical and mental health. During this time in my life, I did not have an athletic trainer there to help me on my road to recovery. It was then that my decision to become an athletic trainer was solidified. I wanted to help athletes get through very vulnerable and tough stages of their lives and to make sure that nobody ever feels alone in their journey."
How are you able to help student-athletes as an athletic trainer?
"As an athletic trainer, I am able to help keep our student-athletes healthy and performing to the best of their ability. Here at UD, we are in the unique position of being able to see our student-athletes every day, allowing us to form strong relationships, provide timely and efficient care, and be flexible with their class schedules. We are on the sidelines of every practice and game allowing us to support and cheer on our teams, while being prepared to jump into action when needed. While we never want to see anyone get hurt, we are always prepared to be by our athletes' sides in times of need. One of the biggest benefits we can provide our athletes is being by their side from the time an injury occurs up until they are back on the field/court, supporting them for the entirety of their healing process."
What is the most important piece of advice you share with your student-athletes?
"The most important piece of advice I have tried to instill in my athletes is that their brain health is just as important, if not more important, than their physical health. We must ultimately put the person before the student and the athlete and encourage them to take care of all aspects of their health in order to be the best versions of themselves on and off the field. The athletic training room is a safe space, and I encourage my athletes to come in when they need support in any area of their lives."
What is a common misconception about athletic trainers?
"An extremely common misconception about athletic trainers is that we are only here to hand out ice, fill water bottles, and tape ankles. Athletic trainers are allied health care professionals that are highly trained in the evaluation, diagnosis, treatment, and prevention of injuries. More importantly, athletic trainers are the first responders on the sidelines of events. We are extensively trained in emergency and first aid treatment, and we are always engaged and keeping our eyes on the field/court to respond to severe injury when it occurs."
"Another common misconception is that athletic trainers only work in the sports setting. While sports settings are the more common areas for athletic trainers, athletic trainers can be found in hospitals, clinics, and the industrial/tactical setting. I myself had the incredible opportunity to work in the tactical setting with the Milwaukee Fire Department treating the men and women that help keep us safe."
What do you enjoy most about being an athletic trainer at the University of Dubuque?
"What I enjoy most about being an athletic trainer at UD is the people. The individuals here are not only good athletes, coaches, and athletic trainers, but they are great people. My favorite part of being an athletic trainer is the relationships I get to form by being by our athletes' sides through the highs and lows of their journey. I love getting to play a small part in helping our athletes succeed at doing what they love."