Spartans of UD - Kathleen Klapatauskas
By University Relations Staff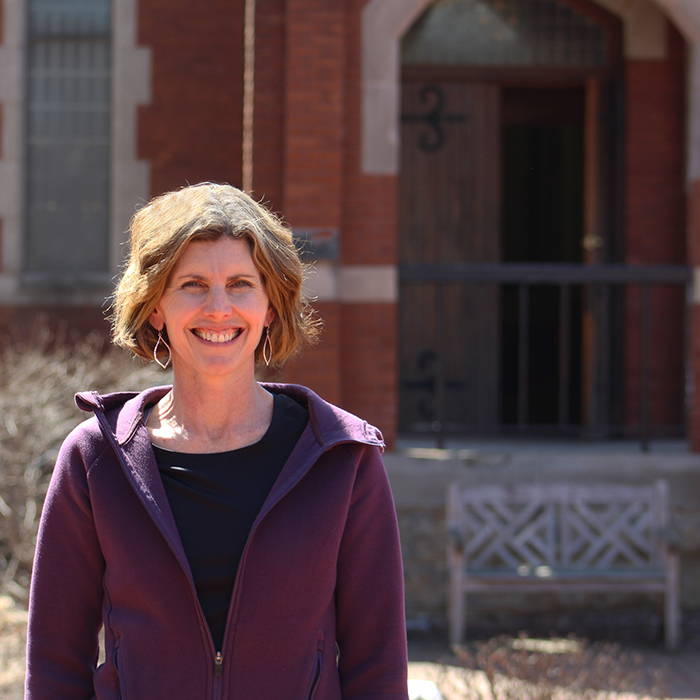 Spartans of UD highlights what makes the University of Dubuque special - the people.
Kathleen Klapatauskas is a physical therapist and yoga and Pilates instructor who helps people develop strength, flexibility, and muscular endurance during her Yogalates class this spring in Alumni Chapel through UD's Group Fitness classes. To learn more about Group Fitness classes, click here.
What inspired you to become a yoga and Pilates instructor?
"I am a physical therapist and have a great appreciation for posture. Many injuries and chronic physical complaints can be addressed and prevented by strengthening our 'core' postural muscles. When I was introduced to Pilates and yoga, I learned both incorporate exercises that specifically target these postural muscles. I started practicing Pilates in my home after the birth of my first son. I needed something affordable, no gym membership required, and flexible to schedule into my day at my convenience while on maternity leave. I liked it so much I attended a certification course a few years later."
Could you please describe yogalates for those who are unfamiliar?
"Yogalates is a hybrid class blending yoga and Pilates. Pilates exercises build abdominal and hip strength and complement yoga uplifting the mind, body, and spirit. I am a certified instructor in both, and I incorporate elements of both into class in varying degrees."
What do you enjoy most about teaching yogalates at the University of Dubuque?
"My participants at the University of Dubuque are fun and friendly, and the charming setting in Alumni Chapel is perfect for a midday reset!"
What do you hope University of Dubuque students, faculty, and staff take away from your classes?
"I encourage my participants to take some elements of Pilates and yoga 'off the mat' into their week. Specifically, I hope my participants learn the effect breath work can have on our daily experience, the importance of posture, the empowerment of increased strength and flexibility, and the joy of integrating exercise with mind, spirit, and a grateful heart."
What advice do you have for those who would like to join a yogalates class for the first time?
"Everyone is welcome! Yoga and Pilates are modes of exercise uniquely suited to include multiple levels of fitness and experience in one class. Every exercise can be adapted for beginners to advanced levels for regular participants. I try to offer many options for each exercise to meet specific needs for everyone. My class is safe, low impact, and also designed to be a good midday work out that can be performed in loose, comfy clothing with a quick return to work."