Spartans of UD - Isaac Hays
By University Relations Staff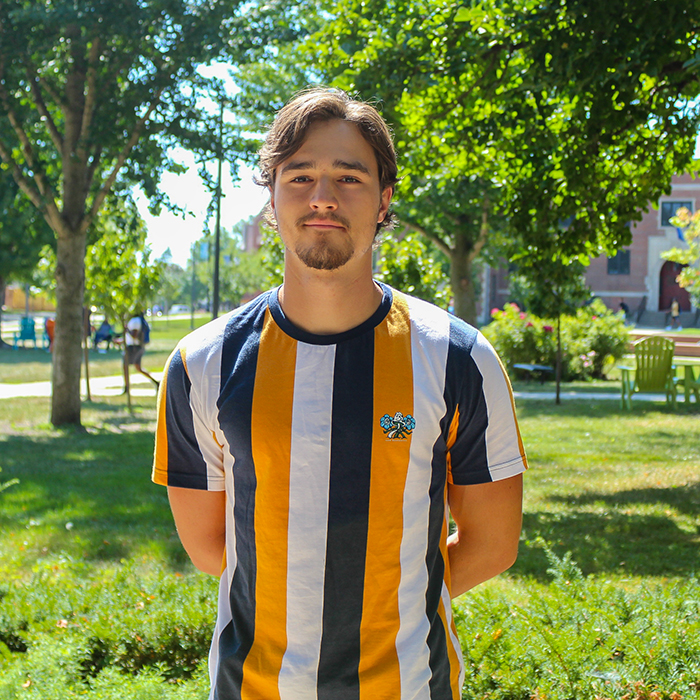 Spartans of UD highlights what makes the University of Dubuque special - the people.
Isaac Hays, of Eldridge, Iowa, is a junior human health science and wellness and exercise science double major. He traveled to Poland and Ukraine over the summer to help with the humanitarian efforts there.
How did you learn about the opportunity to help refugees who have entered Poland from Ukraine?
"When the war broke out in February, I immediately had a strong desire to find a way to get to Ukraine and help any possible way that I could. At first, the chances of me being able to go were slim because I knew I could not join the military and fight with a gun. Also, the US embassy closed within a few days so that strongly discourages any US citizens from attempting to enter the country. However, two years ago I went on a mission trip to Ukraine with a Christian mission organization. On that trip I made a lot of connections and friendships. I was not sure if they were doing anything to help with anything connected to the war, but I still contacted them to see if there was any way that I could help or if they knew any organization that would accept help from a volunteer. Turns out from day one of the war, they were building a humanitarian aid operation in several cities in Ukraine and in partnership with cities in Poland. So, with my connections, I flew to Poland and joined one of the mission bases closest to the border with Ukraine."
Why was it important to you to volunteer with the humanitarian efforts?
"There are several reasons why I felt that I needed to do something like this rather than just support financially. The first is that I am a Ukrainian by blood. I was born in Ukraine and adopted by Americans when I was three years old. Because of this, I felt a duty to help my people in some way during their fight for freedom and existence. Admittedly, I was partially driven by pride and was not satisfied with only helping through awareness and finances from home. However, more importantly than my duty as a Ukrainian is my duty as a follower of Jesus Christ. My obedience and love for my God demands that I care for those that are suffering and to tell them the good news that Jesus is the only one who can save even amid suffering."
How were you able to help?
"While I stayed in the base in Poland, we drove to the Ukrainian/Polish border every day. At the border we would assist refugees who were crossing the border to and from Ukraine by foot by carrying their bags, giving directions to the bus or train station, and giving supplies and food. Due to marshal law, Ukrainian men of fighting age are not allowed to leave Ukraine unless they have special documents. So, almost everyone who crossed the border were women and children. Although I am not fluent in the Ukrainian language, I got to translate and have conversations with Ukrainians. We also had a tent set up where we could hand out important supplies like baby food and diapers as well as women's products for the moms. We also had a comfy rest area for mothers to take a rest and talk while we distracted the kids with games and crafts. We served coffee, which was by far the most popular item that we offered.
"The border crossing also includes vehicle crossing. The line of cars on both sides of the border stretched for miles and many people had to spend up to a week in line to cross the border. We would hand out water bottles and snacks to the line of cars and entertain them by playing music. On both the Ukraine and Poland side, there are shelters for refugees that were created from schools, hotels, and supermarkets. There we would help clean and maintain the shelters and help people get to the next destination of their journey. We again spent a lot of time just entertaining the kids and having fun. After doing this for a couple of weeks I joined the long line of cars and headed further into Ukraine to help at a humanitarian aid hub run by the same mission organization that I went with two years ago. There, we loaded and unloaded trucks of supplies that were sent to the frontlines and wherever else they were needed. Many of the volunteers at the base are refugees themselves who fled from cities like Mariupol, Kharkiv, and Kherson. Since the beginning of the war, no one has taken a break from the hub or even had time to process whatever trauma or grief they may have experienced. So, we put together a retreat for everyone to relax and brought speakers who have expertise on how to cope with trauma. At the retreat I got to facilitate a game time which ended up being pure chaotic fun."
You visited Ukraine two years ago on a mission trip and were able to enter Ukraine again this summer. Can you share what you will remember most about your most recent trip?
"What I will remember most is the bravery, strength, and humility of Ukrainians, especially the women. These women, both old and young, would carry the heaviest bags and sometimes carry children too. Ladies who couldn't be younger than 80 would often refuse help from me to help with their, sometimes multiple, 90-pound bags. However, when they do accept help, they show overwhelming humble gratitude. They would give gifts and even kisses on the cheek."
You read scripture in Ukrainian during Spring Convocation in January 2022. How did you feel being able to share in that moment with the campus community?
"Reading scripture in Ukrainian for Spring Convocation was a special moment for me because I got to combine two things that I love, my Ukraine and my faith, and share them with campus. As I look back at that moment now considering the war, I know that God knows and sees people of all languages and that it grieves him to see the suffering that is caused by this war. However, I know that God can bring many good things to his glory out of the worst situations. To God Be the Glory!."