Spartans of UD - Abby Richmond
By University Relations Staff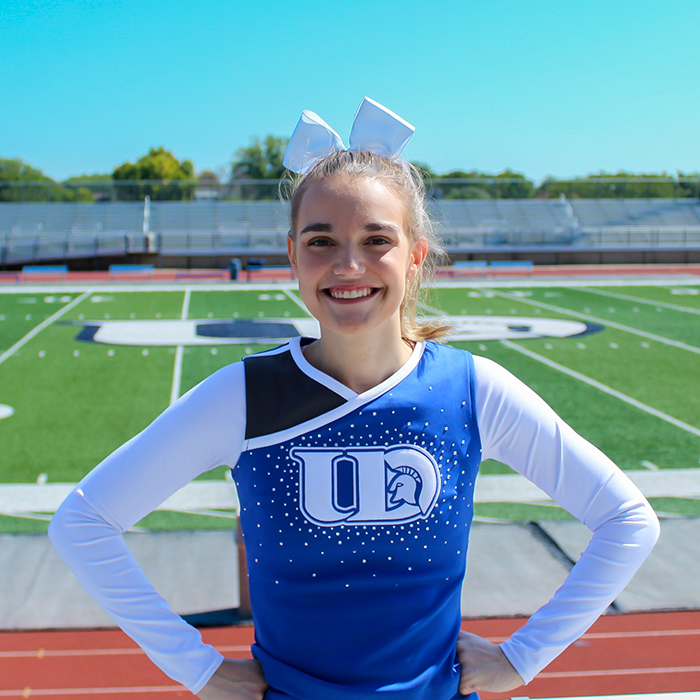 Spartans of UD highlights what makes the University of Dubuque special - the people.
Abby Richmond, of Hanover, Illinois, is a junior human health science major. She is in her third year on the cheer and stunt team, which is a sideline and competitive program.
How did you become involved in cheerleading?
"I first got into cheerleading in elementary school when I attended a cheer clinic with my local high school cheer team. I joined my first cheer about 10 years ago when I joined my middle school sideline team. In high school I continued participating on the sideline team. I didn't start doing competitive cheer until I joined the UD cheer and stunt team."
What do you enjoy most about being on the UD cheer and stunt team?
"Our team is divided into two sections: sideline and competition team. I personally am on both teams, but if you aren't interested in one of them then you won't be forced to do it. My favorite part of being on the sideline team is the genuine appreciation that we receive from the crowd. As for the competition team, my favorite thing about it is that we as teammates always encourage each other to try new collegiate level skills and push ourselves to the limit."
As a member of the UD cheer and stunt team, you are able to compete regionally and nationally. What has it been like to travel with your team and compete at that level?
"Before my first ever competition I was really worried that I was going to feel nervous and out of my element, but I was completely wrong. When we are waiting on the side to walk out to the mat, we just hear the crowd and the other team's music and my adrenaline starts pumping and I honestly just don't think and just focus on the music. We practice so much that the routine becomes muscle memory and I don't really have to worry about forgetting the routine. I feel like stepping onto the mat with the team at nationals and hitting the routine is the most euphoric feeling in the world. The overall experience at nationals is completely unreal. It is just something you have to experience to understand completely."
What is your favorite cheer and/or stunt? Why?
"I personally enjoy almost all of the cheers and stunts we do, but I would say that my favorite cheer is actually our band chants that are more like dances. My favorite stunt is definitely our pyramid that is called a 1-1-2. This pyramid is when we have one flyer on a shoulder stand with one leg out to the side, another flyer sitting on her shoulders, and a third flyer standing on the first flyer's leg,"
What have you learned from your time as a Spartan student-athlete?
"As a Spartan athlete I have learned a lot. The one major thing that I have learned so far is how to roll with the punches - sometimes literally. In cheer there is a lot of room for error and you never know what could happen. You could be in the middle of the routine and have a stunt fall or have someone's bow fall out of their hair. When you are on the mat you just have to hop back up, adjust, and keep going like nothing happened. I also have learned how to manage my time because with being on both teams I have a lot more obligations than I would if I was just on one of the teams."