Mentors in Violence Prevention Training Utilizes Bystander Intervention
By Stacey Ortman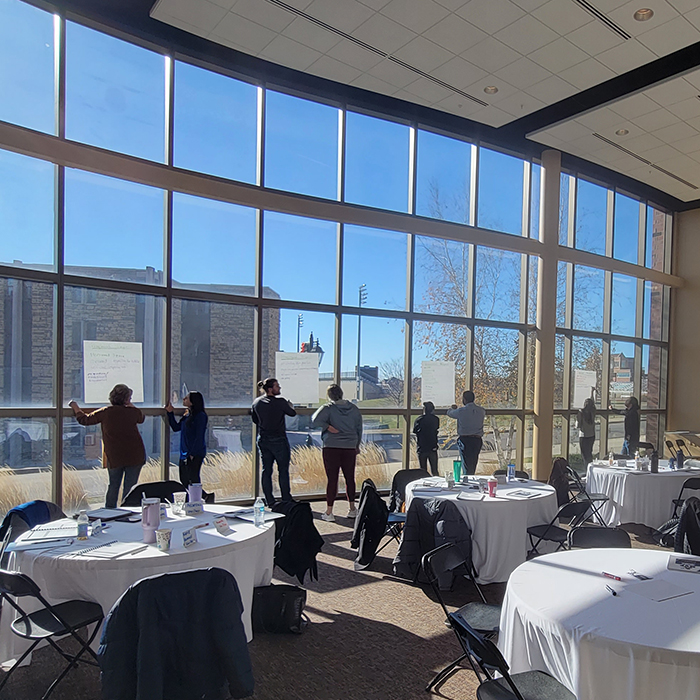 DUBUQUE, Iowa - Around 20 University of Dubuque faculty, staff, coaches, and graduate assistants recently participated in a two-day leadership program focused on preventing all forms of violence by utilizing a unique bystander approach to prevention and education.
The Mentors in Violence Prevention (MVP) training, held the week of Thanksgiving on campus, is one of the longest-running and most widely influential gender violence prevention programs in North America. Co-founded in 1993 by Jackson Katz, PhD, who is internationally renowned for his pioneering scholarship and activism on issues of gender, race, and violence, MVP introduced the bystander approach to sexual assault and relationship abuse fields. Katz gave a presentation at UD in March 2021.
"The MVP training focuses on the bystander, not the abuser. Society teaches us to mind our business many times. We are trying to change that thought and to empower people to act in good character and speak up to interrupt abuse," said James Sizer, MEd, director of UD's Office of Multicultural Student Engagement who helped facilitate the training.
He said the training had many purposes including increasing awareness about the prevalence of sexual assault and relationship abuse, challenging people's thinking about victim blaming, helping people to identify harmful situations, creating a safe space for open dialogue, empowering people to intervene and interrupt abuse, inspiring people to be leaders in their spheres of influence on campus, continuing the conversation by holding future trainings, and setting examples for other leaders on campus.
Joseph Letriz, MLS, electronic systems librarian in the Charles C. Myers Library, decided to participate in the training because he felt like it would provide necessary framework for him to help.
"In the library, we're often secondary to instructors in classes that we teach, assisting patrons finding materials or asking reference questions. In my view, we end up serving often as bystanders to students' lives, classes, and general campus. This training sounded like it would provide some of the necessary framework that I could continue to build upon in order to address those moments of uncertainty that we sometimes witness students go through. Even understanding the kind of language, actions, and people we can turn to was enough of a reason to attend the session," he said.
Letriz shared that it was not a single moment but a series of moments over the two days of MVP training that stood out to him.
"In the midst of the information being given, scenarios we talked and acted through, and conversations regarding the topics, the training created a space that many people felt safe in. Safe enough in to share their experiences, both positive and negative, that drew them to the sessions in working to prevent similar situations and to understand the myriad of ways to diffuse or change an outcome. Those moments, which came about naturally and without prompting, were powerful," he said.
The MVP training was supported by the Wendt Character Initiative, which is devoted to promoting a campus culture of excellent moral character and purposeful lives characterized by integrity, justice, and compassion.
Training sessions have been held with various areas of campus including the Office of Residence Life, incoming students at Spartan Start, peer mentors, and more. Some of those who participated will help facilitate future training for students.
"It's important for the University of Dubuque to provide trainings like this for faculty and staff so that they can train the students on this same material and be able to recognize and interrupt toxic and abusive behaviors," Sizer said.