Grace Street Redevelopment to Create Pedestrian-Friendly Space
By Stacey Ortman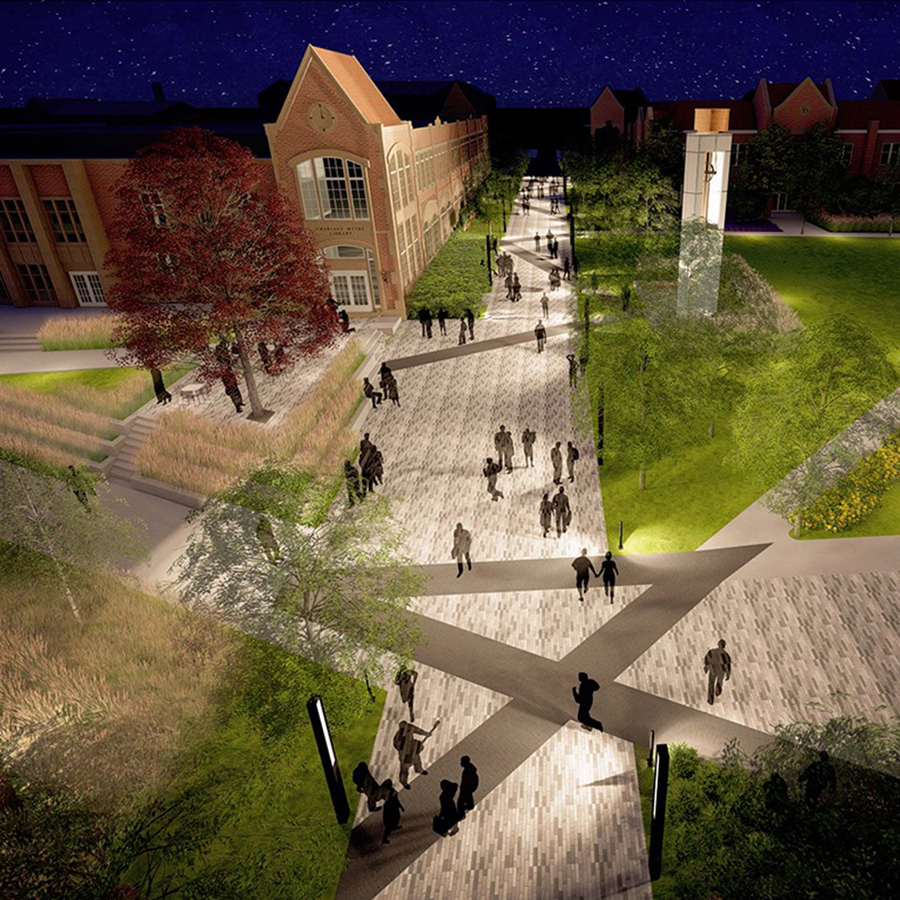 DUBUQUE, Iowa - The University of Dubuque will redevelop 600 feet of street cutting through campus to create an open and flexible pedestrian-friendly space. The Grace Street Redevelopment project is one of the final pieces of a campus master plan to connect the upper and lower portions of campus.
"In a way, we're creating this new pedestrian connection geared towards students, staff, faculty, and alumni to change the circulation pattern and bring the campus together a bit more with a series of places to gather and sit and reflect either as a small group or individually," said Tom Oslund, campus master planner and founder/design director of O2 Design.
The Grace Street Redevelopment project will transform Grace Street between McCormick and Algona streets. The project includes the installation of pervious pavers and a series of pedestrian lighting. In addition, the space in front of Charles C. Myers Library will be reconfigured into a 9,000-square-foot amphitheater plaza with tiered seating, tables, and chairs.
The redeveloped space will have the flexibility to host a variety of events such as lectures, small concerts, and even large events with tents such as those associated with Homecoming.
"It's going to take the campus and just give it a whole different look," said UD Chairman of the Board of Trustees Joseph Chlapaty (C'68). "I've been on the board since 1992. We've had a number of projects in the past 30 years or so that have really enhanced the quality of student life. When alumni who haven't been on campus for a long time come back, they are just stunned. They can't wrap their arms around it. This transformation of campus has been such a positive influence for the culture and pride that current students and alumni have for the University of Dubuque."
The Grace Street Redevelopment is the latest in a series of campus master plan projects after considerable growth of campus to the south. Two of the major projects dedicated to outdoor spaces were completed in the last five years. Alumni Common, formerly the Quad, was renovated and the space between Heritage Center and Charles and Romona Myers Center was transformed into Wallace Common. The Grace Street Redevelopment project will connect those two spaces with a pedestrian-friendly promenade.
After a year of working with the City of Dubuque, UD purchased the section of Grace Street in fall 2021 and it has been closed to vehicles, except emergency and university vehicles, since then.
"The University of Dubuque has been sort of auto dominated as a campus. This is one of the last pieces that seams these two exterior spaces together that have been completely reconfigured over the course of the last 22 years," Oslund said. "There's always a major circulation plan running through the major open space of any campus and, until now, UD hasn't had that opportunity."
Investors who wish to remain anonymous funded the Grace Street Redevelopment project.
Construction will begin spring 2022 and tentatively end fall 2022. Vehicle access will continue to be limited to mostly emergency vehicles.