University of Dubuque Director of Athletics Dan Runkle to Transition to Office of Advancement
By Paul Misner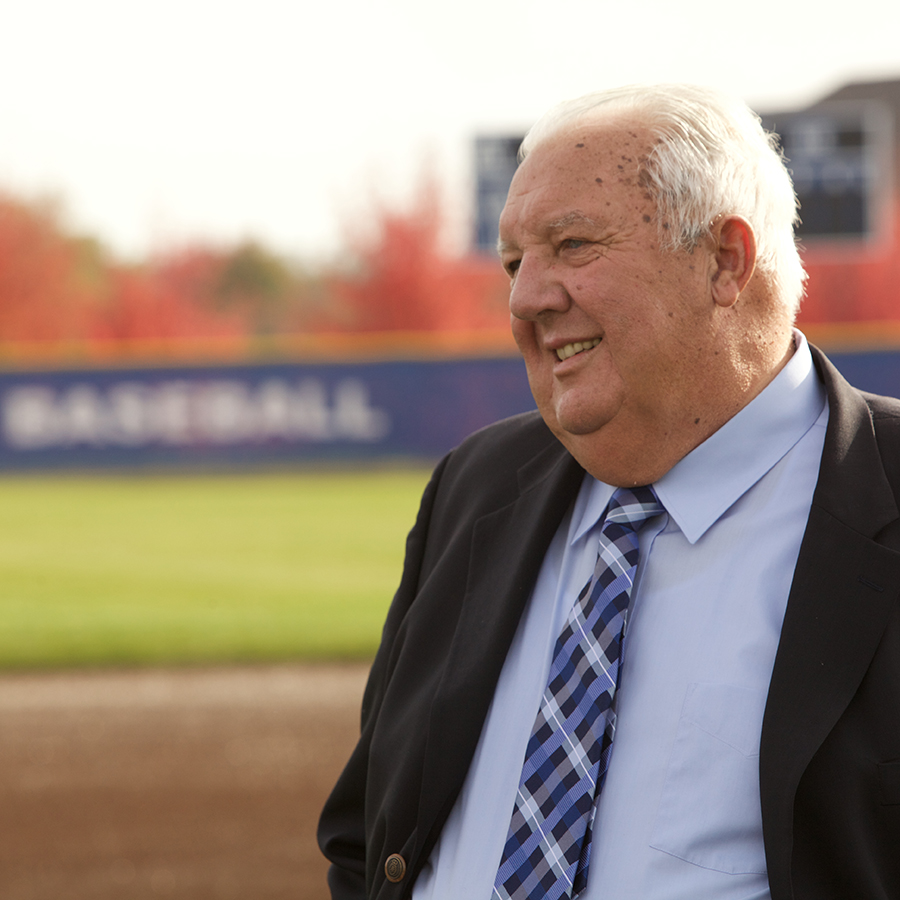 DUBUQUE, Iowa - Dan Runkle, University of Dubuque's director of athletics, will transition from the position at the end of the 2021-2022 academic year or when a replacement is hired. Runkle has held the position for nearly 20 years.
"After coaching college football for 32 years, I was fortunate to be named the Director of Athletics at the University of Dubuque," commented Runkle. "It was obvious that it would take a lot of work and commitment before the Spartan program would be competitive. Fortunately, UD experienced tremendous growth in facilities and programs under the leadership of President Jeffrey Bullock, Board Chairman Joseph Chlapaty, and the Board of Trustees. Their commitment to the athletic program initiated tremendous growth in budgets, staffing, and facilities, which then led to success across the board. It is with great pride that I can look out my office door and see the championship banners hanging which represent a variety of our programs. Our success in the past 12 years can be attributed to an outstanding coaching staff, the commitment given to athletics from administration, and having some of the best athletic facilities in Division III."
Runkle will serve of counsel for his successor, and will transition into a role within the Office of Advancement at the University of Dubuque where he will lead the University's fundraising and endowment efforts in the area of Intercollegiate Athletics, Recreation, and Wellness.
"Dan has been a colleague and friend for many years," said Rev. Jeffrey F. Bullock, PhD, president of the University of Dubuque. "Not only have Dan and Deb contributed to the University's growth over nearly the last two decades, but they have done so with class and commitment. When Dan began his tenure at UD, there were Presidents from the Iowa Conference that wanted us removed from that affiliation. Because of Dan's vision, leadership, ability to build friendships with competitor schools, and mentorship of coaches, our intercollegiate athletic program today is extremely competitive and well-respected across the country. But, even more importantly, it is a program that forms student-athletes into competitive, compassionate, and visionary leaders."
The University of Dubuque will begin a national search in February for Runkle's successor with the help of the well-recognized search firm, Spelman Johnson.
Dan Runkle joined the University of Dubuque as director of athletics in August 2002. During his tenure, student-athletes have been impacted by the continued growth of the athletic programs and facilities. Every athletic facility has seen updates and state-of-the-art improvements to offer student-athletes the ability to be competitive on a national level. Most recently, in 2021, an indoor golf simulation room and practice putting area was installed in the lower level of Stoltz Sports Center for men's and women's golf programs. Also in 2021, permanent restrooms, a concession stand, and bleachers for approximately 500 fans were built at Oyen Field for soccer and lacrosse teams. In 2018, an additional weight room was added to the Veterans Memorial Training Center. In 2017, turf was installed on the baseball infield and the field was renamed and dedicated in October 2017 as the Dan W. Runkle Baseball Field. In 2016, the Debra Runkle Center was dedicated with lockers for 125 football student-athletes.
Other upgrades during Runkle's tenure include construction of the Veterans Memorial Training Center, which houses an indoor turf practice facility, and the Chlapaty Recreation and Wellness Center, which has a 200-meter indoor track and field, tennis courts, a multi-court area for intramurals, a football stadium, and lighted soccer and lacrosse fields. The dugouts and fields at baseball and softball were updated and an addition to the Stoltz Sports Center added over 300 more seats for basketball, wrestling, and volleyball fans.
UD provides 23 sports in varsity competition that includes the two newest sports of bass fishing (2021) and men's lacrosse (spring 2014). Under Runkle's direction, the Spartans have claimed Conference Championships in women's golf (2021, 2020, 2019), baseball (2018), men's indoor track and field (2018, 2017), football (2015, 2011), women's basketball (2015), men's basketball (2021, 2016), men's golf (2014), women's soccer (2014), and men's soccer (fall 2021, spring 2021, 2010). The Spartans won Conference Tournament Championships in volleyball (2019, 2018), baseball (2018), men's basketball (2021, 2015, 2012), and women's soccer (2014, 2009).
Runkle came to UD after 21 years (1981-2001) as head football coach and assistant professor at Division II Minnesota State University-Mankato, Minn. He is a member of the Athletic Hall of Fame at Illinois College, Minnesota State University, Mankato, and the North Central Conference (NCC).
While at MSU-Mankato, Runkle won two North Central Conference championships (1987, 1993), made three NCAA Division II playoff appearances (1987, 1991, 1993), and was named North Central Conference Coach of the Year (1987). For over 20 years, his 108 career wins were the most by any MSU-Mankato football coach. In addition, Runkle was named Football Gazette Division II National Coach of the Year in 1991. During his tenure, 44 players were named First Team All-NCC with 30 All-Americans and two Harlon Hill finalists. In the classroom, Runkle worked heavily with his student-athletes to help them achieve a team GPA of 3.0 and a graduation rate of 93 percent.
A 1968 graduate of Illinois College in Jacksonville, Ill., Runkle earned a combined 10 athletic letters in baseball, basketball, and football enroute to being named to Blue Boys Hall of Fame in 1993. Following graduation, Runkle earned his master's degree in education with an emphasis in sports administration from Western Illinois University. Runkle also made stops at several Division I institutions, including University of Utah, University of South Dakota, Northern Arizona University, and University of Minnesota.
Runkle and his spouse, Debra, reside in Dubuque. Dan has two children, Tad and Sara, and the family has two grandchildren, Owen and Julian.
# # #
For further information, please contact Paul Misner, director of sports information, at 563.589.3168 or PMisner@dbq.edu.