Chris Norton to Deliver Michael Lester Wendt Character Lecture
By University Relations Staff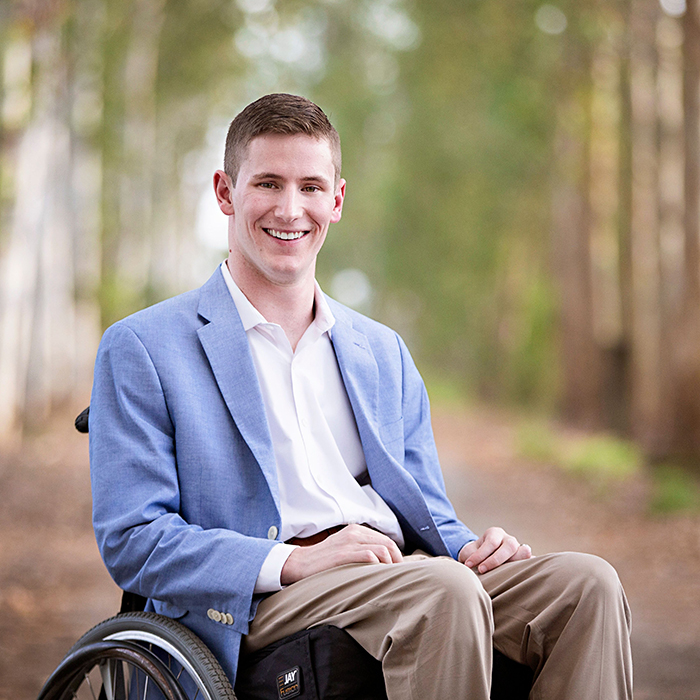 DUBUQUE, Iowa - Chris Norton, a former football defensive back at Luther College who faced a life-altering injury, will deliver the Fall 2022 Michael Lester Wendt Character Lecture at 7:00 p.m. Monday, October 10, 2022, in John and Alice Butler Hall, Heritage Center at the University of Dubuque. The lecture is free and open to the public. No tickets are required.
On October 16, 2010, at the age of 18, Norton suffered a debilitating spinal cord injury while playing football at Luther. He was given a 3% chance of ever moving again below the neck. Despite the prognosis, Norton fought the despair. He persevered and recovered enough sensation and mobility to walk across the stage at his college graduation and down the aisle for his wedding.
Norton and his wife, Emily Norton, are adoptive and foster parents and authors of the book, The Seven Longest Yards. Norton was also the subject of the powerful 2021 documentary 7 Yards: The Chris Norton Story. His non-profit foundation, Chris Norton Foundation, raises funds to improve the quality of life for those with disabilities and runs an adaptive wheelchair camp every summer that is free of charge.
Norton shares his story of resilience, the importance of teamwork, and how to live with purpose in his speaking engagements around the country. His moving story, humor, and advice for navigating any challenge is inspiration to respond to adversity with resilience and optimism.
Titled "The Power to Stand," the lecture is presented by UD's Wendt Character Initiative as part of its mission to promote a campus culture of excellent moral character and purposeful lives. Guest lecturers in the fall and spring speak from lives of purpose, linking issues of the day to character virtues such as integrity, justice, and compassion.
For more information, please contact the Wendt Character Initiative at 563.589.3440 or Wendt@dbq.edu.