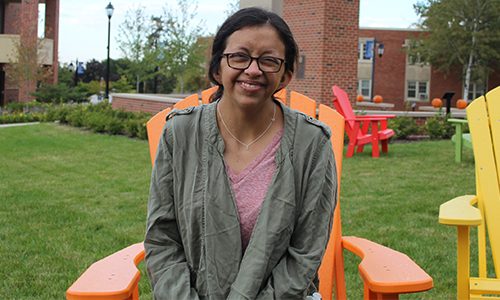 Mika Rangel (C'22), Theology
"My name is Mika Rangel. I'm a theology undergrad major at the University of Dubuque. I grew up in a small town with a family deeply grounded in the Christian faith. I have one older sister named Zoe as well as three cats and a labradoodle back home. I love to read and have movie marathons when I have free time.
Thank you so much for lending a hand in building such a wonderful environment where any student is welcomed to grow and explore.
What I've loved about UD is how inviting the activities I am involved in are. I was very shy when I first arrived on campus. However, during orientation, the Chapel community hosted a few workshops and they were so inviting that it was easy to come back and attend services.
The band was just as welcoming! There was such a diverse group of musicians - from those that haven't played for a few years, to those that have never stopped practicing, as well as those trying out an instrument for the very first time. With such a diverse group, we can learn from each other and support one another.
Knowing that I am able to be here due to the help of others through scholarships they support inspires me to continue to work hard. Thank you - every little bit helps and makes a difference.
---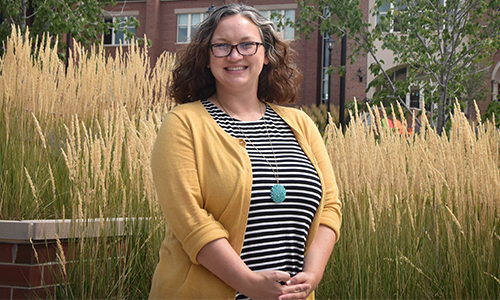 Jessica Lewis (MDiv'23)
"Hey y'all! My name is Jessica Lewis. I live in Maryville, Tennessee, with my husband, Josh, and our three sons. I am in the University of Dubuque Theological Seminary's distance master of divinity program. Before we moved to Maryville in 2020, I was the director of Christian Education at a PC(USA) church in Laurel, Mississippi, for 12 years. Currently, I am working part-time as a teaching assistant at a local intermediate school.
My past job as the director of Christian Education was a wonderful time spent in ministry that allowed me to further discern how God is calling me to serve. I had loving mentors who encouraged me to step out of my comfort zone and try preaching and leading worship. Because of that, I began my studies at UDTS in fall 2018 as a part-time distance student in the master of arts in Christian leadership program. In January 2021, I changed my major to the master in divinity distance program, which I plan to graduate from in December 2023.
The UDTS distance program has been of the utmost importance in my choosing to further my studies here. I am not able to move for school, so being able to take my classes in my home as my schedule allows has been the only way I could attend.
The scholarships I've received have made this calling more accessible for me and my family and have been a blessing.
I am so thankful for the community of professors, staff, and students here at UDTS! They have been an encouraging and loving presence in the midst of discernment, learning, and struggle that are bound to happen in the process of classes and studying. These people are an asset to my degree program and have an intangible influence on my life and calling."
---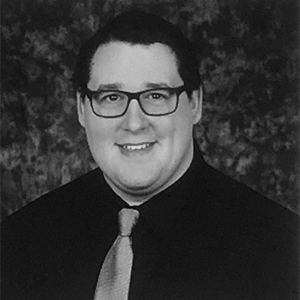 Kaiser Grap (C'22), Mathematics and Math in Secondary Education
"Hello. My name is Kaiser Grap. I'm a senior at the University of Dubuque double majoring in mathematics and math in secondary education. I have a wonderful wife and an amazing daughter who I'm fortunate to get to spend a lot of my time with. I grew up in the Dubuque area, have six siblings, and am incredibly grateful to my parents and godmother - who I know are all enjoying life up in heaven.
I'm not a traditional student by any means. I dropped out of high school in favor of obtaining my GED. This often meant that most places of employment or higher education institutions doubted my ability to be successful. UD didn't. The university has welcomed me and supported my personal journey.
At UD there are many great resources that are free and accessible to students. The professors are understanding, caring, and have encouraged my academic and personal growth. After graduation, I see myself staying in the Dubuque area teaching high school mathematics. I would love to initiate a math club and to also help students become pillars in their respective communities.
The support at UD I've received, personally and financially, has helped give me the confidence to pursue a degree I'm passionate about. It has also minimized the financial pressures of a broke college student. I would love to thank all of those that have provided me, and students like me, with the opportunities they have. Without this support there would be no feasible chance that I would be in college today. I hope to pay it back by setting up a scholarship of my own in the future."
---