You will be working with an admission counselor who will get to know you on an individual basis to determine what your needs and interests are. From your initial inquiry, to visiting campus, through the application process and finishing your enrollment we look forward to assisting you and your family through your journey. As you work through the college search process, we will be learning more about you and sharing more information about University of Dubuque with you. Let us help you determine if University of Dubuque is the right place for you.
Please find your counselor below and feel free to contact us.
Transfer Students - Meet Your Counselor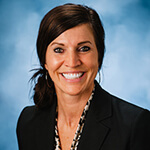 Melissa Gunnelson
Senior Director of Admission for Graduate Programs
Phone: 563.589.3664 Email: MGunnelson@dbq.edu Department: Academic Affairs Office: Lower Level Smeltzer-Kelly Student Health Center
CREDENTIALS / BIO
MAC, University of Dubuque
BA, University of Dubuque
Ms. Gunnelson joined the University in 1996 and serves as the senior director of traditional graduate admission, advising and retention. She held roles in the undergraduate admission department and LIFE program before assuming her current role in spring 2022. She earned her BA in English and Psychology and Master of Arts in Communication from the University of Dubuque. Her husband Chad (C'13; M'19/'21) is the director of track & field and cross country at the University and they have three children, Taylor (C'21), Evan (C'22) and Dash.