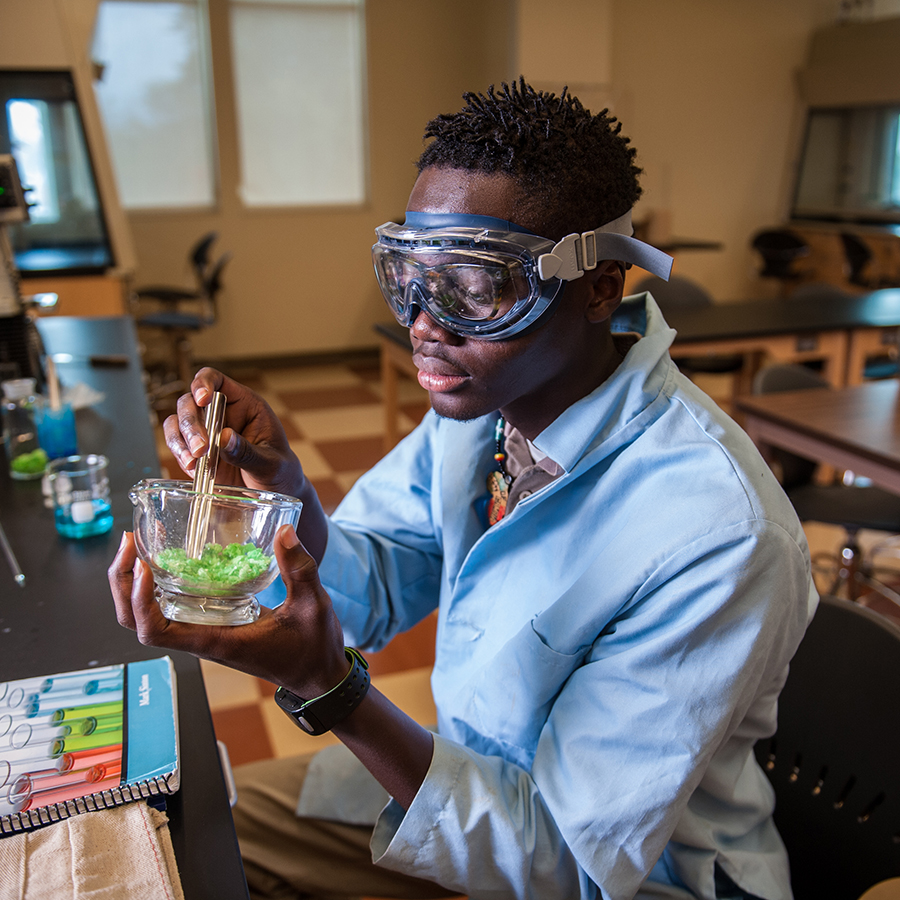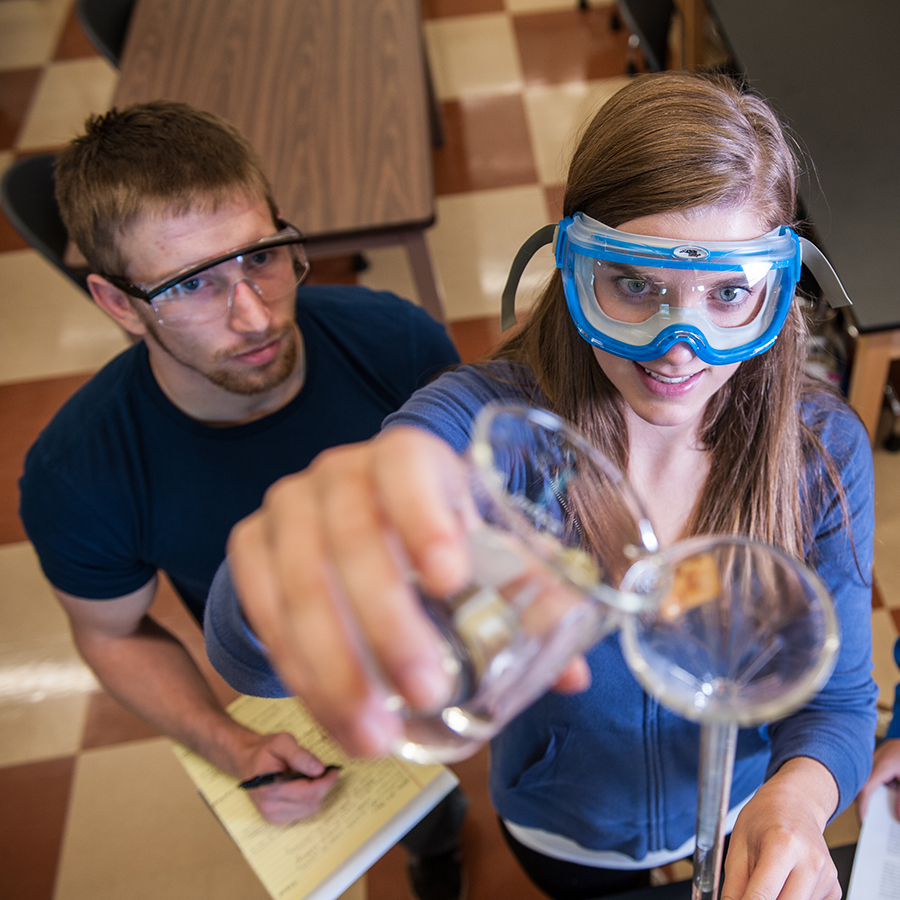 Chemistry is a foundational study of the exciting properties, interactions, and transformations of matter. At the University of Dubuque, your studies will take you into the "central science" through the exploration of analytical, environmental, physical, organic, and biochemistry. You will leave ready to pursue a career in research, industry, forensics, and in the medical field (e.g. medicine, dentistry, ophthalmology).
Making a Difference Through the Study of the Composition of the World Around You
Students and faculty at UD are active in a wide range of applied and theoretical research areas. Their work contributes to our understanding of protein function, novel organic synthetic methods, and the toxicology of compounds on the surface of microplastics. They have identified enzymes with unusual temperature dependent activities, facilitated the use of engineering design techniques into the classroom, developed new chemical reactions to aid in assessing pharmaceutical compounds, and contributed to our overall understanding of chemical phenomenon that impacts our everyday lives.
Degree Distinctive
Students have the opportunity to pursue their own research project under the supervision of a faculty member. All chemistry courses include a significant laboratory component to provide students with experience using multiple instruments and performing multiple analyses.
Student-faculty research is strongly encouraged, and opportunities for such are available across a wide variety of chemistry topics in analytical chemistry, biochemistry, environmental chemistry, organic chemistry, and physical chemistry.
A major theme in the program is chemical and laboratory safety, as well as the consideration of the impact on the environment that chemical use entails.
Career Opportunities
Examples of specific careers often held by bachelor of science chemists are laboratory technician or chemist in quality control or assurance, chemical and process development research, synthesis research, or clinical laboratories; laboratory manager in quality laboratories; chemical or pharmaceutical sales representative; and high school chemistry teacher.
Examples of specific careers often held by chemists with a post-graduate degree are lead scientist in product or analytical development, principal researcher in primary research projects, group leader or manager in the chemical or pharmaceutical industries, project director at contract research organizations, and university professor.
Wolter Woods and Prairies
One opportunity students have to study the world around them is to perform research at the University's Wolter Woods and Prairies Environmental Stewardship and Retreat Center. Located near Sherrill, Iowa, about 20 miles from the University of Dubuque's main campus, Wolter Woods and Prairies is 121 acres of unglaciated land. The property was purchase by UD in 2020 and is home to a variety of mammals including fox, otters, and minks, over 90 species of birds like the yellow-billed cuckoo, owls, and pileated woodpeckers, three orchid species, and the threatened and endangered amethyst shooting star. Through fellowships, research projects include bat, bumblebee, flying squirrel, insect, orchid, small rodent, snake, and soil research. The property was also the site for class projects like GPS or water testing and service projects conducted by UD Web of Life and UD Fishing Club.
Chlapaty and Butler Fellowship Programs
Natural and Applied Sciences Faculty/Staff