Women in Aviation - University of Dubuque Chapter Inspires Youth at Annual Girls in Aviation Day
By Stacey Ortman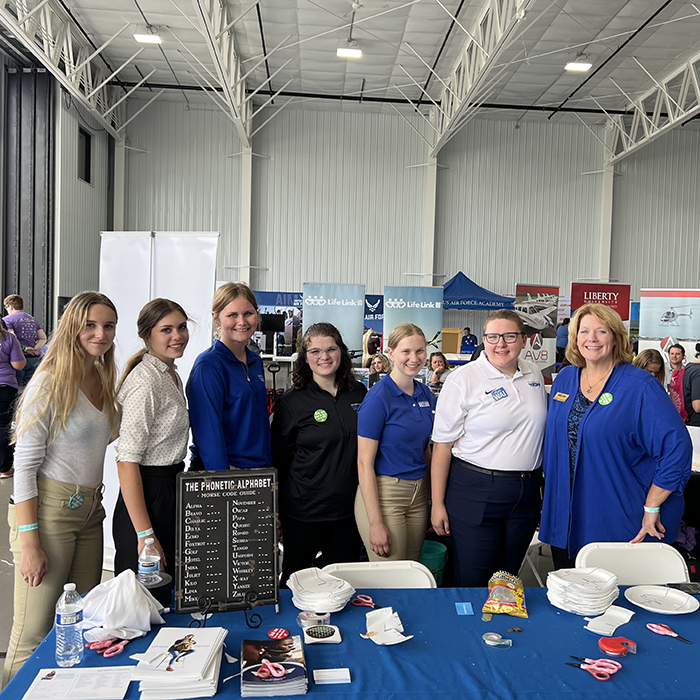 DUBUQUE, Iowa - Zoe Finn, a senior flight operations and aviation management double major at the University of Dubuque, had a message for all the young ladies who attended the ninth annual Girls in Aviation Day.
"Don't put a cap on your limit because anything is possible," she said.
The Women in Aviation - University of Dubuque Chapter participated in the Stars of the North Chapter's Girls in Aviation Day on September 23, 2023, at Flying Cloud Airport in Eden Prairie, Minnesota. It was one of numerous unique events that happened simultaneously that day as part of the larger global Girls in Aviation Day organized by Women in Aviation International. Geared towards girls ages 8 to 17 to help foster female participation in aviation-related careers, over 2,000 people attended the event hosted by the Stars of the North Chapter.
"Last time I checked, only about 7 percent of all pilots are female. Getting the younger generation into the aviation industry is huge. Even if they're not a pilot, they could be a mechanic, they could be an air traffic controller, they could work in maintenance, and more," said Finn, president of the Women in Aviation - University of Dubuque Chapter.
Makenzie Williams, a sophomore flight operations major and member the Women in Aviation - University of Dubuque Chapter, added it was a good experience to be able to share their stories of the aviation world and to talk about their university with potential future female aviators.
"Their faces light up when they hear about the experiences that we are having at UD and they know that they can have those exact same experiences," she said.
For Williams, those experiences include flying to her hometown area of the Quad Cities on her first cross country, feeling a sense of accomplishment from her first solo flight, and making friends in the industry.
The Women in Aviation - University of Dubuque Chapter was stationed in the Discovery Hangar, an aerospace-themed and hands-on activities center that highlighted science, technology, engineering, and math (STEM). They had brought with them airplanes they had traced and cut from 750 Styrofoam plates. When girls approached their table, members of the UD Chapter of Women in Aviation helped them pick out an airplane, cut out the tail, and put the parts together. Girls then chose between a penny and gummy bear to be the pilot - all in an attempt to show how airplanes work.
"It was inspiring to watch the creative ways our Women in Aviation - University of Dubuque Chapter members connected and interacted with the young attendees. The college students were physically helping them change the weight placement on their Styrofoam airplane or asking the student if they could think of any reason the airplane was consistently rolling to the left. It was rewarding to witness the ways our student aviators comfortably challenged the kids to think for themselves," said Polly Kadolph, MBA, associate professor of aviation and advisor of the Women in Aviation - University of Dubuque Chapter.
Finn, who has been volunteering with the Stars of the North Chapter of Women in Aviation International for over 5 years, helped with the overall Girls in Aviation Day and participated in a panel presentation titled, "My Daughter's Interested in Aviation, Now What?".
"My parents didn't know how to get me into the aviation industry. Being able to give back and show the parents and younger generation that I didn't know what was going on either, but I'm now at college and about to graduate was really rewarding," Finn said.
The Women in Aviation - University of Dubuque Chapter is a student organization that values inclusivity, creativity, and empowerment, especially for women in the aviation industry.
"The University of Dubuque's Department of Aviation whole-heartedly supports our aviation students in becoming active members of the larger aviation community. The students who participated in the Girls in Aviation Day 2023 were able to interact with and inspire younger youth attending the event. At the same time, the UD aviation students were able to intermingle and relate with their own regional peer group and network with future colleagues in the broader aviation industry. It's vital for college students to witness first-hand the value of studying and evolving professionally," Kadolph said.