University of Dubuque's Success Shop Receives Donation for Professional Clothing for Students
By Stacey Ortman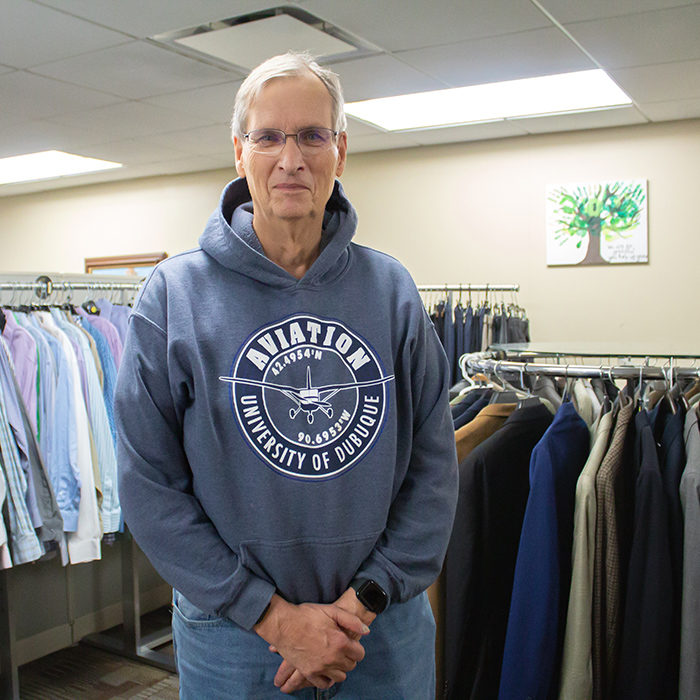 DUBUQUE, Iowa - University of Dubuque's Success Shop is getting a makeover thanks to an $8,000 donation from an alumnus for new professional clothing for students.
Located in the lower level of Peters Commons inside the Center for Advising and Vocation, the Success Shop provides free, new and gently used professional clothing for students to use in interviews. Students can pick out one full outfit each academic year and the clothing is theirs to keep.
"You only get one chance at a first impression, so we are making an effort to ensure our students are putting their best foot forward. But, it is not just a space to come find items. We help students in their shopping experience. We explain how the sizing works, how to match a shirt and tie, and even how to tie a tie. Our students may not have come to the University of Dubuque with this knowledge or these resources, so we want to put the dignity back into the experience and help students have confidence going from classroom to boardroom," said Ellen Carr, MBA, director of the Office of Vocation, Career Services, and Community Engagement.
When Jim Riepe (C'72) learned some students did not have the resources to acquire the professional clothes needed for job interviews, he wanted to help. Riepe donated a $8,000 to the Success Shop for men's and women's professional clothing.
"... Once I understood the scope of the Success Shop's outreach, I did not hesitate in gifting for both the men's and women's needs. That said, I have learned that it is not just about the proper clothes for interviews. That is one key facet; however, it is not all that is necessary for a student to be successful. The knowledge that Ellen's group has is amazing," Riepe said.
For those who oversee the Success Shop, the donation was a welcomed surprise.
"To be honest, my jaw hit the floor. We are fortunate in our area to receive donations from alumni, faculty, staff, and community members but never like this. The opportunity to purchase the specific items that our students request was such a humbling moment. I was filled with gratitude and really moved from this gesture," Carr said.
Over spring break, Carr visited Men's Wearhouse in Dubuque with Carissa Brown (C'21), coordinator of student engagement and formation, and Marie Maguina Heller, MEd, assistant director of vocation and civic engagement services, to search for deals on professional clothing with students in mind.
"The team there stepped up, assisted us with shopping, and even gave us some mannequins to display the clothing," Carr said.
During that first shopping trip, they purchased 48 dress shirts, 23 pairs of pants, four pairs of shoes, 46 ties, and two suit jackets for less than $2,500.
"After that, we thought we would come back to the Success Shop to reevaluate our needs. We hope to spend more funds on belts, shoes, and some extended sizes of suit jackets and pants to really accommodate the needs of all our students," Carr said.
With the funds to support women's clothing, the Success Shop team also plans to purchase a large selection of blazers.
"We have some great pieces already in our shop that can have a blazer added to finish the look. That is our number one request from these students and we look forward to providing this resource," Carr said.
The Success Shop is sponsored by the NextUp Young Professionals student organization with support from the Student Government Association. It is opened for students from 8:00 a.m. to 5:00 p.m. Monday through Friday during the academic year. Holiday, break, and summer hours may differ.
For more information and to learn how to donate to the Success Shop, please click here.
"We would not be able to do the work we do without the support we receive from our community and we are humbled by this donation - and all donations we receive for the Success Shop," Carr said, adding, "We want all students to feel welcome and comfortable and know that we are here to support them. Dressing professionally is not something you often learn in the classroom. We are here to help because we believe in our students and know that their education at UD has prepared them for their future careers - we just want to help them dress like it too!"