University of Dubuque's Mediation Team Earns Multiple Awards
By Stacey Ortman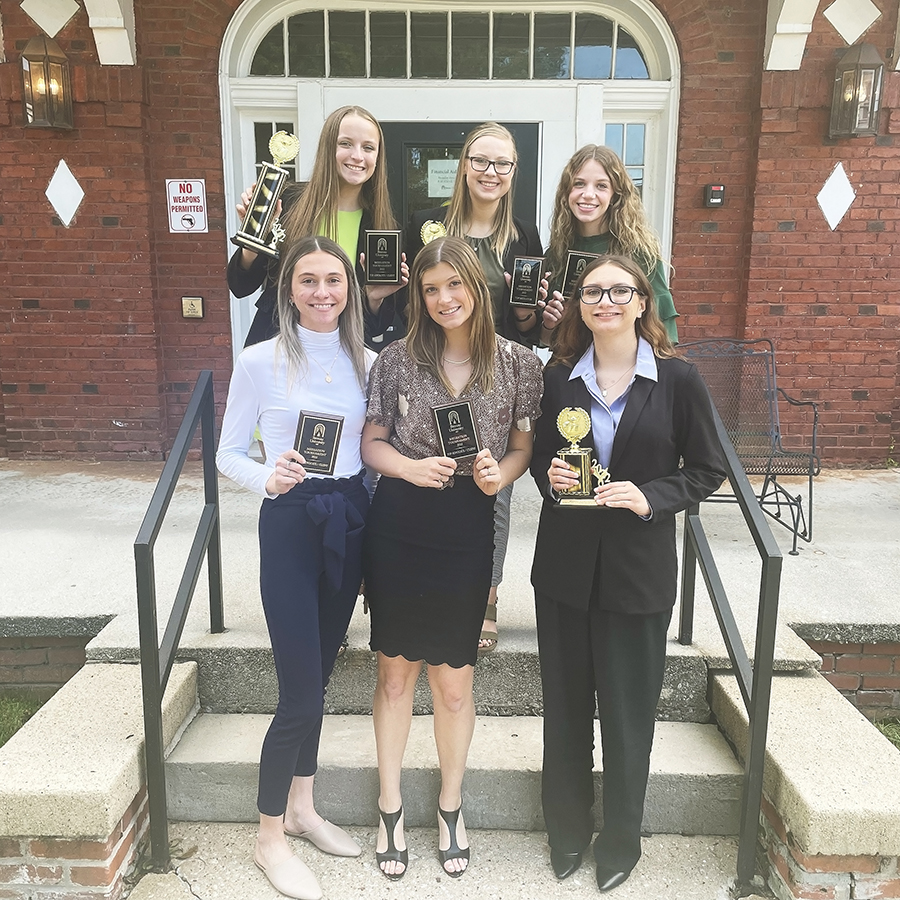 DUBUQUE, Iowa - University of Dubuque's Mediation Team earned multiple awards - including top honors - at the 20th annual Brenau Invitational Mediation Tournament held Friday, Oct. 7, 2022, and Saturday, Oct. 8, 2022, in Gainesville, Georgia. The tournament is considered one of the most prestigious and longest running mediation invitationals in the country.
Winning first place in the Team Mediation Category was UD's team of Megan Boby, a senior business major from Valparaiso, Indiana; Kylee Cashman, a sophomore criminal justice and sociology double major from Fort Madison, Iowa; and Elizabeth Stoffel, a sophomore criminal justice and business double major from Burlington, Wisconsin. The team also placed fourth in the Team Advocate/Client Category.
"Winning first place in the Team Mediation Category was shocking to me. Last year, the team was all newbies and we struggled a bit. I expected us to do well in this competition, but doing this well, and earning the top award, was both surprising and thrilling," Cashman said.
Stoffel added, "Having the ability to say that Megan, Kylee, and myself won the award is amazing. We put in the work, stayed confident, and walked away with a first place trophy. I would say this just ignites our inner flame even more to work towards our dreams and careers we each wish to pursue."
For some on the team, those dreams and careers include mediation.
"Not only have I found a love of conflict resolution and mediation on a competitive level, but I also plan on pursuing mediation in some form during my career. The relaxed process allows all of the parties to be heard in a way that trials in a courtroom simply do not. Being the person to genuinely listen to each side and give them the power has been an eye-opening experience and something I plan on continuing through my legal career," Boby said.
UD's Mediation Team took home additional awards. Winning fifth place in the Team Advocate/Client Team was the team of Sydni Kirk, a senior criminal justice major from Dubuque, Iowa; Heather McClimon, a sophomore psychology and criminal justice double major from Clinton, Iowa; and Mary Kate Wille, a senior criminal justice major from Elkader, Iowa.
Individually, Kirk and Wille earned first place in the Advocate/Client Category, Cashman received fourth place in the Mediator Category, and Boby and Stoffel placed fifth in the Advocate/Client Category.
Started in 2012, UD's Mediation Team is coached by Ben Bartels, JD, director of the team.
The Brenau Invitational Mediation Tournament, which is sponsored by the InterNational Academy of Dispute Resolution, gives undergraduate students real-life experience as mediators, attorneys, and clients. Three students make up a team, and each student must participate as a mediator in one of the three preliminary rounds. Students work towards finding a peaceful and advantageous resolution for both parties.
Preparation for the tournament began in the students' mediation class with learning about skills such as reflective listening and it continued outside the classroom. After the facts of the cases were released a week before the competition, Stoffel said all six students regularly gathered in the Charles C. Myers Library.
"We talked about the case facts and possible outcomes; we essentially brainstormed each case thoroughly. We even did a practice mediation to ensure that we all felt prepared prior to the competition. Overall, we did what we thought was necessary to allow ourselves to walk into the competition feeling confident that we were going to be walking away Saturday afternoon with some type of award, which is what we did ... instead we walked away with several awards," Stoffel said.
Boby described the week before the competition as "'pedal to the metal' sort of work that is not expected out of any other class."
"You have to craft opening statements for both sides of all three cases, develop creative solutions, prepare for the potential arguments that the other side will present, and learn how to best portray the client you will be roleplaying as. It is a lot of hard work, and I am so thankful I have the teammates I do that share that same passion and competitive nature that I do. We all wanted to win," Boby said.