University of Dubuque to Hold Opening Convocation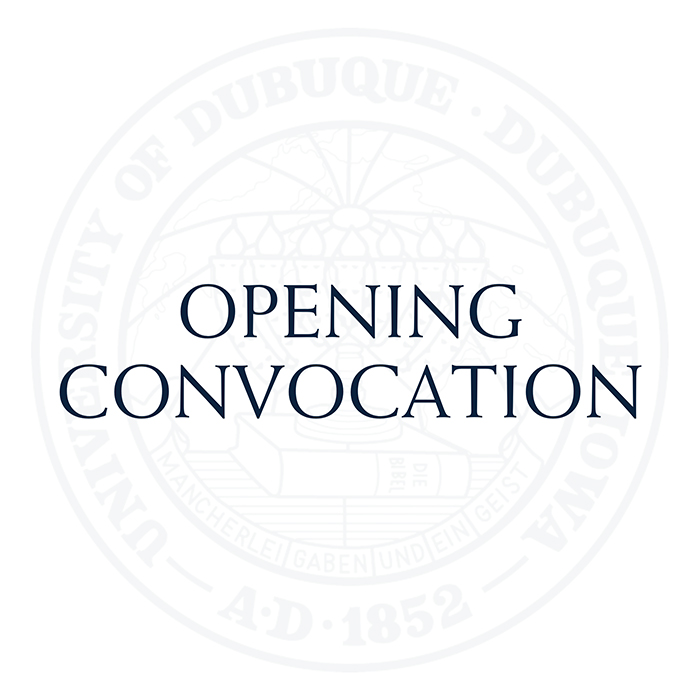 DUBUQUE, Iowa - The University of Dubuque's Opening Convocation will be held at 10:45 a.m. Thursday, September 8, 2022, in John and Alice Butler Hall, Heritage Center.
An annual tradition at the beginning of the year, Opening Convocation is one of the first events held as a campus community that speaks to the importance of the well-being of faculty, staff, and students as UD seeks to educate the whole person.
"Grounded in our Mission, faculty and staff commit to the education and formation of well-rounded students capable of engaging the world. Students, too, commit to a meaningful educational experience. In this worship service, with God's help, we dedicate ourselves to one another and the year ahead," said Rev. Jeffrey F. Bullock, PhD, president of the University.
This year's guest speaker is Rebekah Johnson, director of women's ministry at Veritas Church in Iowa City. A native Iowan, Johnson graduated from the University of Iowa's College of Nursing and worked as an emergency room nurse in Colorado before moving back to Iowa, where she worked as a part-time oncology nurse before her job at the church became full time.
All UD offices, including the Charles C. Myers Library and Chlapaty Recreation and Wellness Center, will be closed during this time so students, faculty, and staff - as one community - may attend. Classes and other student activities scheduled between 10:30 a.m. and noon will be canceled. Classes scheduled to begin at 12:15 p.m. will be held.
For those who cannot attend in-person, Opening Convocation will be streamed live on UD's Facebook page and YouTube channel.
"Indeed, for such a time as this, we can continue to meet the challenges before us by remembering and honoring our Reformed heritage, our Christian commitment as a faith-based institution, the diversity of our community, and the pursuit of academic excellence," Bullock said.