University of Dubuque to Dedicate Pocket Prairie and Peace Pole
By Stacey Ortman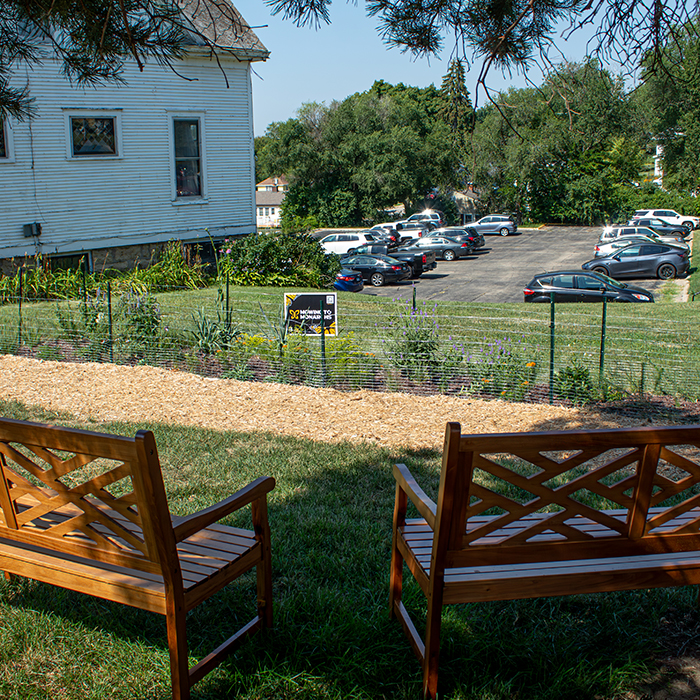 DUBUQUE, Iowa - A dedication ceremony organized by University of Dubuque students for the new pocket prairie and peace pole on campus will be held from 3:30 to 4:00 p.m. today, Thursday, November 9, 2023, near the parking lot at the intersection of University Avenue and McCormick Street across from the Jackaline Baldwin Dunlap Technology Center.
"The pocket prairie is a space that invites and restores biodiversity while the peace pole is a constant reminder that although today's world is often involved in conflict, we still need peacemakers," said Kendall Ruden, a junior biology major. "This space is meant to invigorate self-reflection and resolution while reminding you that mistakes happen and can be changed for the better. Overall, this has been a long thought-out process that has involved many individuals and groups from the University of Dubuque. We are so thankful for all the help and hope to see you at the dedication ceremony."
The dedication ceremony is open to the public. During the event, the words written on the peace pole, "May Peace Prevail on Earth," will be read in numerous languages. Attendees who wish to speak this intention in their native language will be invited to do so.
Eleven students enrolled in Sacred Spaces, a new honors seminar class, helped organize the dedication ceremony for the 130-square-foot pocket prairie and peace pole.
"After learning about the ideologies of what makes a space sacred, we have tried to apply them to our dedication ceremony whether that is through something as little as how the chairs are set up or as big as what is said to convey the meaning and purpose of space," Ruden said. "Overall, our biggest focus has been trying to not only convey the space as sacred but also make people believe that this space is sacred."
The pocket prairie was installed over the summer as part of the Mowing to Monarchs program after UD and three other colleges, with the help of the Dubuque Colleges Sustainability Coalition, received funds from a collaborative Sustainable Dubuque grant. Mowing to Monarchs, established by the Dubuque County Conservation Board and the Dubuque County Master Gardeners, provides accessible training and information to guide urban and suburban homeowners in adding native plants into their yards.
Students in the Biology of Local Flora class planted more than 70 individual native prairie plants that are low maintenance, attractive to pollinators, and provide bloom throughout the growing season. The peace pole was recently installed.
The pocket prairie also includes a mulch path, an arch, and benches. The peace pole is part of a global movement with more than 200,000 poles in 200 countries around the world, starting in 1995 in Japan by Masahisa Goi to join together people around the world who hope for peace.
Mary Emily Duba, PhD, associate professor of theology who co-taught the Sacred Spaces class with Brian Hallstoos, PhD, associate professor of history, said students grasped immediately the importance of the Mowing to Monarchs initiative and saw the connection between stewarding the biodiversity of creation and peacemaking among peoples.
"I was deeply impressed by their innate sense that ceremony, storytelling, and ritual are important to the creation of sacred space," Duba said.
Hallstoos added, "Considering the exceptionally active way students have engaged in our course all semester, their palpable sense of ownership over ceremony plans came as no surprise. This said, I did not anticipate how many good ideas they would come up with and the intensity of their concern over getting things right. They took their role in helping create a sacred space very seriously."
Planning for the dedication ceremony started with discussion groups that reflected on questions that included the following: What is the purpose of a dedication ceremony? How might well-chosen words, songs, and ritual actions help to create a sense of sacred space? What do we hope people take away with them from this experience?
For Ashley Wierman, a junior pre-nursing major, the ability to help plan a dedication ceremony around a sacred space has been engaging and rewarding.
"I feel as though I am part of this space myself now. I truly enjoy being a part of this process and feel that I am starting to evoke change all around me to both strive for peace but also protect and return our own native biodiversity," Wierman said.
While planning for the dedication ceremony, every detail was discussed, including the desire to seat attendees in a way in which they could connect with each other, the pocket prairie, and the peace pole.
"We wanted people to feel comfortable and connected to the space, so they were more open-minded and felt like a part of the sacredness," Ruden said. "We also knew that we needed to announce the individual purpose of the pocket prairie and peace pole, how they are connected, and how attendees could become part of this movement. Lastly, we wanted to give an example of why or how people would use this space because we understand it can be intimidating or just seem like an aesthetic addition, but it's much deeper than that and we hope our dedication ceremony can open people up to that."
As the students worked through a plan, Duba witnessed one of the greatest gifts of the process for her - watching students recognize the power of song to create sacred space.
"The Safe Passage Singers, a group of women who sing for people on the thresholds of life, came as guest speakers to our class," Duba said. "When they proposed to teach us a song, many in the class were hesitant and unsure of their voices. But before long the whole class was singing, 'May I be an instrument of peace,' in four-part canon. When the song ended, they all exclaimed in astonishment at the beauty they had created together."
As attendees at the dedication ceremony read the words written on the peace pole, "May Peace Prevail on Earth," those who helped organize the event hope they will understand the peace pole is a unifying object where people are able to turn and find peace.
"We are placing this pole on our campus to encourage students to be the peacemakers we want to see in the world because the future is in our generation's hands," Wierman said. "I also want people to know how important it is to maintain natural biodiversity in our local hometowns and areas. With our student body being so extensive from around the world, I feel that with the action of planting a pocket prairie here, people around the world will hear about efforts to maintain native wildlife and plants."