University of Dubuque Student Designs 2022 UD for Kids Logo
By Stacey Ortman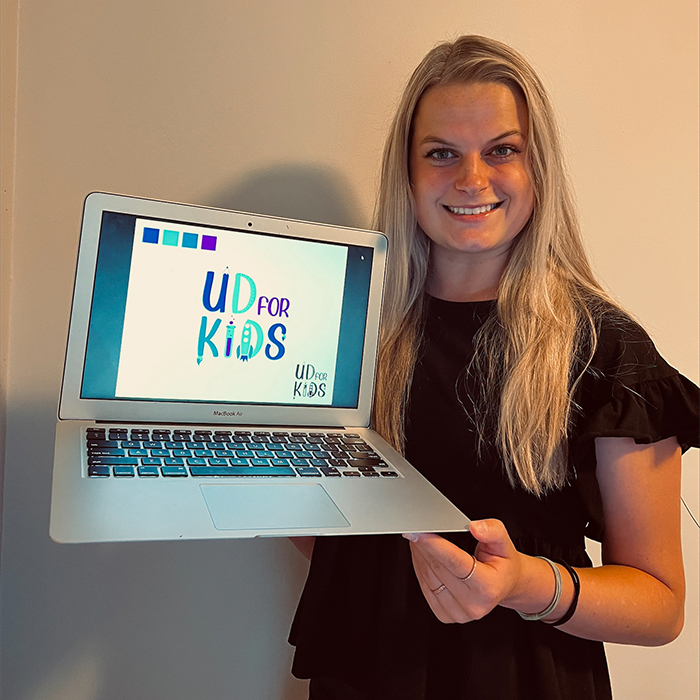 DUBUQUE, Iowa - UD for Kids received a playful logo update with paintbrushes, a rocket, and more that tells the story of the summer enrichment opportunity at the University of Dubuque for students in first through seventh grade.
Kyla Lindsey (C'22) designed the logo in her DART 401 Identity Design class in fall 2021. It was chosen by the Office of University Relations out of 30 logos submitted by 10 digital art and design students.
"It feels really good to have my logo around campus this summer," Lindsey said, adding, "With the logo that was chosen, I tried to incorporate some of the elements and things that they offer at UD for Kids in the letters of the logo. For the colors of my logo, I tried to stay with blues for UD."
Offered every other fall semester for junior and senior digital art and design students, DART 401 Identity Design allows students to apply the principles of visual identity in the graphic design field. Students learn to create different types of portfolio quality logos, such as wordmark, iconic, and illustrative logos, along with environmental signage. Each logo project has a partnership with a client.
"Clients are chosen based on their logo needs and the timeframe of their project," said Sheila Sabers, professor of digital art and design and the Department Chair of Digital Art and Design.
In addition to UD for Kids, students have worked on logo projects for the Bisignano Art Gallery, Project Rooted, Queer in the Corn Belt, Sedona Staffing Services, Wolter Woods and Prairies Environmental Stewardship and Retreat Center, and the Donate, Don't Dump donation drive held on campus.
"Real-world experience projects help prepare students in their design process, gives them an opportunity to practice communicating effectively with clients, and provides the chance for an interesting professional portfolio project," Sabers said.
The Office of University Relations, which oversees design work for UD for Kids, was asked to participate in a panel with a local designer to critique and provide feedback on branding projects.
"Instead of students presenting their projects to their professor, Professor Sabers wanted to take them out of their comfort zone and present to a group of people they are unfamiliar with to help prepare them for working with clients in the future," said Thomas Hogan, senior associate vice president for university relations.
Lindsey Hackman, assistant director of university communications, added, "Professor Sabers was looking for a project that her students could work on that would give them experience on designing an image or a logo that could work within multiple mediums on both four- and one-color applications all along giving consideration to more complex and simplistic applications."
After students interviewed Hogan and Hackman in the classroom to get the design brief, they conducted research and reviewed current trends before developing multiple design concepts and/or sketches. They then received constructive feedback from their professor and classmates. Lastly, students presented their three best designs to the client for review.
"At first, I really wasn't sure what UD for Kids was so I started off by doing my research and seeing what they do and what they offer. After that I took notes, started putting ideas together, and went to work," Lindsey said.
Her design was selected as the 2022 UD for Kids logo because its colorful, playful elements.
"She did a great job tying in a variety of the subjects that UD for Kids students may encounter in the program and then integrating those elements within the strokes and objects of the design," Hackman said.
A few minor edits were added to the logo design such as Sparty with a paint tray and the year.
For Lindsey, the experience was a memorable one.
"When I first heard about this project, I thought that it was a very neat opportunity for me and my classmates to experience. It gave us all a chance to be able to have our work go out of the classroom and around campus so people other than us could see our work. In the design industry, most people don't understand the time and effort we put in for our projects in class and a lot of them don't go anywhere other than our portfolios. So, overall, I think that it was a very neat opportunity," Lindsey said.