University of Dubuque Receives National Science Foundation Grant for New CREATE Program
By Stacey Ortman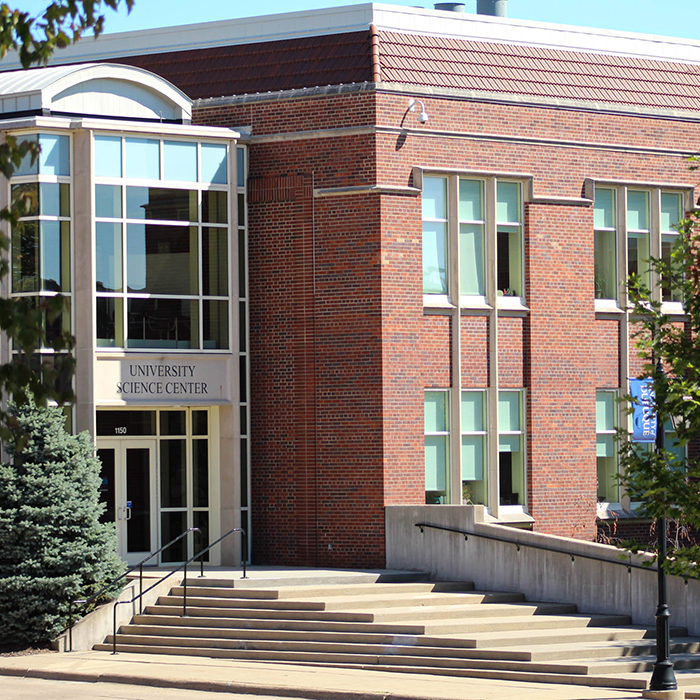 DUBUQUE, Iowa - The University of Dubuque has received a $748,450 grant from the National Science Foundation to support building a sense of belonging for students in science, technology, engineering, and mathematics (STEM) through research, networking, and community engagement.
Funded through the foundation's Scholarships in Science, Technology, Engineering, and Mathematics (S-STEM) program, the six-year grant supports the creation of the Connecting Research, Experiences, and Application to Engagement (CREATE) program at UD. CREATE will provide a unique opportunity for Department of Natural and Applied Sciences students majoring in biology, chemistry, or environmental science that demonstrate a financial need and academic talent to participate in an integrative program.
"It will provide opportunities to people who potentially want to do science but don't have the means to do it," said Adam Hoffman, PhD, head of the Department of Natural and Applied Sciences and professor of environmental chemistry.
CREATE aims to cultivate and embrace a unique combination of research, vocational skill development, and intentional interactions within the community to help produce highly-skilled, qualified, and positive members of the STEM workforce.
"This unique combination of research and vocational skill development with an increased collaborative community in the sciences will provide a stronger STEM population and workforce. The overall goal of CREATE is to address the local and national concern of maintaining and increasing a strong STEM population and workforce to enhance innovation and economic strength," said Kelly Grussendorf, PhD, director of the CREATE program and associate professor of biology.
CREATE is designed to provide scholarships for 24 students, building four cohorts of six students over the six years of support. Scholars will be selected during their first academic year and will be financially supported with a yearly award of $6,500 throughout the three remaining years of their undergraduate education. Scholars will carry out team-based, student-driven research projects under the mentorship of faculty members to build their skills and confidence in the area of STEM.
"We're living the University of Dubuque's Mission of lifelong learning. I'm excited to learn a whole bunch of fantastic new things from my colleagues and also from the students and interacting with them," Hoffman said.
This summer, the first cohort of scholars will begin work on projects dealing with the overarching themes of water quality, vertebrate ecology, and prairie restoration. Next summer, those scholars will continue their research as well as become mentors to the next cohort of students.
"That really addresses the world of science now. Nothing is independent anymore. You have to have that knowledge across those different areas. The CREATE program is designed to help prepare students in that aspect," Grussendorf said.
Scholars will also participate in the planning and execution of a service-learning project. Ellen Carr, MBA, director of the Office of Vocation, Career Services, and Community Engagement, will help scholars prepare for professional life after college.
"This will include development of resumes and cover letters, preparing for interviews, and discussing career opportunities. Even though some students may pursue graduate school and advanced degrees, this process will help when they are actively pursuing careers. We will also foster relationships and opportunities for service projects in the surrounding community," Carr said, adding. "I look forward to working with each group of scholars to learn about their passions and change they want to see then help find meaningful service projects to participate in within the Dubuque area. This really brings us back to our Mission and educating and forming the whole person."