University of Dubuque Flight Instructor Named Best in the Nation
By Stacey Ortman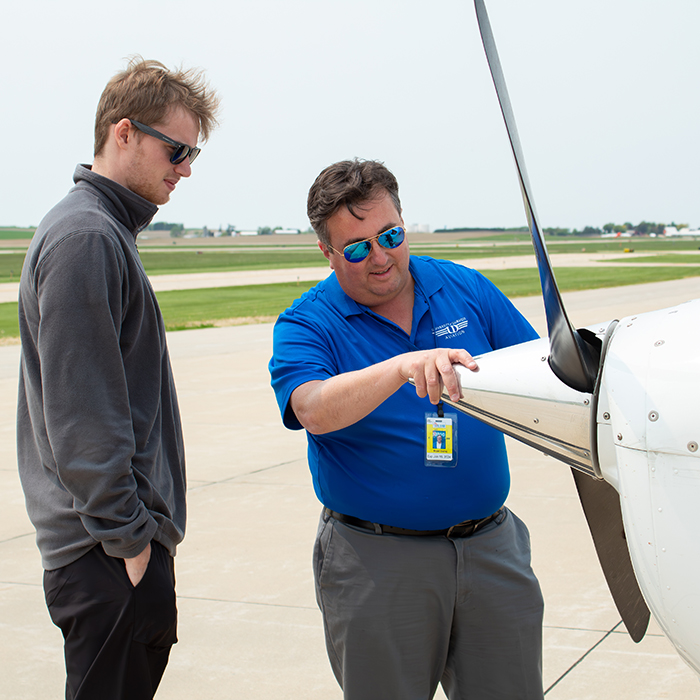 DUBUQUE, Iowa - Bryan Gutraj, JD, a senior flight instructor at the University of Dubuque, has been recognized for his high standard of flight instruction and named the Best Flight Instructor in the Nation, a title given to the top scoring flight instructor from the 2023 Flight Training Experience Survey conducted by the Aircraft Owners and Pilots Association (AOPA).
"There are a lot of talented instructors at the University of Dubuque, but to receive this award for being the best in the nation is truly humbling. I was very excited to hear my name announced at the ceremony in Oshkosh and proud to have several friends, a current UD aviation student and his dad, and colleagues from around the country attend the ceremony to celebrate with me that night," Gutraj said.
For over 20 years, Gutraj has been flying throughout the continental United States in aircrafts ranging from steam gauge Cessna 150s and Piper Arrows, to glass cockpit Cessna 172s and Cirrus SR22Ts, to various multi-engine aircraft. He also is an Illinois attorney and CPA working with clients on aviation, business, tax, and estate planning matters. Gutraj joined UD in August 2020 as a certified flight instructor after he decided to take a sabbatical from practicing law at the outset of the COVID-19 pandemic. He has taught a broad spectrum of students from student pilots through multi-engine instructor candidates in the University's G1000 single-engine Cessna Skyhawks and multi-engine Piper Seminoles.
"We were excited to see that Bryan had been chosen for this award from the AOPA. He is very deserving of this recognition. Bryan has an outstanding attitude and manner when dealing with student pilots. He is extremely competent and his personality lends itself well for putting students at ease in the aircraft. This facilitates greater learning and understanding of the responsibilities needed by each student to succeed in the aviation industry. Flying is more than just manipulating the aircraft controls. Flying requires a great deal of mental acuity to be able to enter the highways in the sky, be ready to react to adverse situations and weather, and to think 15 to 20 minutes in front of the aircraft using all of the available technology in preparation for arrival at the destination. Bryan brings out the best of these qualities in his students," said Randy Warm, MS, director of aviation programs.
The Flight Training Experience Survey was created to highlight the best flight training the industry has to offer. The 2023 awards were drawn from flight students and pilots who voluntarily reviewed their flight training experiences this past fall through an AOPA online survey. The process yielded an evaluation of 1,153 individual flight instructors and 608 different flight schools.
"Having been a pilot for nearly a quarter century flying all around the United States, I have been able to observe a wide spectrum of flight training and can honestly say UD's flight program is one of the best in the country. The airplanes that students fly are some of the newest in America, the classroom ground training provided by the faculty is top notch, and the camaraderie and support provided by the other flight instructors, assistant chief pilots, and UD's Chief Flight Instructor Suzanne Peterson have all allowed me to excel at the University of Dubuque and earn this distinction," Gutraj said.
When Gutraj is not flight instructing or practicing law, he can be found flying in a Cessna 210. Gutraj also serves as an FAA Safety Team representative and is active in the EAA Chapter 327 as a member of its scholarship committee and Young Eagles Flight volunteer.
The University of Dubuque's Department of Aviation is a 14 CFR part 121 program offering several four-year bachelor's degree options. For more information, please visit www.dbq.edu/Aviation.