University of Dubuque Faculty Receive Funds to Implement Open Educational Resources
By Stacey Ortman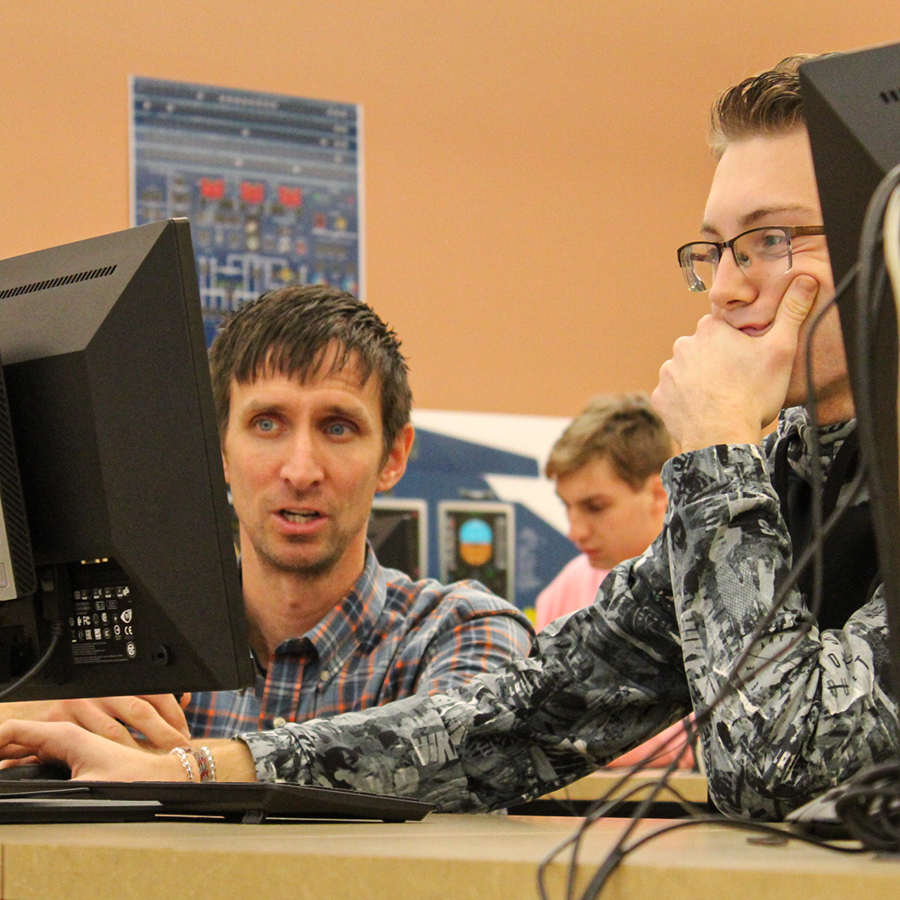 DUBUQUE, Iowa - Sierra Hartmann worked on a project this semester at the University of Dubuque unlike any she has done before. The senior biology major and her environmental toxicology classmates collaborated to create a chapter about landscape ecotoxicology for submission and possible inclusion in the free, online textbook they had been using in class.
"It's a little bit intimidating knowing that I want to make it as perfect as I can make it, and I want to make sure the questions I include do what the other questions in other chapters people have created do for the reader," Hartmann said.
Her professor, Adam Hoffman, PhD, head of the Department of Natural and Applied Sciences and professor of environmental chemistry, was one of five UD professors to receive $27,000 total to integrate open educational resources (OER) in their courses. Funds were provided by the Iowa Private Academic Libraries (IPAL), which received $254,000 from the Governor's Emergency Education Relief Fund to coordinate a multi-institutional OER project for 19 participating institutions.
In its call for proposals, IPAL defined OER as teaching, learning, and research resources that are free of cost and access barriers, and which also carry legal permission for open use.
Over the summer, Hoffman redesigned his environmental toxicology course around the Environmental Toxicology OER and supplemented the online textbook with multimedia content from research articles, podcasts, videos, and more.
"I realized we needed to have this class more engaging and allow students to get information a variety of different ways. Now we have podcasts, we have films, we have scientific readings, and we have popular literature readings. This grant really allowed us to do a full switch," Hoffman said.
He hopes the redesigned course will address student retention, synergy between textbook level and student preparedness, and student engagement through the incorporation of best practices in teaching.
"Open educational resources are resources that are freely available. They don't cost students money, which is one of the main fantastic things, but also from a pedagogy and teaching standpoint it's really fantastic because you can create your own OER that can be broadly disseminated and used," Hoffman said.
As part of the course redesign, Hoffman asked his students to create content for a chapter listed as "in preparation" in Environmental Toxicology. He said regardless if the students' content is adopted to the book, the students will learn about their topic. Dylan Link, a junior environmental science major, said it was interesting to create content for an OER that others might be able to use.
"It definitely makes you think how certain things are important and aren't important and how things get added into a textbook," Link said.
Christopher Doll, MLIS, director of the Charles C. Myers Library, helped co-write the grant on behalf of IPAL. He said a recent study showed implementation of OER improved course grades and decreased D, F, and Withdrawal grades. The resources also can be accessed before the semester begins.
"Now instructors know on the first day they can start lessons because everyone has the book," Doll said.
Other faculty who received grant funds implemented a variety of projects. Daniel Fleming, assistant professor of computer studies, built a lab manual that takes students through building a virtual computer security lab environment on their own computer as well as lab exercises based on that lab setup. Dawn Nelson, MS, assistant professor of computer information systems, expanded the content taught in her digital documents class to include tasks that are beyond the introductory content. Mark Sinton, PhD, associate professor of chemistry, adopted an OER textbook in chemistry courses. Adam Smith, PhD, associate professor of political science, created an OER textbook suited to his big questions course.
Throughout it all, library staff helped faculty incorporate OER into their classrooms. Hoffman worked with Jessica Condlin, reference and instruction librarian, to come up with each module in the course and select a variety of multimedia experiences that paired with the OER.
"This was just like the perfect storm. I get to work with fantastic people, help student learning, and it costs the students less and they're more engaged in class," Hoffman said.