University of Dubuque Alumnus Tony Danza to Return to Campus with Hit Live Show
By University Relations Staff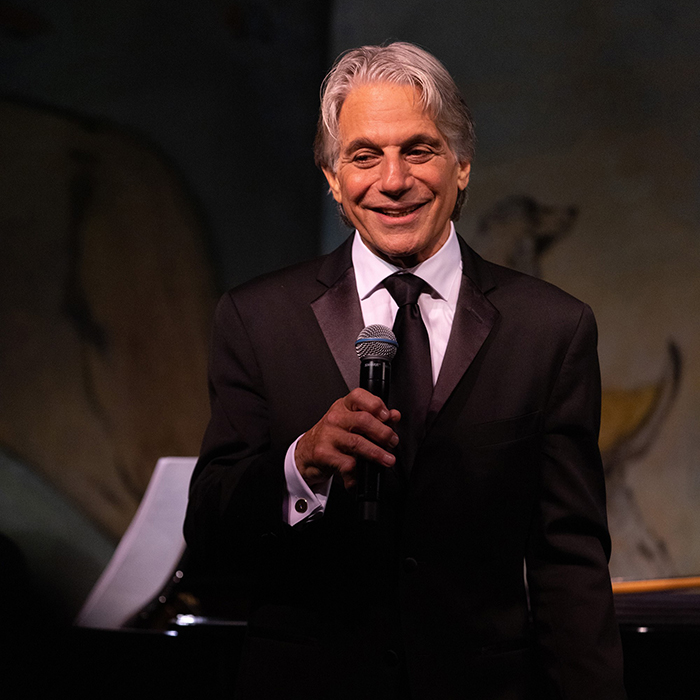 DUBUQUE, Iowa - University of Dubuque alumnus Tony Danza (C'72, HON'04) will return to his alma mater for a special Homecoming performance of his hit live show, Standards & Stories, at 8:00 p.m. Saturday, October 22, 2022, in John and Alice Butler Hall, Heritage Center. The one-night engagement also celebrates Danza's 50th class reunion.
"I've been lucky. Lucky to come to the University of Dubuque and lucky to still be around and be able to come to our class' 50th reunion. Adding to all of this luck, I get to perform during the weekend. It's a great honor to be a part of the reunion weekend and to pay tribute to the University because much of who I am today is a result of the time I spent here. I want to thank the school's staff, present students, my classmates, and everybody else here at the University. And lastly, all I can say is, fight on Spartans down the field, onto victory," said Tony Danza.
WHAT:
Tony Danza: Standards & Stories
WHEN:
8:00 p.m. Saturday, October 22, 2022
WHERE:
John and Alice Butler Hall, Heritage Center, University of Dubuque
TICKETS:




- Public: $34 - $52
- UD Affiliates (UD Faculty and Staff, UD Alumni, Parents of Current UD Students, Military/Veterans, Groups of 10 or More): $29 - $47
- UD Students: First ticket $10; additional tickets $29 - $47
Ticket prices increase by $5 at midnight the day of the event.
Tony Danza: Standards & Stories is among the exciting lineup for the 10th anniversary season of the Live at Heritage Center Performing Arts Series.
"We are so excited to have Tony return to his campus home for Homecoming 2022! The weekend will be filled with many special events from campus tours to reunions and tailgates to sporting events, but one of the Homecoming highlights is always the show at Heritage Center. Tony's performance, Tony Danza: Standards & Stories, will be extra special this year as Tony and fellow members of the Class of 1972 celebrate their 50th class reunion. We can't wait to welcome Spartans from across the country back home to commemorate this milestone and join together for a weekend filled with Spartan Spirit," said Katie Kraus (C'11), director for alumni engagement.
Danza and his four-piece band have entertained audiences around the country with their hit live show, Standards & Stories. Combining timeless music with wit, charm, storytelling, and a dash of soft shoe and ukulele performances, Danza performs a selection of his favorite standards from the Great American Songbook while interweaving stories about his life and personal connection to music.
The New York Times raved, "Tony's a live wire who tap-dances, plays the ukulele, tells stories and radiates irresistible charm ... He exudes the kind of charisma that can't be taught!"
Danza has been one of the world's most beloved and iconic entertainers for over 40 years. Perhaps best known for his starring roles on two of television's most cherished and long-running series, Taxi and Who's the Boss, Danza has also starred in hit films such as Angels in the Outfield, She's Out of Control, Hollywood Knights, and Don Jon. Well established as a song and dance man, Danza has also starred on Broadway in The Producers and A View from the Bridge. He received rave reviews for his performance in the Broadway musical comedy Honeymoon in Vegas with the New York Times calling his performance "sly genius" and a "career high." Danza received an Emmy nomination for his guest spot on The Practice and recently made a special guest appearance on Blue Bloods. He also has a much buzzed about Who's the Boss sequel in the works and just wrapped a co-starring role in the upcoming 20th Century Fox feature film Darby Harper Wants You to Know.
Tickets for Tony Danza: Standards & Stories can be purchased from 11:00 a.m. to 2:00 p.m. Monday through Friday and 90 minutes prior to events at the Farber Box Office, Heritage Center, University of Dubuque, 2255 Bennett Street; by calling 563.585.SHOW; or by visiting www.dbq.edu/HeritageCenter.
New this season, the Heritage Performing Arts Loyalty System (H-PALS) allows patrons to earn rewards. For every $200 spent on eligible events, patrons receive one free ticket (valued up to $50) to their choice of eligible event. For more details, please visit www.dbq.edu/HeritageCenter.
Conlon Construction is the presenting sponsor of the 2022-2023 Live at Heritage Center Performing Arts Series.