UDPA Students Gain Valuable Experience with Clinical Preceptors and Affiliate Clinical Faculty
By Stacey Ortman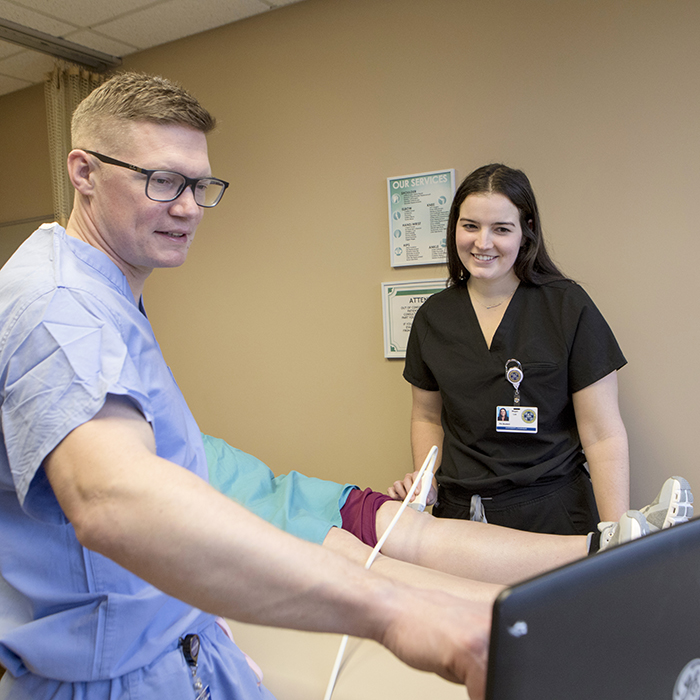 DUBUQUE, Iowa - When University of Dubuque physician assistant student Megan Lee joined the team at Dubuque Orthopaedic Surgeons for a four-week clinical rotation, she became a valued member of the clinic under the guidance of Dr. Bryan Trumm,, a board-certified orthopaedic surgeon.
"The staff here have been so kind and amazing. It makes it such a more comfortable rotation for me, because it's scary when you come in and you feel out of place and you don't know where you fit into a system that works fine without you. But they've been really incredible teaching me tips and tricks here and there. All of these skills I've learned here, I'm going to take away and use in my future rotations and in my future career as well," Lee said.
Dr. Trumm added, "I've really enjoyed having Megan here with us. She's been a great asset to our team."
The clinical phase of UD's master of science in physician assistant studies program is an intense training period from January to November. It follows 15 months of didactic training. Students complete core rotations in family medicine, internal medicine, women's health, pediatrics, emergency medicine, general surgery, psychiatry/behavioral health, and rural medicine, as well as two electives and one medical specialty rotation.
Throughout those rotations, clinical preceptors and affiliate clinical faculty are vital to the educational experiences of students. Dr. Trumm, who has precepted UD students since 2019, was appointed an affiliate clinical faculty in 2021. He is one of 46 clinical affiliate faculty at UD this year.
"Clinical preceptors and affiliate clinical faculty play an integral role by facilitating hands-on clinical experiences and patient interactions, providing real-time feedback, and sharing their expertise in their field," said Natalie Weber, PA-C, program director and associate professor for the UDPA program.
Dr. Trumm reflected on his years of education and shared how good preceptors and coordinators were critical to his training. Those experiences helped fuel a desire to give back in the same way.
"I think it's important to give back to the future generations. If you want good health care for yourself and other providers, I think you should expect to help out with the next generation of people coming through," he said, adding. "I've really enjoyed working with the UDPA program. I have good students coming in. They want to learn."
For as long as Lee can remember, she wanted to work in health care. She especially liked the profession of PA because it provides a significant amount of autonomy, allows you to develop good relationships with physicians, bridges patient care needs, and more.
"I think medicine is cool and it's always evolving and you're always learning something new. And I think that's what has been most fun this clinical year," Lee said, adding. "It's interesting to see how different providers do things and then you kind of get to pick and choose what you really like and you get to incorporate that into your own practice someday and how you care for patients."
When it was time to choose an elective clinical rotation, Lee knew she wanted orthopedics.
"My dad had a total hip and seeing the quality of his life completely changed, it's just incredible. The technology some of these surgeries use is really unbelievable," she said.
With a four-week clinical rotation at Dubuque Orthopaedic Surgeons, priority was placed on the basics such as how to do a good physical exam and interpret X-rays. Opportunities were also provided to help assist with casting as well as suturing in surgery.
"We try to give as much autonomy as we feel is appropriate. I hated when I was a resident watching surgery and not being involved," Dr. Trumm said.
Lee added, "I think the best way to learn is doing hands-on things and I've had so many opportunities to do that here, which is good."
One experience she won't soon forget is drilling a screw into bone under close supervision.
"The first time Dr. Trumm handed me a drill, I went home that day and called my friend and told them, 'This is the best thing I've ever done. This is awesome,'" Lee said.
Her clinical rotation with Dubuque Orthopaedic Surgeons ended in March. The UDPA program looks forward to the next student placement with Dr. Trumm.
"We are excited when the eagerness of our students to learn is met with the same eagerness to mentor by our preceptors. It's a win-win situation and rewarding to see the impact precepting has on both the student and the clinician," Weber said.
If you're interested in joining a growing team of local preceptors, please contact paclinicaledu@dbq.eu or visit www.dbq.edu/MSPAS.