UDPA Achieves Accreditation-Continued Status
By Stacey Ortman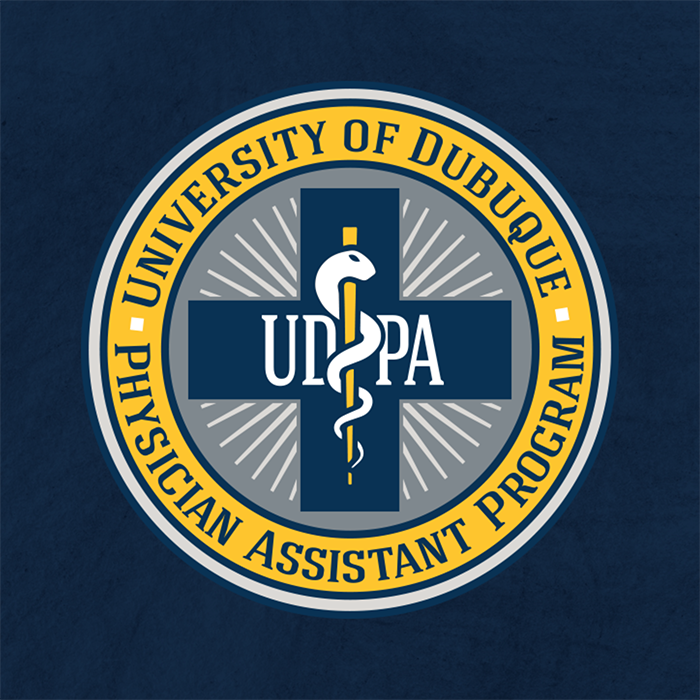 DUBUQUE, Iowa - As the University of Dubuque Master of Science in Physician Assistant Studies (MSPAS) program welcomes its newest cohort of students this week, the program also celebrates a major milestone from its national accrediting body.
The Accreditation Review Commission on Education for the Physician Assistant, Inc. (ARC-PA) has granted Accreditation-Continued status to the University of Dubuque Master of Science in Physician Assistant Studies Program sponsored by the University of Dubuque. Accreditation-Continued is an accreditation status granted when a currently accredited program is in compliance with the ARC-PA Standards.
"I think I actually did have tears of joy. In that moment, there was a feeling of recognition for all the work that we put in. It was a long process and I felt like we continued to do the work and take on more things to make sure that we were going above and beyond what the expectations were," said Natalie Weber, PA-C, program director and assistant professor for the physician assistant program.
Started in fall 2016, the MSPAS program is modeled on the medical school curriculum that involves both didactic and clinical education training to prepare students to become clinicians who are educated in all aspects of health care. Students spend 15 months in the pre-clinical phase with classroom instruction in anatomy, physical examination, pharmacology, clinical medicine, and more. The following 11 months are spent in the clinical phase comprised of supervised clinical rotations where students gain hands-on experience in the core areas of family medicine, rural medicine, general surgery, emergency medicine, pediatrics, women's health, psychiatry, and internal medicine plus two electives. The 27th month is spent back on campus to complete the clinical phase capstone project and a review course.
Through small class sizes and an engaging learning environment, UD fosters the development of skills to diagnose illness, develop and manage treatment plans, and collaborate with health care professionals to provide comprehensive patient care while keeping UD's Mission at the forefront.
For first-year student Brenna Koch, the small class sizes and community connections were key.
"Everyone seemed very close, and they seemed like they cared about each other in the program a lot," she said, adding, "There's a lot of support coming from other students, faculty, and staff, so it definitely gave me a sense of community and almost kind of like a family... I felt like I would definitely be valued and supported as a student here."
Second-year student Emily Onken echoed that sentiment about the MSPAS program.
"It's a lot more personable. You don't feel like a number," she said.
That connection between faculty and students isn't random. Weber said it's one of the most unique parts of the MSPAS program.
"We constantly have students coming down to speak one-on-one or in small groups with faculty. There's a good relationship there where students feel comfortable with us, so they get that one-on-one attention as much as possible. We have added a variety of social things so students can get to know us outside of the classroom as well. You're definitely not a number here. And students, I think, feel like they have a voice and feel like they have a direct line of communication with us," Weber said, adding, "I think that personal relationship is something that's unique to us."
Some of those social gatherings include Coffee Talks and Snack Attacks where students can grab a coffee or a snack between classes. The faculty and staff are available at that time to socialize and check in.
Second-year student Michael McDonald said UD was one of his top choices because of the interaction he had with faculty and staff during the interview process. He admitted it was a little intimidating at first with starting a new-to-him graduate program. That intimidation faded, though.
"With the staff, they wanted you to come talk to them if you had questions. They really invited that. So it made me not feel nervous to go ask somebody something that I had no clue about," McDonald said.
McDonald and Onken were among the second-year students who welcomed the newest cohort of MSPAS students to campus with a campus tour during orientation this week. The program currently has around 70 students. Of those, 26 are first-year students like Koch who are excited to enter the PA field.
"I really liked the idea of solving a puzzle and helping people get better in the shortest amount of steps possible. Nobody likes jumping through a bunch of hoops to figure out what's wrong. I kind of wanted to be a resource where people could get from Point A to Point B with the least amount of cost, and steps, and hoops to jump through," Koch said.
Upon completion of the MSPAS program, graduates are prepared to sit for the PA National Certification Examination and pursue careers as physician assistants. Since its inception, nearly 100 UD students have graduated from the program. Those graduates have gone onto to practice in fields such as emergency medicine, in-patient care, general surgery, orthopedics, psychiatry, and more.
Accreditation remains in effect until the program closes or withdraws from the accreditation process or until accreditation is withdrawn for failure to comply with the Standards. The approximate date for the next validation review of the program by the ARC-PA will be March 2031. The review date is contingent upon continued compliance with the Accreditation Standards and ARC-PA policy.
The program's accreditation history can be viewed on the ARC-PA website at http://www.arc-pa.org/accreditation-history-university-of-dubuque/.
To learn more about the program, visit www.dbq.edu/MSPAS.