UD to Welcome Alumni Back for Homecoming
By Stacey Ortman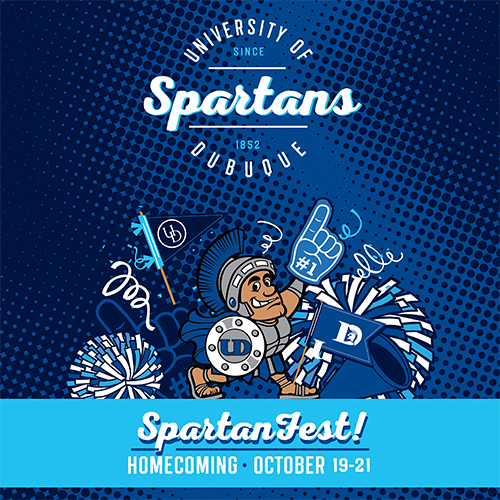 DUBUQUE, Iowa - The University of Dubuque will welcome over 700 alumni home to celebrate with the entire Spartan community at Homecoming 2023.
"It is our pleasure to welcome you back to your campus home - we have missed you! Homecoming is a uniquely special time to see lifelong friends and to make new ones during this exciting weekend," said Katie Kraus (C'11), director for alumni engagement.
Numerous alumni events will be held Thursday, October 19, 2023, through Saturday, October 21, 2023. Below are just a few of those events. For a complete schedule and to register for events, visit www.dbq.edu/Homecoming.
UNIVERSITY BBQ LUNCH
Alumni, students, faculty, and staff will enjoy a BBQ lunch from 11:00 a.m. to 1:30 p.m. Friday, October 20, 2023, on Grace Plaza and Wallace Common. A special performance by the UD Marching Band and UD Choir will occur at noon. There will also be opportunities to help students with a service project and meet members of the Ukrainian Olympic Wrestling Team.
REUNION CELEBRATIONS
Homecoming is the perfect opportunity to celebrate milestones! Here are some of those reunions:
Alumni Reunion Celebration - Recognizing C'63 and C'73
The Classes of 1963 and 1973 will celebrate their 60th and 50th class reunions with a reception-style event from 5:30 p.m. to 7:30 p.m. Friday, October 20, 2023, in the Barbara and Jack Smeltzer Dining Hall, Peters Commons.
Spartan Social - Celebrating C'13 and C'18
Spartans will reconnect with fellow alumni and celebrate the reunion classes of 2013 and 2018 from 5:30 p.m. to 7:00 p.m. Friday, October 20, 2023, in the Lounge, ImOn Arena (formerly the Dubuque Ice Arena).
20 Years of Wendt Character Scholars Celebration Breakfast
Wendt Character Scholars will celebrate 20 years with a program from 9:15 a.m. to 10:20 a.m. Saturday, October 21, 2023, in Straatmeyer Rehearsal Room, Heritage Center.
Alumni Reunion Volleyball Match
Former volleyball players will gather at 9:30 a.m. Saturday, October 21, 2023, in the Stoltz Sports Center for an alumni match as UD celebrates April Elsbernd's 15th season as head volleyball coach.
SPARTAN HOCKEY EXHIBITION GAME VS. UW-EAU CLAIRE
Spartan Nation will cheer on the University of Dubuque men's hockey team in their first home exhibition game at 7:30 p.m. Friday, October 20, 2023, at ImOn Arena (formerly the Dubuque Ice Arena).
ALUMNI AWARDS CEREMONY
Eight distinguished alumni will be honored at the 2023 Alumni Awards Ceremony from 10:30 a.m. to 11:30 a.m. Saturday, October 21, 2023, in Babka Theatre, Heritage Center. The honorees are:
Alumna and Alumnus of Distinction Award: Barbara (Kelly) Smeltzer (C'66) and Jack Smeltzer (HON'02)
Professional Achievement Award: Thomas Willoughby (C'72)
Award of Merit: Sade (Pointer) Swedenhjelm (C'15)
Service to Community Award: Mikelange Olbel (C'08)
Volunteer Recognition Award: David Proudfoot (C'73) and Jan Lombardi (C'72)
Veterans Award for Distinguished Service: CPO Leon Sonksen (C'52)
SPARTAN FEST! TAILGATE
Spartans are invited to bring the whole family for an afternoon of fun before the football game. There will be music, inflatable games, the National Guard Rock Wall, face painting, and other tailgate activities from 11:30 a.m. to 1:45 p.m. Saturday, October 21, 2023, in the Upper Finley Parking Lot. Additionally, various items will be available for purchase from the following local food trucks: Bob & Lou's, Chomps Street Eats, Hibachi Time, Hot Diggity Dogz, Magoo's, and Peppercorn. Some vendors only take cash; an ATM will be available inside the Chlapaty Recreation and Wellness Center.
SPARTAN FOOTBALL VS. BUENA VISTA UNIVERSITY
Spartan Nation will gather in their favorite Spartan Blue attire for an exciting football game that will begin at 2:00 p.m. Saturday, October 21, 2023, on Chalmers Field.
Before the game, attendees will be able to watch a flyover by UD's Department of Aviation and a flag raising ceremony by the 2023 Sergeant Jeffrey B. Dodge Scholarship and the 2023 Staff Sergeant Ronald R. Sagers Memorial Scholarship recipients. At halftime, there will be a performance by the UD Marching Band in addition to other halftime show activities.
Note: Student activities began Monday, October 16, 2023. Students should check their UD email and/or view the Spartan Scoop for more information.