UD Holds Inaugural Spartans Make a Difference Day
By Stacey Ortman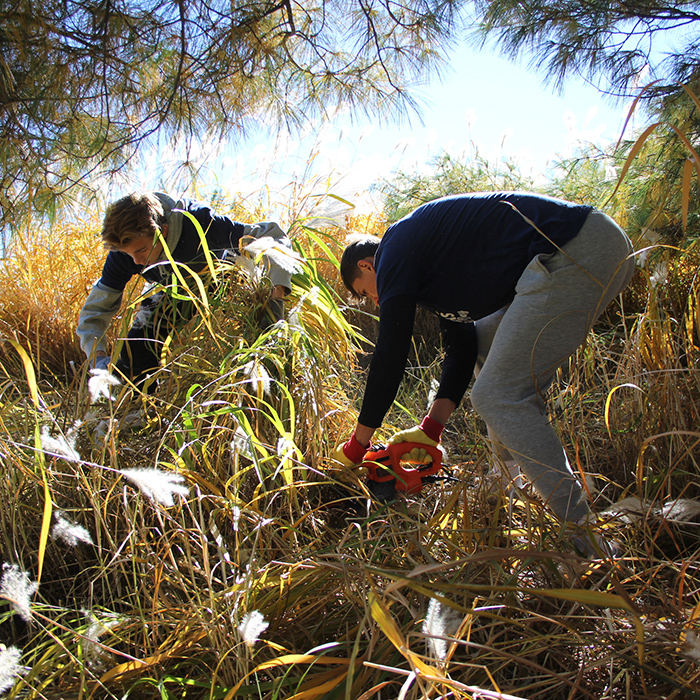 DUBUQUE, Iowa - With the help of his teammates, University of Dubuque soccer player Casey Soanes cut back decorative grass along the road at the Dubuque Arboretum and Botanical Gardens.
"We came out here as a team to clean up the arboretum and make it look nicer," Soanes said. "It's very fun. Not only does it help the community, but it kind of bonds the team together."
A first-year business major, Soanes was one of the over 350 people who participated in the inaugural Spartans Make a Difference Day on Oct. 7, 2022. UD faculty, staff, students, alumni, family members, and community members came together to participate the event that was part of a national effort to mobilize volunteers to aid local nonprofits through service efforts.
"It's really exciting and a good first step at seeing how we can really engage our students, faculty, and staff with the greater Dubuque community. We definitely could not have done this without a team effort. Our partners with the City of Dubuque, Volunteer DBQ, AmeriCorps, and United Way of Dubuque Area Tri-States were instrumental in helping us from a logistical standpoint and then our team here at UD was able to support, come up with the ideas, and facilitate all the projects," said Ellen Carr, MBA, director of the Office of Vocation, Career Services, and Community Engagement.
Participants volunteered at around 30 projects on campus and in the community at places like the American Cancer Society Discovery Shop, National Mississippi River Museum & Aquarium, Riverview Center, and more. At the arboretum, Soanes was joined by men's soccer players Noah Hook, a first-year business major, and Stepan Maltsev, a first-year sport marketing and management major, to clear decorative grass. Other teammates gathered elsewhere in the arboretum to complete tasks such as raking leaves.
On campus, Marge Kremer Little Spartans Childcare Center preschoolers joined in on the fun at Heritage Center. They decorated holiday cards that will be delivered to those serving in the military. UD faculty, staff, and students helped the younger children write personal messages.
Preschooler Lou Fischer drew a Christmas tree with a present, Rudolph the Red-Nosed Reindeer, and snow on his first card of the morning. He asked that his card say, "Thank you warriors." Preschooler James Sanger decorated his card with miniature figures including a dinosaur and a six-armed person with a duck on his head.
Spartans Make a Difference Day started with an idea to engage the Spartan family in service projects in Dubuque and celebrate the power of people to make a difference. Carissa Brown (C'21), coordinator of student engagement and formation in the Office of Vocation, Career Services, and Community Engagement, helped orchestrate the event.
"We want to give back to the area that gives back to us," Brown said.
Sometimes, with volunteering, the first step is always the hardest, according to Carr.
"If we're able to come up with the projects and identify the need and make the process easier, I think that will increase participation and engagement. I think it really helps us model our Mission and live with purpose and help out the people around us, help out each other, and just make a difference," she said, adding. "We're looking forward to seeing how Spartans Make a Difference Day can grow."