UD Announces Live at Heritage Center 2023-2024 SchoolBus Performance Series
By University Relations Staff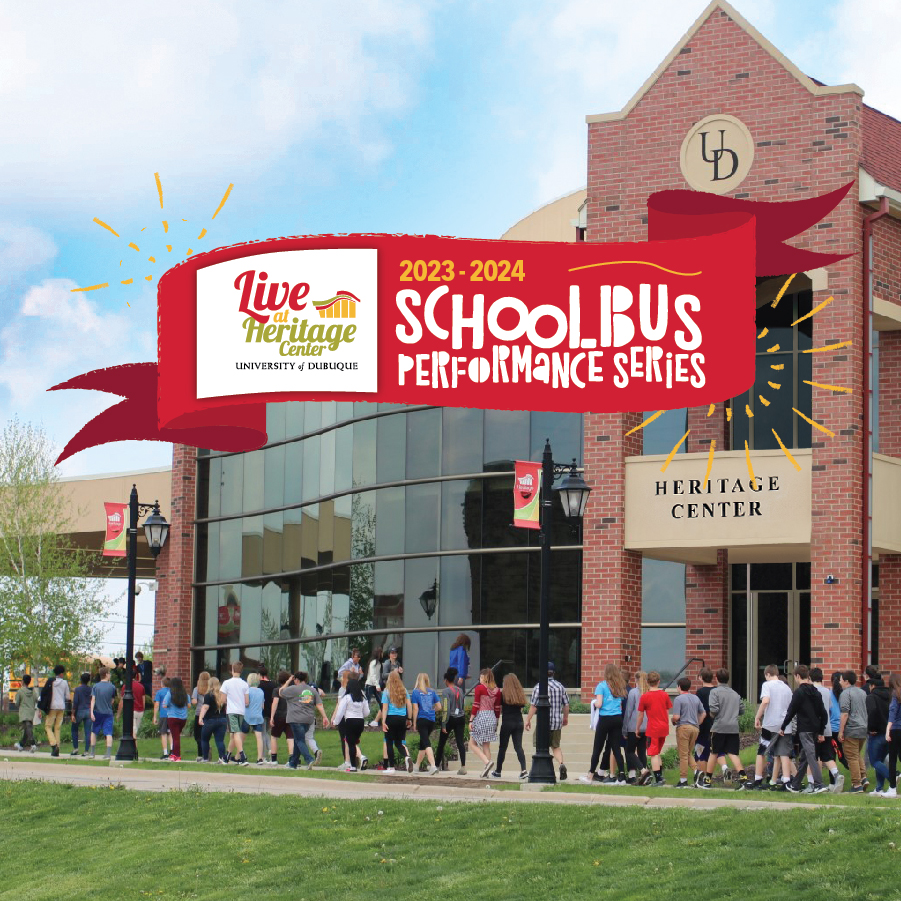 DUBUQUE, Iowa - The University of Dubuque Heritage Center's Live at Heritage Center 2023-2024 SchoolBus Performance Series will ignite imaginations with fieldtrip performances like Mission Nutrition; Jackie Robinson: A Game Apart; Git Hoan Dancers, People of the Salmon; Beauty and the Beast; and more from October 2023 through May 2024.
"Our 2023-2024 SchoolBus Performance Series continues building on our tradition of highlighting important children's literature and presenting topics highly relevant to today's K-8 curriculum such as STEAM and history," said Thomas Robbins, executive director of Heritage Center.
The 2023-2024 SchoolBus Performance Series will include eight programs that feature nationally touring professional guest artists. Additionally, Heritage Center and the National Mississippi River Museum & Aquarium will continue their partnership in which select performances are paired with guided tours of the river museum to offer regional schools a full-day field trip excursion for the Ultimate STEAM - science, technology, engineering, art, and math - Experience.
Performances will complement classroom curriculum with creative and imaginative learning, critical thinking opportunities, and live performance experiences. Study guides will be available to integrate performance topics into classroom activities.
Launched in 2014, the SchoolBus Performance Series is an annual daytime field trip program for public, private, homeschool, and accredited preschool and daycare groups with students ages 4 and older. Most performances are approximately one hour in length and may include a question and answer period.
Online reservation request forms are available at www.dbq.edu/HeritageCenter/SchoolBus. Seat pricing is $6 to $7 per seat, depending on the quantity purchased and an offering of one free seat for every 15 seats purchased. Seats are discounted by $1 if reservations are received by Thursday, June 1, 2023.
Please note: There is a limit of 300 attendees per day for the Ultimate STEAM Experience through the river museum plus a three-week minimum reservation deadline. The Ultimate STEAM Experience is $15 per person with one free admission for every 15 purchased. Pricing is discounted $2 per person if reservations are received by Thursday, June 1, 2023.
For more information about the reservation process, please contact Victoria Molle, director of audience services, at VMolle@dbq.edu or 563589.3432.
SCHEDULE
Mission Nutrition
Featuring Magician Jason Hudy
9:45 a.m. Tuesday, Oct. 17, 2023
John and Alice Butler Hall, Heritage Center
The Velveteen Rabbit (Ultimate STEAM Experience)
Performed by Virginia Rep
9:45 a.m. Monday, Dec. 11, 2023
John and Alice Butler Hall, Heritage Center
Jackie Robinson: A Game Apart (Ultimate STEAM Experience)
Featuring Actor Mike Wiley
9:45 a.m. Monday, Jan. 22, 2024
John and Alice Butler Hall, Heritage Center
The Rainbow Fish (Ultimate STEAM Experience)
Performed by Mermaid Theatre of Nova Scotia
9:45 a.m. Wednesday, Feb. 7, 2024
John and Alice Butler Hall, Heritage Center
LocoMotion: The Science & Circus Arts Show (Ultimate STEAM Experience - 9:45 Show)
Featuring Acrobatic Artist and Juggler Peter Davison
9:45 a.m. and 12:15 p.m. Monday, March 4, 2024
John and Alice Butler Hall, Heritage Center
Git Hoan Dancers, People of the Salmon (Free Event)
Representing Native People, The Tsimshian Tribe of Metlakatla, Alaska
12:15 p.m. Friday, April 19, 2024
John and Alice Butler Hall, Heritage Center
Beauty and the Beast
Performed by The Panto Company USA
9:45 a.m. Monday, April 22, 2024
John and Alice Butler Hall, Heritage Center
Keeping Mr. Lincoln
Performed by Lexington Children's Theatre
9:45 a.m. Wednesday, May 1, 2024
John and Alice Butler Hall, Heritage Center