The University of Dubuque to Host 10th Annual Spring Apex
By University Relations Staff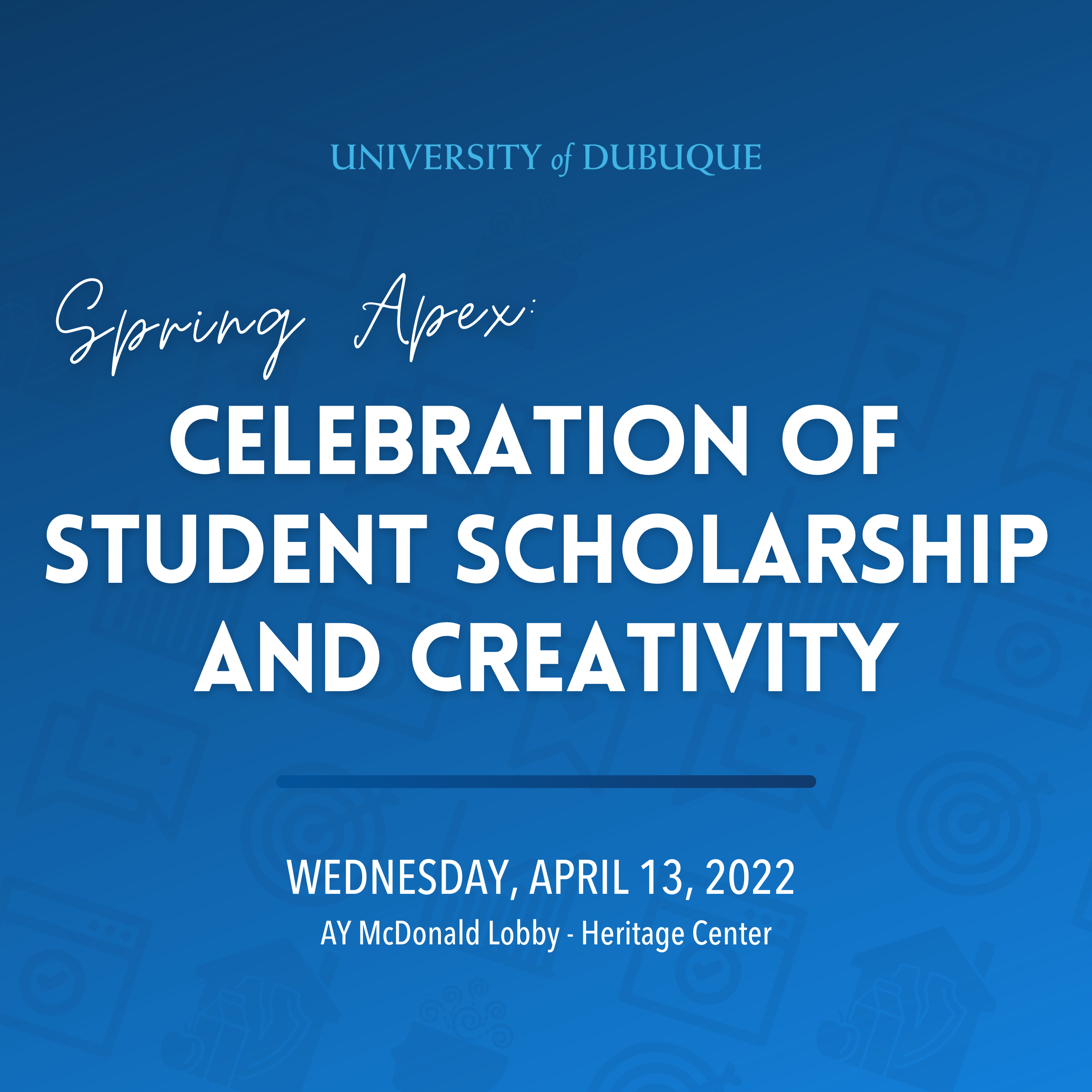 DUBUQUE, Iowa - The University of Dubuque will honor undergraduate student research, service learning, and creativity at the 10th annual Spring Apex: Celebration of Student Scholarship and Creativity on Wednesday, April 13, 2022, on campus. All events are free and open to the public.
A biannual event, Apex celebrates students from all academic disciplines and may include student work completed for a class, conference presentations, published scholarly or creative work, exhibited artwork, information about major service projects, and more. Over 100 students will participate this spring.
Amanda Harrop (C'17), research assistant at the University of Connecticut, will present a keynote titled "Paving my Path of Differentiation: A Journey from Undergraduate Researcher to Curing Diseases" at 11:00 a.m. in Babka Theatre, Heritage Center.
While a student at UD, Harrop was a member of the Scholar-Leader Honors Program and the women's golf team, named to the Joseph and Linda Chlapaty Summer Research Fellowship, an Alpha Chi Scholar, and an undergraduate researcher. Her undergraduate research focused on branching patterns and floral symmetry of sympodial orchids. Harrop was awarded the Women in Science Grant in 2015 and 2017 as well as the Award for Excellence in Student Biological Research in 2016. She graduated UD in 2017 with a bachelor of science in biology. Since graduating, Harrop is furthering her education at the University of Connecticut by pursuing her doctor of philosophy in cell and molecular biology with a concentration in cell and developmental biology. Her current work is studying the rare musculoskeletal disease, Fibrodysplasia Ossificans Progressiva (FOP).
Spring Apex: Celebration of Student Scholarship and Creativity schedule is as follows:
8:00 a.m. to 10:50 a.m. - Posters and Presentations in A.Y. McDonald Lobby, Heritage Center
11:00 a.m. to 12:30 p.m. - Alumni Keynote Presentation in Babka Theatre, Heritage Center
12:30 p.m. to 3:00 p.m. - Posters and Presentations in A.Y. McDonald Lobby, Heritage Center