The University of Dubuque to Hold 171st Commencement
By University Relations Staff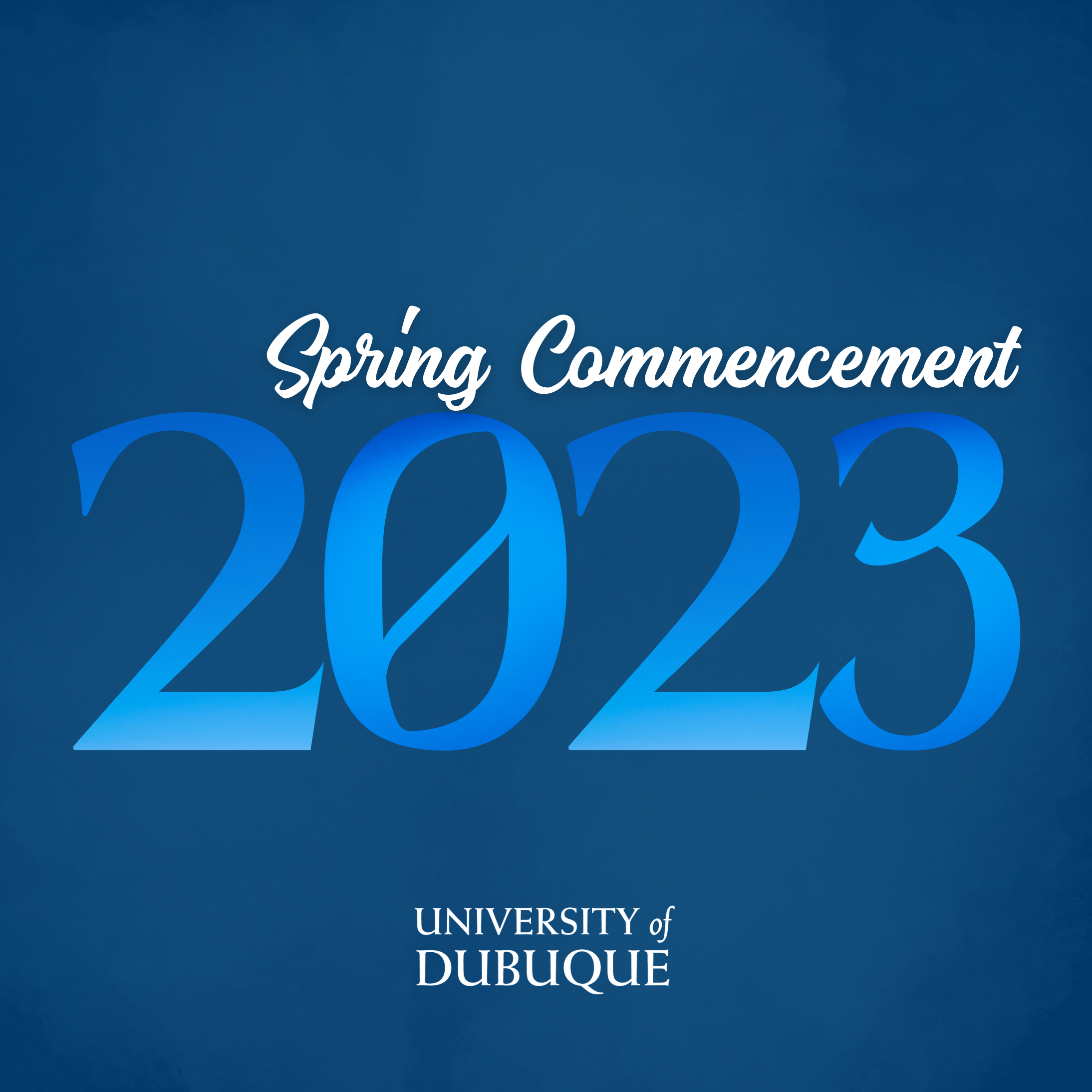 DUBUQUE, Iowa - The University of Dubuque's 171st commencement will recognize and celebrate the academic accomplishments of undergraduate, graduate, and seminary students with two ceremonies on Saturday, April 29, 2023.
The University of Dubuque Spring Commencement will be held at 1:00 p.m. in the Chlapaty Recreation and Wellness Center. Doors will open at 11:30 a.m. Forty-nine graduate students and 232 undergraduate students are eligible to participate in the ceremony.
Neil MacNaughton, PhD, professor of nursing and head of the Department of Nursing, will deliver the commencement address, titled "Community and You."
MacNaughton earned his undergraduate degree in nursing at Graceland University. He received a master of arts in nursing administration and a doctor of philosophy in nursing from the University of Iowa. MacNaughton joined UD in 2012.
Over his 40-plus years in nursing, MacNaughton worked in a variety of clinical settings, including intensive care, emergency, cardiac catheterization, and psychiatry. He also held multiple positions in nursing administration before entering academia. As a nurse, MacNaughton served in the Peace Corps in the Federated States of Micronesia, Kosrae state. He has served on multiple international committees for Sigma Theta Tau International, the nursing honor society. He has served as the representative for Hawaii to the American Pacific Nurse Leadership Council while working at the University of Hawaii in Manoa, Oahu. He has been an active advisory board member for Pacific Islander Health Project at Crescent Community Health and is president of the MercyOne Dubuque Medical Center, Board of Trustees.
MacNaughton has published several articles in nursing and is a frequent reviewer for several nursing journals and conference abstracts. His research focuses on health-seeking behaviors and health service usage of the minority populations in Iowa - specifically, the Latino and Pacific Islander communities. The Immigrant Entrepreneurs Summit awarded him the Karen Evens Immigrant Champion award for his work with the Marshallese community in Dubuque. He remains an active committee member in various organizations, including Sigma Theta Tau International, the American Association of Colleges of Nursing, and the American Nurses Association.
In December 2023, MacNaughton will be retiring from UD. He and his wife, Lisa, plan on relocating to the Minneapolis/St. Paul area to be closer to their children. MacNaughton hopes to be able to still contribute to the nursing profession in some capacity.
The University of Dubuque Theological Seminary Commencement will be held at 9:30 a.m. in John and Alice Butler Hall, Heritage Center. Doors will open at 9:00 a.m. Forty-two seminary students are eligible to participate in the ceremony, with 32 earning degrees and 10 earning certificates.
Rev. David Rohrer, MDiv, pastor of Emmanuel Presbyterian Church in Bothell, Washington, will deliver the seminary commencement address, titled "Passing the Dimly Burning Wick."
A native of Southern California, Rohrer graduated with a bachelor of arts in political science from UCLA in 1979 and with a master of divinity from Fuller Theological Seminary in Pasadena, California, in 1982. That same year, he was ordained as a minister of word and sacrament in the Presbyterian Church (USA). He has served in four congregations in California and Washington.
Rohrer and Mary Ann, his wife, who is a retired school nurse, birth doula, and childbirth educator, have been married since 1986 and work together as volunteer puppy raisers for Guide Dogs for the Blind. They have two adult children. Their son, Justin, and Natasha, his wife, live in Seattle. Their daughter, Laura, is also a Seattle resident.
Rohrer is the author of The Sacred Wilderness of Pastoral Ministry: Preparing a People for the Presence of the Lord (IVP 2012). He also works with newly ordained pastors who are recent graduates of UDTS through the Pastor as Disciple initiative that is part of the Lilly Thriving in Ministry grant.
For more commencement information, please visit www.dbq.edu/Commencement.