The University of Dubuque Inducts Two into its Faculty Hall of Fame
By Stacey Ortman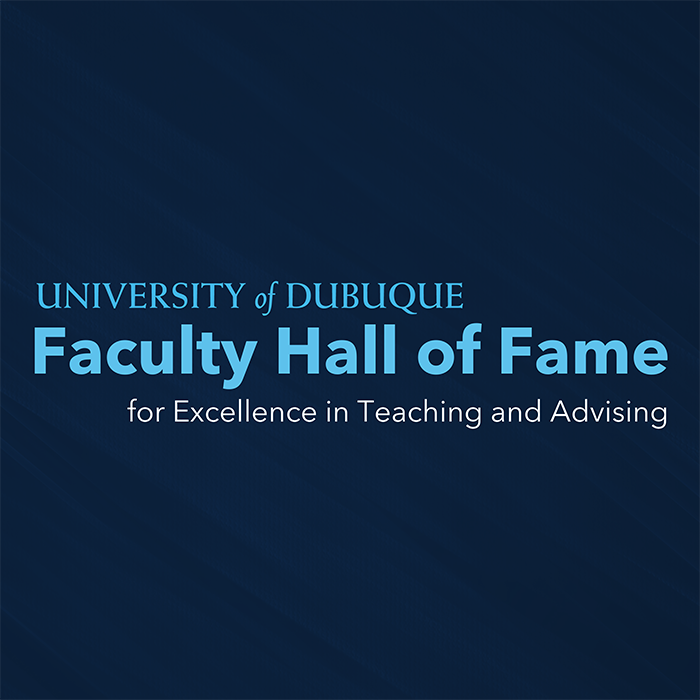 DUBUQUE, Iowa - The University of Dubuque inducted two individuals into its Faculty Hall of Fame for Excellence in Teaching and Advising on Thursday, April 7, 2022, at the Dubuque Golf and Country Club.
Mark Sinton, PhD, associate professor of chemistry, received the 2022 John Knox Coit Prize. Jim Romagna, EdD, head of the Department of Health, Wellness, and Sport and assistant professor of health, wellness, and sport, received the 2022 William L. Lomax Award.
"It's an honor to induct Professor Sinton and Professor Romagna into the Faculty Hall of Fame for Excellence in Teaching and Advising," said Rev. Jeffrey F. Bullock, PhD, president of the University of Dubuque. "Professor Sinton is a valuable member of the Department of Natural and Applied Sciences and a demanding professor who meets those demands with equal amounts of support and encouragement. Professor Romagna incorporates all elements of his life - from accomplished student-athlete, coach, and trainer to husband, father, and professor - into his vocation within the Department of Health, Wellness, and Sport."
Sinton has been teaching at UD since fall 2004. He helped design the University's revived chemistry major and has taught all of the offered chemistry courses at one point or another. In addition to his teaching load, Sinton also is the director of the Joseph and Linda Chlapaty Summer Research Fellowship and the John and Alice Butler Summer Research Fellowship.
Sinton received his undergraduate and masters of chemistry degrees from the University of Denver in Denver, Colorado. He earned his doctorate of philosophy degree in biochemistry from Michigan State University in East Lansing, Michigan, where he studied the role of protein structure in bacterial DNA transcription activation. Sinton's current research with UD students spans a wide range of topics from finding environmentally friendly ways to make pharmaceutically useful compounds, surveying the environment for the presence of antibiotics, and studying the effect of temperature on the activity of enzymes using computer simulation and traditional laboratory techniques.
"To be honest, I am stunned. I never thought that I would receive a teaching award since most students shy away from chemistry. That said, it feels really good, like it's a validation of the work I've been doing professionally for almost 30 years now," Sinton said, adding. "What I enjoy most about working at UD is mentoring students, both in and out of class. It's very satisfying to help and watch students mature and grow in their professional skills, then leave the University to begin their careers. I am humbled that I get to be a part of their journeys and help them reach their goals."
Romagna joined UD in fall 2007 and was named the head of the Department of Health, Wellness, and Sport in 2012. He received both an undergraduate degree in English writing and a master's degree in physical education from Loras College in Dubuque, Iowa. Romagna also received a doctor of education in educational leadership from National Louis University in Chicago, Illinois. In addition, he is a certified strength and conditioning coach and a certified personal trainer with the National Strength and Conditioning Association.
Romagna shares his passion for health, wellness, and fitness with his students as they prep for national certifying exams, gain experience for careers in the industry, and pursue graduate school in the health sciences. In addition, it's not uncommon for Romagna to carry an advising load of 50 to 100 students a semester in which he schedules individual meetings to discuss academics, careers, and life with his students.
"When you look at past recipients of the award and then consider who is eligible to receive this award, I'm just humbled to be considered among those ranks," Romagna said, adding. "UD has such a wonderful environment. You have young people excited to learn and pursue their passion and faculty who are genuinely interested in working collaboratively with one another and the students to help that dream be realized."
Thanks to the generosity of UD Board of Trustees member Richard "Dick" (C'71) and the late Donna Svrluga, the Faculty Hall of Fame for Excellence in Teaching and Advising was established in 1996 to recognize faculty for their outstanding teaching and advising as well as their commitment to the Mission of the University of Dubuque. Two of the awards are named in honor of former distinguished faculty.
John Knox Coit Prize
An integral member of the philosophy department from 1955-96, Coit was more than a teacher. He became a mentor and friend to his students. Known as a "man of wit," he made a lasting impression on his students. Coit died in 1995 at the age of 79.
William L. Lomax Award
Fondly remembered by his students who studied business, Lomax was smart, tough, fair, and fun. As a member of the business department from 1953-69, he influenced the lives of many students. Lomax died in 1986 at the age of 83.