The University of Dubuque Inducts Cattani and Smith into Faculty Hall of Fame
By Stacey Ortman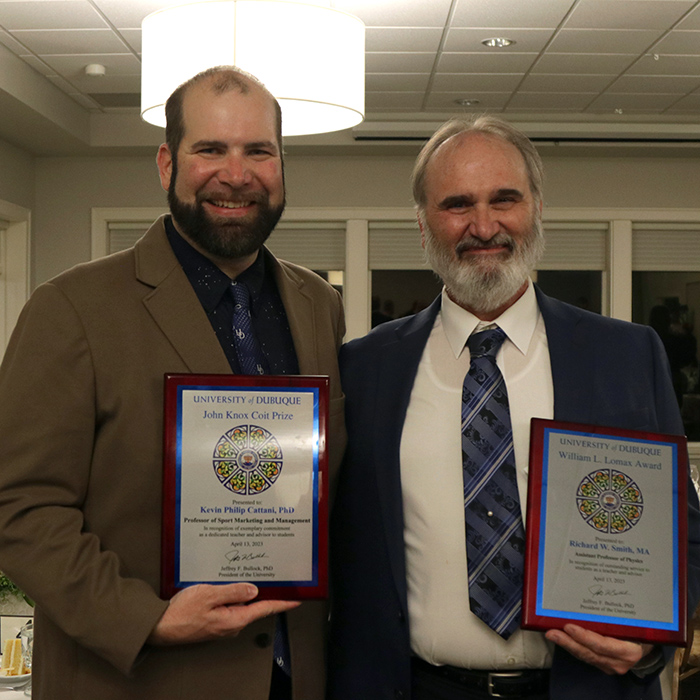 DUBUQUE, Iowa - The University of Dubuque inducted two individuals into its Faculty Hall of Fame for Excellence in Teaching and Advising on Thursday, April 13, 2023, at the Dubuque Golf and Country Club.
Kevin Cattani, PhD, professor of sport marketing and management who also directs the master in management - sport management degree program, received the 2023 John Knox Coit Prize. Richard W. Smith, MA, assistant professor of physics, received the 2023 William L. Lomax Award.
"The Faculty Hall of Fame is one way in which we recognize outstanding and distinguished members of our faculty for their excellence in teaching and advising to students. Professor Cattani has distinguished himself as an 'all in' member of the University's faculty. He is an active recruiter of new students, an advisor to over 90 students, and a mentor to many others that have entered the workforce. Professor Smith has served the needs of the University and its students whenever and wherever those opportunities have presented themselves. He began his tenure as a media director and math tutor in the Academic Success Center and since then accepted a full-time position to teach physics and mathematics, helping the courses grow in popularity amongst our students," said Rev. Jeffrey F. Bullock, PhD, president of the University of Dubuque.
Kevin Cattani - 2023 John Knox Coit Prize
Cattani, who has served UD since fall 2012, was in awe when he learned his name would be added to the list of Faculty Hall of Fame award recipients on a plaque located in Heritage Center.
"I have long looked at that plaque in Heritage Center with great reverence and to know that I am now in company with some of the most respected people to ever dedicate their time and talent with our students is truly humbling," he said, adding, "Knowing that consideration for this honor comes from colleague and student recommendations means even more to me - education is not a field that we dedicate ourselves to for personal recognition, but when you realize that others are witnessing your hard work and are willing to speak to that, it means even more!"
Since 2012, the sport marketing and management program has experienced annual growth with a bright future. Cattani has enjoyed being part of that growth and has relished the chance to watch students achieve their goals. Furthermore, he helped established the master in management - sport management degree program in fall 2018. Through his work with the program, Cattani leads a multidisciplinary group of students seeking practical tools and strategies to be effective leaders in the sports business field.
"I love that I have the chance to help my students achieve their goals. And what's more, I love that I have colleagues that partner in helping our students achieve success. Both from the student and faculty lenses, having a village is so important to success - knowing that you have people that are invested in your work and vice versa helps to make the learning process that much more impactful. Using my skills to meet the unique wants and needs of each student is what drives me to be a better teacher and advisor," Cattani said.
Additionally, Cattani is a facilitator with UD's emotional intelligence program. Through active learning and continual practice, he works to engage with students on topics including conflict management, love languages, empathy, communication styles, and more.
Cattani received his bachelor's degree, master's degree, and doctor of philosophy from the University of Florida. He and his wife, Tegan, have two daughters - Olivia and Wren - with a baby due in August.
Richard W. Smith - 2023 William L. Lomax Award
Smith, who has served UD since 1996, wishes to convey his true appreciation for being selected for the Faculty Hall of Fame - an honor he was surprised to learn he had received.
"It is one of the highlights of my professional teaching career. I appreciate all of the support by everyone here at UD, including students, peers, and staff. I feel that I was able to reach a higher level because of the support I received over the years," he said, adding, "I oftentimes look at probabilities in life. College physics has about 70 students per year. The probability of winning this award, I felt, was low due to the small number of students I instruct each year out of the total population. I must have made an impression. It is with sincere hope that students will be able to see the world through the lenses of physics."
Smith began his time with UD as a media director and math tutor in the library. In 1998, he was asked to instruct as an adjunct for physics and mathematics courses. In 2000, he accepted a full-time position to teach those courses. Two years later, students taking calculus petitioned to have it offered at UD versus another school. Smith was confident he could teach calculus and began teaching the majority of UD's math courses as well as developing and teaching pre-calculus. For the past eight years or so, Smith has taught physics full-time as the demand for the course increased with additional majors added.
"My best moments that I have are in the classroom instructing. I enjoy when students understand the concepts and theories to some degree. Students will sometimes verbalize this to me, other times it's a look that comes over their faces, the lightbulb moment that all teachers strive to reach with students," he said.
Smith received his bachelor of science in physics and mathematics from UD and his master of science in experimental physics from Minnesota State University, Mankato. He and his wife, Maureen, will celebrate their 25-year wedding anniversary this summer. They have three children - Brian, Michael, and Vanessa - and one grandchild, Kayla.
About the Faculty Hall of Fame
Thanks to the generosity of UD Board of Trustees member Richard "Dick" (C'71) and the late Donna Svrluga, the Faculty Hall of Fame for Excellence in Teaching and Advising was established in 1996 to recognize faculty for their outstanding teaching and advising as well as their commitment to the Mission of the University of Dubuque. Two of the awards are named in honor of former distinguished faculty.
John Knox Coit Prize
An integral member of the philosophy department from 1955-65, Coit was more than a teacher. He became a mentor and friend to his students. Known as a "man of wit," he made a lasting impression on his students. Coit died in 1995 at the age of 79.
William L. Lomax Award
Fondly remembered by his students who studied business, Lomax was smart, tough, fair, and fun. As a member of the business department from 1953-69, he influenced the lives of many students. Lomax died in 1986 at the age of 83.