The University of Dubuque Honors Seven Alumni at Homecoming
By University Relations Staff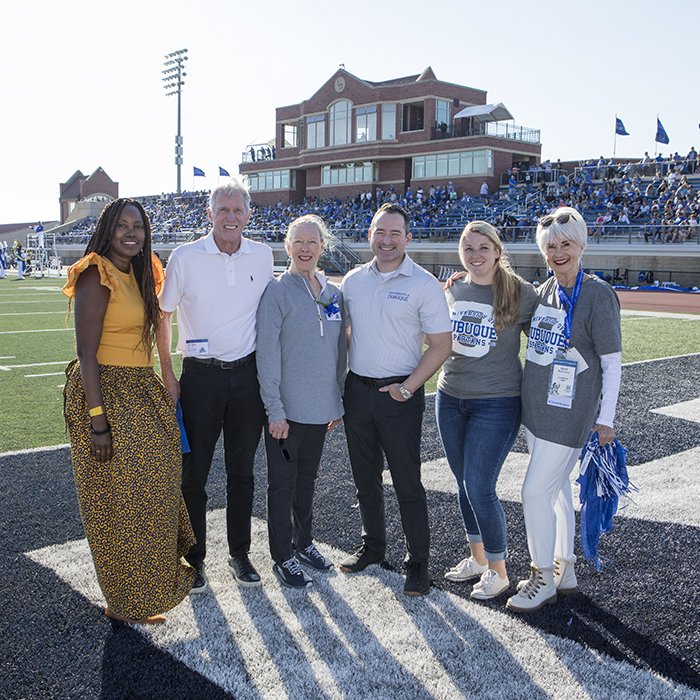 DUBUQUE, Iowa - Seven University of Dubuque alumni were honored at Homecoming Saturday, October 22, 2022, during the 2022 Alumni Awards Ceremony in Babka Theatre, Heritage Center. Honorees were also recognized during halftime of the football game against Luther College on Chalmers Field.
The distinguished alumni honored were Suzanne (Luck) Preiss (C'72) and Jack Preiss (C'72), Charmain Jackman (C'95), Louis Dettorre (C'10), Heidi McGinness (MDiv'89), Alvin "Al" Straatmeyer (C'54, BDiv'57), and Cpl. Craig Downing (C'49).
ALUMNA AND ALUMNUS OF DISTINCTION AWARD
Suzanne (Luck) Preiss (C'72) and Jack Preiss (C'72)

Suzanne (Luck) Preiss and John "Jack" Preiss both graduated from the University of Dubuque in 1972. Suzanne earned a degree in music. As a student at UD, she was a member of the Zeta Phi Sorority, Dubuque Symphony Orchestra, and the UD Choir. Jack earned a degree in business administration. He was a member of the Phi Omicron Fraternity and served as president of the Varsity D-Club.
Jack and Suzanne met when they were students at UD. Suzanne came to UD from Tabor, New Jersey, on a music scholarship and was a bassoon major. Jack was from Chicago, Illinois, and loved sports. He was a pitcher for the UD baseball team. The two fell in love and were married November 1972 just months after graduating. The couple then moved to Chicago where Suzanne became a junior high music teacher in Schiller Park for four years. Jack served as a professional firefighter and paramedic for 10 years.
After pursuing their own careers, the pair joined forces to become owner/operators of nine McDonald's franchises. They have received numerous McDonald's awards at the highest level, including two Ronald McDonald Awards (community service) and the Ray Kroc Golden Arch Award (contributions to McDonald's). The concept and design of the double lane drive through was developed by the Preiss organization, which can be found worldwide. Other innovations have also been used nationally.
Suzanne enjoys community involvement. She performed with the Cheyenne Chamber Singers for 10 years and is a member of General Federation of Women's Clubs' Women's Civic League for 32 years and Professional Education Organization, supporting scholarships for women, for 17 years. Jack has dedicated his time serving on the Cheyenne Economic Development Board. Together they are major concert sponsors for the Cheyenne Symphony Orchestra and sponsor numerous teams and schools in their community.
Suzanne has served the University of Dubuque as a member of the Board of Trustees for the past 20 years. Jack and Suzanne are both members of the University of Dubuque Heritage Society. Together they established the Suzanne and Jack Preiss Endowed Scholarship for Music Majors and the Jack and Suzanne Preiss Endowed Scholarship for Business Majors.
Jack and Suzanne have been married for 50 years. When asked what their most notable accomplishment is, they both said marriage and being in business together for 40 years! They shared that success is not measured in dollars, but by how you use your time and talents to help others. Suzanne and Jack reside in Cheyenne, Wyoming, and have two sons, Michael (deceased) and Jeffrey. They are proud grandparents of Lincoln, Jackson, and Kinley.
UD has always held a special place in their hearts, where they met and began their 50-year journey together.
PROFESSIONAL ACHIEVEMENT AWARD
Charmain Jackman (C'95)

Dr. Charmain Jackman graduated from the University of Dubuque in 1995 with a bachelor's degree in psychology and business administration. While at UD, she was involved in Black Student Union, International Club, and women's basketball. As a student she was a recipient of the President's Award.
Dr. Charmain is a Harvard-trained licensed psychologist of Barbadian heritage with over 25 years of experience in the mental health field. After earning a doctorate degree in psychology from the University of Southern Mississippi, she relocated to Boston to train at the No. 1 ranked hospital for pediatric care, Boston Children's Hospital. She completed a post-doctoral fellowship in forensic psychology at Massachusetts General Hospital and held an academic appointment at Harvard Medical School from 2000 to 2011. Dr. Charmain has worked in schools for over 17 years and served as the dean of health and wellness at Boston Arts Academy from 2011 to 2021.
Additionally, Dr. Charmain is founder and CEO of InnoPsych, Inc., an organization on a mission to disrupt racial inequities in mental health. InnoPsych is committed to changing the face of therapy by making it easier and faster for people of color to find therapists of color and by changing negative messages about therapy. InnoPsych has received a number of awards for its leadership in advocating for and providing much needed educational resources on mental health for people of color in Massachusetts.
As a change-maker, Dr. Charmain is passionate about the intersection of psychology, mental health, and diversity, equity, and inclusion and has created social impact initiatives that support community members and mental health professionals. In 2020, she used her expertise to shape how organizations responded to and supported their employees during the COVID-19 and racial violence crises. In addition, she hosted and/or participated in over 50 webinars and panels aimed at promoting mental wellness and stress reduction during challenging times.
Dr. Charmain has won several awards for her impactful work, including 2022 Boston Business Journal's Power 50 Movement Makers, 2021 American Psychological Association's Citizen Psychologist Award, and the City of Boston's 2021 Innovator of the Year. She was the recipient of the 2020 APA Practice Leadership Conference (PLC) Diversity Award and was named one of the 50 Most Influential Business People of Color by the Charles River Chamber of Commerce. Dr. Charmain is also a founding member of the Diversity Board for Big Sister of Greater Boston, where the mission is to increase the number of women of color mentors for the organization. She is a board member of the Citizens for Juvenile Justice (CFJJ), where she is able to integrate her experience as a forensic psychologist. Additionally, Dr. Charmain is a global spokesperson for mental health and emotional wellness. She has been featured on national media outlets such as the New York Times, NPR, PBS, and The Boston Globe and is a contributing writer to the PBS Educator's Lounge.
Dr. Charmain resides in Boston, Massachusetts, with her husband, Jeffrey Lahens, and their two children, Sydney and Simone.
AWARD OF MERIT
Louis Dettorre (C'10)

Louis Dettorre graduated from the University of Dubuque in 2010 with a bachelor's degree in communication. During his time at UD, he was a member of the men's baseball team and contributed to the University's student newspaper, The Belltower. For his academic standings, Louis received the Spartan Academic Achievement Award for the 2009-10 academic year. After graduating from UD, he went on to earn his master's degree in public administration from Arizona State University and a Leadership and Management certificate from the University of Pennsylvania Wharton School.
Louis was appointed the commissioner of the Arizona Department of Real Estate on September 27, 2021, by Arizona Governor Douglas A. Ducey. The department regulates real estate, cemetery and membership camping brokers and salespersons, approves real estate education and testing, maintains oversight of approved schools and the activities of licensees, investigates complaints, and regulates the sale of subdivisions, unsubdivided lands, timeshares, condominiums, membership campgrounds and cemeteries, among other responsibilities.
Louis previously served as deputy commissioner of the Arizona Department of Real Estate since 2016 and as assistant commissioner of operations and legislative affairs since 2013. Before that, he was the agency's legislative liaison and public information officer while also serving in the same role for the Department of Financial Institutions.
While serving the Department of Real Estate, Louis has managed the agency's operations including government affairs, auditing, investigations, strategic planning, accounting, and communications. He has deployed and administered a performance management program focused on continuous improvement, developed and managed the department's multi-fund budget, consistently generated agency savings, and was the designated legislative liaison to the State Legislature, proposing agency legislation, implementing programs, and serving as the point of contact for legislators and the real estate profession. He also served as a delegate to the Arizona Mexico Commission Real Estate Committee from 2015 to 2021, and now he serves as the committee's co-chair. The Arizona-Mexico Commission (AMC) is Arizona's premier cross-border nonprofit organization with a mission to improve the economic prosperity and quality of life for all Arizonans through strong, public and private collaborations in advocacy, trade, networking, and information.
Louis has also served the Arizona Legislature in the Arizona State Senate as a legislative assistant to the Chairman of the Education Committee. When not working, Louis enjoys spending time exploring the outdoors traveling through Arizona and beyond.
SERVICE TO COMMUNITY AWARD
Heidi McGinness (MDiv'89)

Heidi McGinness was born in the rubble of Post-World War II Germany. Her young life was saved by two American soldiers who donated their blood so she could live. Those soldiers made an indelible imprint on Heidi and formed her life to be a helper in the human family.
Heidi graduated from the University of Dubuque Theological Seminary in 1989 with a master of divinity degree. Additionally, she has earned certifications in the administration of non-profits, alcohol addiction counseling, and the delivery of humanitarian aid.
The education, skillset, and encouragement Heidi received at UDTS catapulted her into serving and revitalizing rural, suburban, and inner-city churches in two states. It also paved the way to have her join a Swiss Human Rights organization that delivered humanitarian aid to Sudan in war and peace. From 2004 to 2018 Heidi assisted the South Sudanese Underground Railroad in retrieving citizens from the North and returning them to family, church, and community in the South. In Sudan she also offered theological and trauma training to Sudanese clergy and laity. In 2014, Heidi became the voice of persecuted Christians and other religious minorities in Sudan, Syria, and Iraq on National Christian Radio.
Heidi received the Herbert E. Manning Jr. Award from UDTS, several peacemaking awards as well as the Dr. Martin Luther King Jr. Humanitarian Award and the Dr. Martin Luther King Jr. Business and Social Responsibility Award. She is a Franciscan Associate of the Dubuque Franciscans. Heidi is an international human rights activist, peacemaker, guest preacher, abolitionist, keynote speaker, consultant to humanitarian, educational, civic, religious organizations, and always a volunteer helper in the local and global community.
Since her third retirement in 2018, Heidi has visited South Sudanese refugees in Kakuma Refugee Camp in Kenya (2019). She returned this summer (2022) to serve and assist refugee orphaned students of the Seeds of South Sudan Foundation founded by her South Sudanese son, Thuch Arok Garang.
Heidi is a sacred companion to Christians, Jews, Muslims, siblings of all faiths, ethical, moral traditions, especially the poor, the persecuted and oppressed in the human family. Through volunteerism, Heidi serves to assist others to improve life for the most vulnerable members of society: the poor, orphaned, veterans, the homeless. Currently she assists in the Stephen's Center, serving meals and offering friendship. She also assists in the work of those combating human trafficking in Nebraska and internationally. A member of Rotary, she resides in Omaha, Nebraska. Heidi and her late husband, Richard, have five children, born under her heart and in her heart, nine grandchildren (American and Sudanese), and two great grandchildren with a third joining the family in early 2023.
In 2023, she hopes to return to the border areas of both Sudans to be reunited with old friends. With God's help she hopes to establish a Sewing Center for single women, widows, other-abled siblings, and orphans. She also hopes to deliver solar-powered inflatable lamps, solar-powered talking Bibles in the local dialect, and tons of Christ's love and hope.
VOLUNTEER RECOGNITION AWARD
Alvin "Al" Straatmeyer (C'54, BDiv'57)

Alvin "Al" Straatmeyer graduated from the University of Dubuque in 1954 with a major in speech. As an undergraduate student, Al was involved in many organizations, including Mu Sigma Beta, Messengers, Varsity Debaters, Alpha Psi Omega, Student Christian Association, Student Radio Station, and Acapella Choir. Additionally, he served as class president during his junior and senior years. Continuing his education, Al received his bachelor of divinity at the University of Dubuque Theological Seminary in 1957.
A few years later, Al went on to receive his master of science of theology at San Francisco Theological Seminary in 1969. Then in 1974, he earned his doctor of philosophy in clinical psychology at the University of South Dakota.
Al has been a full-time Presbyterian pastor for two decades and a Presbyterian clergyman since his ordination on April 12, 1957. He has served a total of six churches since being a student pastor in Albion, Iowa. Additionally, Al has held multiple clinical psychologist positions and served in higher education, holding both teaching and directorial positions. He holds the title of emeritus professor of psychology at Loma Linda University's Department of Psychology in Loma Linda, California.
Al's professional highlights are being a member of executive committee of the South Dakota Psychological Association, South Dakota Board of Examiners of Psychologists, Council of University Directors of Clinical Psychology, CHAMPUS Peer Review Committee, Medical Advisor program of the Social Security Administration Office of Hearings and Appeals, and Council of University Directors of Clinical Psychology. Additionally, Al has been an oral examiner for multiple licensures for the Board of Examiners of Psychology and was a reviewer of articles submitted for publication to the American Psychologist.
He has been faithful to the University of Dubuque as he was the researcher and writer of Child of the Church - University of Dubuque 1852-2008. Along with this, he has dedicated his time over the last 13 years sending newsworthy weekly emails to over 200 UD alumni. To date, Al has sent over 550 emails to his weekly distribution group. In 2004, he was awarded the UD Alumni of Distinction Award. At the same time, he was the general chairperson for the University of Dubuque Campaign for the Revitalization of the Music Program. Most recently, Al was a member of the platform party for the University of Dubuque 2022 Tempe Commencement, delivering the invocation and benediction.
Al lives in Gilbert, Arizona, with his loving wife of 67 years, Marcie. They have three children together, Ronald Straatmeyer, the late Karen Straatmeyer, and the late Alan Straatmeyer. They are proud grandparents of Christopher James Acosta and Kelly Petersen-Acosta. Al and Marcie enjoy returning to campus for Homecoming as often as possible and attending UD alumni events in Arizona.
VETERANS AWARD FOR DISTINGUISHED SERVICE
Cpl. Craig Downing (C'49)

Cpl. Craig Downing graduated from the University of Dubuque in 1949 with a degree in physical education and health. While attending UD, he was involved in the Athenaean Fraternity.
At the age of 20, Craig enlisted in the United States Armed Forces, serving in the U.S. Marine Corps from 1942 to 1945. He was a World War II paratrooper with the 5th Corps 26th Regiment Company G 3rd Platoon in Iwo Jima, Japan. Craig was deployed to Guadalcanal, Solomon Islands, and was part of the third wave of Marines to land on Iwo Jima. Once in Iwo Jima, he was field promoted to Sergeant before getting shot in the right shoulder. Due to his service and sacrifices for his country, Craig earned both the Purple Heart and Bronze Star.
After his military service, Craig went on to the University of Iowa and received his master's in education in 1953. He enjoyed coaching basketball, leading two female teams to the Iowa State Tournament (Luana School District in 1950 and Hubbard-Radcliffe Community School District in 1953). He served as the superintendent of Forest City Community School District from 1965 to 1973 and Sigourney Community School District from 1973 to 1984 when he retired. Additionally, he was the co-president, with his wife, Marian (C'48), of the Sigourney's chapter of the Iowa Retired School Personnel Association for two years. Together, they were responsible for bringing Delta Dental Insurance to the group.
Craig served as the Commander of the VFW Post 2308 for 25 plus years. Some of his responsibilities were refurbishing and overseeing the Memorial Hall and the VFW headquarters in Sigourney. He was active with the Iowa AARP organization for over 20 years, including serving on the AARP advisory board to the Governor of Iowa. Craig served on the local Nursing Home Board and was a Democratic Party leader, running for state senatorial office twice. Additionally, he was an avid blood donor and delivered Meals on Wheels for many years, until the age of 97.
In 1977, Craig received a call from President Jimmy Carter thanking him for his service and commitment to education. Craig was the recipient of the 2013 Sigourney Star Award for Outstanding Service and Leadership in the Sigourney area. He was on the Eastern Iowa Honor Flight in October 2011 and was honored by the University of Iowa as the Hawkeye Hero at the men's basketball game on February 17, 2018. Additionally, Craig has enjoyed competing in Senior Olympics, winning gold medals in the field events.
Craig resides in Oskaloosa, Iowa. He and his late wife, Marian, have three daughters, Cindy, Jane, and Joni; four grandchildren; and five great grandchildren. Craig is extremely proud of his family and has an abundance of love for them. When asked, Craig said one of his notable accomplishments has been making it to the age of 100.
* Photo (L to R): Charmain Jackman (C'95), Jack Preiss (C'72), Suzanne (Luck) Preiss (C'72), Louis Dettorre (C'10), Molly Burr - representing her grandfather Cpl. Craig Downing (C'49), and Heidi McGinness (MDiv'89). Not pictured: Alvin "Al" Straatmeyer (C'54, BDiv'57) and Cpl. Craig Downing (C'49).