The University of Dubuque Honors Eight Alumni at Homecoming
By University Relations Staff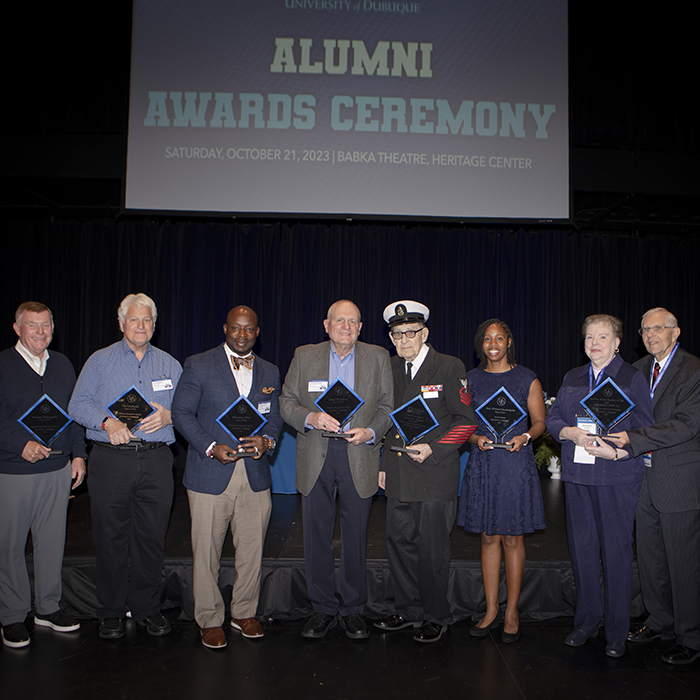 DUBUQUE, Iowa - The University of Dubuque presented six awards to eight distinguished alumni at the 2023 Alumni Awards Ceremony for their achievements in their communities and on campus. The event, held Saturday, Oct. 21, 2023, in Babka Theatre, Heritage Center, was one of many Homecoming Week celebrations. Honorees were also recognized during halftime of the football game on Chalmers Field.
The alumni honored were Barbara "Barb" (Kelly) Smeltzer (C'66) and Jack Smeltzer (HON'02) - Alumna and Alumnus of Distinction Award, Thomas "Tom" Willoughby (C'72) - Professional Achievement Award, Sade (Pointer) Swedenhjelm (C'15) - Award of Merit, Mikelange "Mike" Olbel (C'08) - Service to Community Award, Jan Lombardi (C'72) and David Proudfoot (C'73) - Volunteer Recognition Award, and CPO Leon "Les" Sonksen (C'52) - Veterans Award for Distinguished Service.
Learn more about the alumni below.
ALUMNA AND ALUMNUS OF DISTINCTION AWARD
Barbara "Barb" (Kelly) Smeltzer (C'66) and Jack Smeltzer (HON'02)

Barbara "Barb" (Kelly) Smeltzer graduated from the University of Dubuque in 1966 with a bachelor's degree in English. As a student, Barb was a member of the Gamma Phi Delta sorority and involved in the Student Iowa State Education Association, Young Republicans, and Associated Women Students.
Jack Smeltzer received his honorary degree from the University of Dubuque in 2002. Jack served in the U.S. Navy from 1963 to 1965. He then returned to employment as an engineer with John Deere for 40 years before retiring.
Barb received her master's degree in reading from Clarke College in 1974 and earned her elementary school administration endorsement in 1985. She went on to teach elementary school for the Dubuque Community School District from 1966 to 1997. In 1997, Barb returned to UD and in 2000, she became UD's undergraduate student resources advisor, otherwise known as the Campus Mom. She proudly held this title for 20 years, and during this time Jack became known as the Campus Dad. Barb served as the UD Cares facilitator for the early alert team, providing care and guidance for students. Barb and Jack could often be found around campus, dedicating their time to enhancing students' experiences. Additionally, Barb hosted Etiquette Dinners, where she would teach students how to properly place set and eat a formal meal, or have professional conversations at the dinner table. Barb and Jack were also known to open their home to UD students on a regular basis, inviting them for a home-cooked meal or to celebrate holidays.
Throughout her career, Barb was committed to education and was active with many professional and volunteer organizations. She was appointed to the Iowa Professional Teaching Practices Commission for two consecutive three-year terms by then Iowa Governor Robert D. Ray. As a trailblazer, Barb was the first woman to chair that commission. She also served as secretary for two years. In addition, Barb received an invitation to the inauguration for President George W. Bush in 2001 and was invited to the White House in 2002. She was UD's first ever "Guest Football Coach" and received UD's Staff of the Year Award in 2010. In May 2018, Barb delivered the University of Dubuque Commencement Address.
Over the years, Jack has been actively involved in the community. He held multiple leadership positions at the Dubuque Evening Lions Club and Masonic Organizations, and he has been serving on the Bethany Home Board of Directors for 16 years. Additionally, Jack was elected to serve on the Dubuque County Board of Hospital Trustees for 30 years.
Barb and Jack have been generous investors in student scholarships, the Sergeant Jeffrey B. Dodge Veterans Center, the renovation of the Barbara and Jack Smeltzer Dining Hall, and the Smeltzer-Kelly Student Health Center. Barb and Jack have been married for 56 years and reside in Dubuque, Iowa.
PROFESSIONAL ACHIEVEMENT AWARD
Thomas "Tom" Willoughby (C'72)

Thomas "Tom" Willoughby graduated from the University of Dubuque in 1972 with a bachelor's degree in psychology. During his time at UD, Tom was class president, chairperson of New Student Days, and president of the Student Ambassador Association. He participated in University Singers, Dubuque Choral, Clarke/Loras Singers, intramurals, worked for the student radio station WGVU, and was a member of Mu Sigma Beta Fraternity. Tom received his master's degree in guidance and counseling from Loras College in 1980.
While working on his master's degree, Tom returned to the University of Dubuque to begin a career in admission and enrollment management. In 1984, he began serving Drake University as vice president for admission and financial aid, continuing in that role for 20 years. Tom went on to become the vice chancellor at the University of Denver, serving in that capacity from 2004 to 2017. In 2017, Tom was awarded emeritus status by the University of Denver Board of Trustees in recognition of service to the University as vice chancellor for enrollment. Before retiring in 2022, Tom served four years as the senior consultant for the Educational Advisory Board.
Tom held many professional roles at various organizations with a focus on higher education and financial planning, including president of the Iowa Association of College Admission Counselors, Advisory Board for the Iowa College Aid Commission, Assembly Delegate for the Iowa Association of College Admission Counselors, and Advisory Council Chair for the American College Testing Corporation (ACT). Tom served on numerous committees of the National Association of College Admission Counselors, was the Midwestern representative to the National Guidance and Admission Assembly Council of the College Board, was a member of the advisory board for US News and World Report's annual college edition, and was on the advisory board for Royall & Company.
Tom is committed to improving the community and serving others through volunteerism and community involvement. He served on the Board of Directors for the American Red Cross, volunteers at his church, and coached little league baseball, softball, and basketball.
Tom has received several professional recognitions, including the Outstanding College Representative of the Year, Distinguished Service Award, the Donald V. Adams Spirit of Drake Award, Resolution of Recognition from the Drake University Board of Trustees, and Outstanding Administrator by the Center for Multicultural Excellence from the University of Denver.
Tom married his college sweetheart, Karla (Barnes) Willoughby (C'74). In May 2024, they will celebrate 50 years of marriage. They have three children, Thomas, Jason, and Erin, who are all in professions impacting the lives of children, young adults, and families. Tom and Karla reside in Castle Pines, Colorado. They enjoy hiking, biking, golfing, fly fishing, traveling, and spending time with their five grandchildren, family, and friends.
AWARD OF MERIT
Sade (Pointer) Swedenhjelm (C'15)

Sade (Pointer) Swedenhjelm graduated from the University of Dubuque in 2015 with a bachelor's degree in criminal justice and sociology. While at UD, Sade was involved in many organizations including Phi Theta Psi, TRIO, and Justice Force. She also served as a first-year experience mentor, residence assistant, and student ambassador, as well as participated in intramurals. Additionally, Sade was a member of the track and field team for two years.
In 2015, Sade was named the University of Dubuque Student of the Year. Later that year, she was hired by the Dubuque Police Department and attended the Iowa Law Enforcement Academy. While working for the Dubuque Police Department, Sade became the first female on the Tactical Entry Team and the first Black female firearms instructor in Iowa. As a member of the Dubuque Police Department, Sade served the following roles: lead recruiter, peer support, field training officer, crisis intervention team member, and multiple instructor positions. Through her position with the Dubuque Police Department, Sade also serves the community as a School Resource Officer. Sade was honored to receive a Police Commendation award in 2018 for her actions during a call where a fellow police officer had an emergent medical incident.
Outside of the job, Sade enjoys giving back to her community in a variety of ways. She helps out with initiatives such as Shop with a Cop, Cop on a Roof Top, Toys for Tots, Iowa Special Olympics, Police Explorers, Citizen Police Academy, and Use of Force Forum. Sade will often be seen around UD, catching up with faculty and staff and connecting with students. She enjoys being a mentor for students in the Department of Criminal Justice.
In 2019, Sade married her college sweetheart, Joseph Swedenhjelm (C'13, MBA'17), in Blades Chapel at the University of Dubuque. They welcomed their first child, Liam, in 2022.
SERVICE TO COMMUNITY AWARD
Mikelange "Mike" Olbel (C'08)

Mikelange "Mike" Olbel graduated from the University of Dubuque in 2008 with a bachelor's degree in sociology and criminal justice. During his time at UD, Mike participated in football. He was also acknowledged as Iowa Intercollegiate Academic Scholar, University of Dubuque (2006-2007), was a member of Omega Psi Phi Fraternity, and was a residence assistant - all while working at Hillcrest Family Services. After graduating, Mike received his Master of Science in interdisciplinary graduate studies with a focus on business administration, public policy, and psychology from Iowa State University.
After graduation, Mike began working in youth development at OIC of South Florida where he was a youth mentor focusing on social and emotional development of at-risk youth in South Florida. In 2012, Mike founded the non-profit organization, Team Saving our Youth (Team SOY), aimed at early childhood education, eradicating juvenile delinquency through the development of positive decision making and life skills. Under his leadership, Team SOY has impacted the lives of over 2,000 youth, giving them the ability and confidence to take ownership in the trajectory of their lives. Additionally, Mike is the President and Chief Executive Officer of Community Based Connections Inc., a non-profit human services organization with expertise in delivering youth development, family strengthening, and community empowerment services to 3,000 hard-to-serve populations. Through Community Based Connections, Mike strives to expand the options available to children in Broward County, Florida, that promotes their social and academic growth, equipping them with the skills they need to overcome challenges and thrive in adulthood, regardless of the many negative influences around them. Through his efforts, Mike raises $3 million annually for education and other charity purposes. He strives to create a family preservation system of care to protect traditional policy and family, and he has assisted in creating Health Hubs for underserved community and immigrant families using social determinants of health.
Mike has received several recognitions for his service to his community. He received the Collective Impact for Youth Award at the 10th annual Community Care Plan Non-Profit Awards and was named in the Legacy South Florida magazine's "Introducing South Florida's Most Influential and Powerful Black Professionals of 2021." Recently Mike received the Community Service Award from the Blanche Ely-Pompano Beach Zone and was recognized as one of the "Men of Valor" from RSO Ministries for his work around fatherhood.
Mike married his college sweetheart, Kristen (Swift) Olbel (C'08), in 2014. They are the proud parents of two beautiful children, Mikelange II and Guilia. He recognizes his Haitian descent/immigrant parents for knowing the real meaning of community service and strives to lead by example for his own family. Mike and his family reside in Pompano Beach, Florida.
VOLUNTEER RECOGNITION AWARD
Jan Lombardi (C'72) and David Proudfoot (C'73)

Jan Lombardi graduated from the University of Dubuque in 1972 with a bachelor's degree in psychology. Jan was the assistant editor of the 1972 Key yearbook and managed the campus radio station WGVU. David Proudfoot graduated from the University of Dubuque in 1973 with a bachelor's degree in business administration. David was involved in Alpha Phi Omega, WGVU as the advertising manager and disc jockey, and intramural basketball.
Jan received his master's degree in applied psychology at Loras College in 1994. From 1972 to 1978, Jan was the on-air personality for KDTH Radio. For the past 30 years, Jan has helped individuals with mental health issues, working as a therapist in the Dubuque area. He currently works at WKM Psychology Clinics in Platteville, Wisconsin. Jan volunteers at the Dubuque Arboretum & Botanical Gardens, the Mathias Ham House, and the Dubuque County Historical Society. Jan married his college sweetheart, Joann (Hartman) Lombardi (C'74), in 1975. Together they have two sons, Michael and Robert, a daughter-in-law, Meredith, and two grandsons, Max and Oliver. Jan and JoAnn reside in Dubuque, Iowa.
David received his master of business administration at Keller Graduate School of Management in 1985. Following his UD graduation, David worked at Marshall Field & Co. where he met his wife, Mary Anne. In 1977, David began a career in finance and banking, eventually serving as vice president of banking at several large financial institutions. Before retiring, he was the distribution manager for the DuPage County Treasurer. David served as president of the Palatine Chamber of Commerce in Palatine, Illinois, trail patrol monitor at The Morton Arboretum in Lisle, Illinois, and on the UD Class of 1973 50th reunion committee. David and Mary Anne have been married since 1976 and reside in Wheaton, Illinois.
In February 2016, David and Jan, along with their wives, Mary Anne and JoAnn, visited the University of Dubuque. Enjoying their time on campus, they believed there should be an opportunity for all alumni to experience - hence the "Then and Now Homecoming Tours" were developed. David and Jan's strong knowledge of the University's history and passion for the school was imperative in creating a meaningful tour. David led the charge the first year, created the tour outline, and hosted the Homecoming Tours in 2016. Jan joined in 2017 as the co-tour guide, and now David and Jan are known as the "Homecoming Tour Guides." Over the years, the pair continued to develop an in-depth tour of campus, filled with fun and history. Following the COVID-19 pandemic, David and Jan filmed a virtual campus tour. Homecoming 2023 marked the eighth year of the "Then and Now Homecoming Tours."
VETERANS AWARD FOR DISTINGUISHED SERVICE
CPO Leon "Les" Sonksen (C'52)

Leon "Les" Sonksen graduated from the University of Dubuque in 1952 with a bachelor's degree in economics. Les was a member of the Phi Omicron Fraternity, Alpha Psi Omega Fraternity, student council, Spartan Club, and Student Christian Association. He was also a college photographer for The Key yearbook, Cue, and UD's Office of Public Relations.
Prior to his time at the University of Dubuque, Les enlisted with the US Navy in Waterloo, Iowa, for four years. He went to bootcamp at Naval Station Great Lakes on January 26, 1946, where he was assigned to Company 128-H. Les was pulled from his company after two weeks, assigned as a yeoman recruit, and worked in the Ninth Naval District Headquarter for eight weeks. Les was sent to San Diego, California, for nine weeks of Yeoman School and was then assigned to Service Squadron Two at Norfolk, Virginia, in September 1946. The squadron, stationed aboard a destroyer with two flag captains, plus 30 other officers and enlisted men, were in charge of five cargo ships, four oilers, and one ammunition barge. When they met the Atlantic Fleet to supply what was ordered, Les helped monitor all goods being transferred.
On discharge in November 1947, Les had two more years to serve in the naval reserve but was issued a waiver. He went on to work at John Deere in Waterloo, Iowa, and then enrolled at the University of Dubuque in August 1948. After graduating in May 1952, Les taught history courses for one year at Allison James School in Santa Fe, New Mexico, before moving to Pueblo, Colorado. He went on to receive his master's degree in business education at the University of Northern Colorado in 1961, dedicating the next 29 years to teaching at public high schools. After retiring in May 1982, he continued to teach at the Pueblo Community College for two and a half years.
Les' military commitment continued when he moved to Pueblo in 1953. He joined the Naval Reserve Training Center to complete his remaining two years. He changed his rate to a photojournalist and published a monthly newsletter for the 230 reservists on active duty, and he wrote interest stories of the officers and enlisted sailors for the local newspaper, radio, and television. Les continued his service for 28 years, providing PR to the people of Pueblo. During his last two weeks of active duty training, Les flew to the USS Enterprise, CVAN 65. There he photographed 250 officers and enlisted sailors at their various jobs for seven days. He was flown back to the San Diego naval base, where he processed the film, printed the pictures, and with a short story of each person, mailed the PR to their closest newspapers. Les retired with over 30 years of Navy service as a chief petty officer in April 1976.
In 1951, Les married his college sweetheart, the late Beverly (Vanderlippe) Sonksen (C'51). Together they had four children, Donna, Nancy, Deborah, and Mark (deceased), five grandchildren, and seven great grandchildren. In October 2019, Les married Arlys (Kannegieter) Williams (C'52). Les and Arlys reside in Dubuque, Iowa. They enjoy spending time with family and friends and attending events at the University of Dubuque.
* Photo (L to R): Thomas "Tom" Willoughby (C'72), Jan Lombardi (C'72), Mikelange "Mike" Olbel (C'08), David Proudfoot (C'73), CPO Leon "Les" Sonksen (C'52), Sade (Pointer) Swedenhjelm (C'15), Barbara "Barb" (Kelly) Smeltzer (C'66), and Jack Smeltzer (HON'02).