The Salt Company Comes to UD
By Stacey Ortman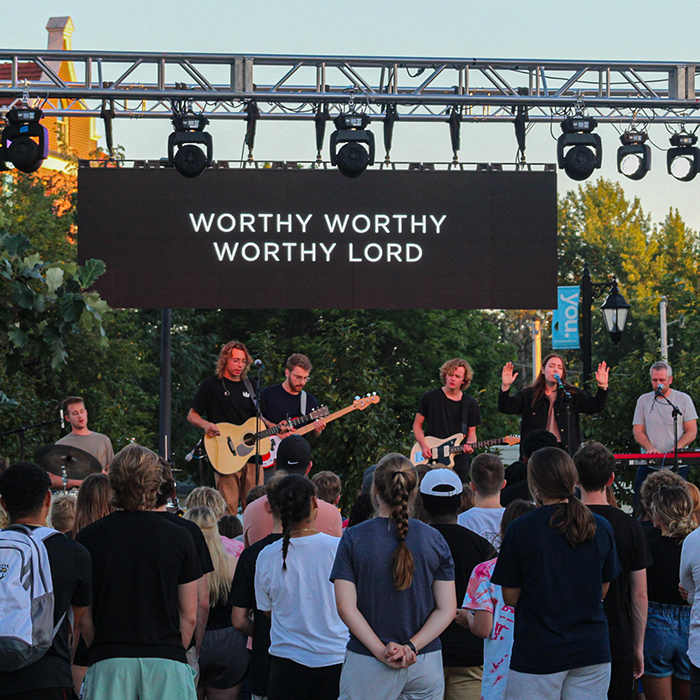 DUBUQUE, Iowa - A new to Dubuque ministry for college students launched their first worship service on the University of Dubuque's campus on Thursday, August 31, 2022.
The Salt Company will hold weekly worship from 7:00 to 8:30 p.m. Wednesdays in Blades Chapel during the academic year. The collegiate ministry is open to all college-age young adults.
"They can expect a community that cultivates a welcoming culture, that stands on the word of God ... and has a lot of fun doing so," said Austin Kloewer, director of The Salt Company.
Rev. James Gunn, DMin, dean of chapel, said he is grateful to have a partner in The Salt Company to reach students with a broader ministry that encompasses all Dubuque area colleges.
"Campus Ministry is excited for this kind of ministry that is intercollegiate with other schools in town," Gunn said, adding. "What excites me is the conviction and passion to mentor and disciple students and young adults."
The Salt Company is part of a larger ministry active in places like Ames, Iowa, and Iowa City, Iowa. The worship night on UD's campus is connected to Veritas Church Dubuque.
Veritas Church Dubuque will launch in-person preaching and worship at 10:30 a.m. Sunday, September 11, 2022, in Blades Chapel and will gather weekly on Sundays.
"We're very thankful for the opportunity," said Jeff Dodge, teaching pastor with Veritas Church Iowa City who worked with people in Dubuque to start Veritas Church Dubuque.