Students Use Strategies Learned at Peer Support Workshop to Help Others
By Stacey Ortman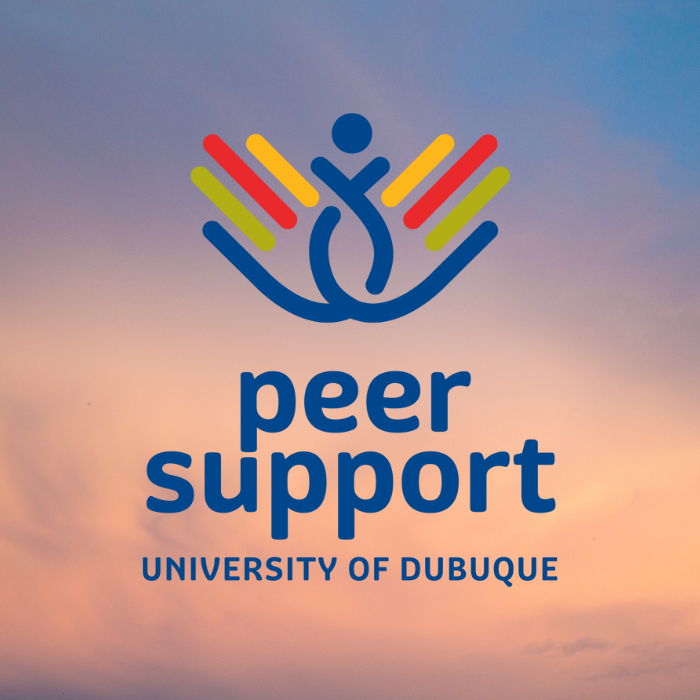 DUBUQUE, Iowa - During the 2022-2023 academic year, 35 University of Dubuque students were taught the strategies necessary to assist their peers as they face situations and conflicts that may affect their brain health. Those tools were shared thanks to a new initiative known as the Peer Support Workshop.
Emma Powell, a senior communication major, continues to cherish the connections she made with those who attended the fall workshop.
"I made a lot of friends in this workshop, and we want to bring more awareness to brain health and the Peer Support Workshop to show that we are different at UD as a campus and we do care about people's brain health," Powell said.
Students who were nominated were offered the opportunity to participate in the weekend workshop. Chris Phillippe, a first-year flight operations major, attended the spring workshop.
"I decided to participate because brain health is a really big thing for me. My family has a pretty vast history with brain health, and I feel like this topic should be talked about more with a free view on it and less of a frightening view," he said.
For Phillippe, the people who attended the workshop helped create a meaningful experience.
"It was an extremely vulnerable place, but it was safe. You could come out of your shell and talk to people," he said.
Throughout each workshop, self-care was a priority and strategies were emphasized on how students can prioritize self-care so they are able to better help the people around them.
"We learned obviously you can't pour out of an empty cup - so putting yourself first and knowing that you have to be at 100 percent in order to help someone," Powell said.
Another important lesson shared with attendees was the difference between sympathy and empathy.
"It's important to be more empathetic versus sympathetic," Phillippe said, adding. "Once you learn how to connect with someone and put yourself in their shoes and do it in a safe and respectful way, I feel like that's a huge part of what connects a community."
Attendees also discovered how listening to others can be impactful.
"We learned sometimes someone just wants you to be there to listen and they don't want your advice. Before the workshop, I was one to be like, 'I think you should do this or I think this would be the best option.' But now I've caught myself asking if they want me to listen or if they want my advice. There's been multiple times when they're like, 'I just really need someone to listen,'" Powell said.
Phillippe added, "I'm pretty vocal about being able to talk about brain health, so I've had people come up to me and admit they're struggling and a lot of times they just need someone to talk to."
The Peer Support Workshop was an idea sparked from a webinar about the struggles college students face and how they turn to their peers for advice. Jane Boge, academic success coach in the Center for Advising, watched the webinar and felt inspired empowered to do something.
"When obstacles are in the way, learning does not happen. In my position here, I work with those students who are struggling with their academics. Often something in their lives has happened to take priority over their academics. That webinar got me thinking about what we could do to assist all students as a whole, since they are turning to their peers for help first, not necessarily their advisor, counsellor, or instructors," she said.
Boge, with the help of talented faculty and staff across campus, created the Peer Support Workshop as a collaboration in academic, social, and emotional support. Students are not only given the tools to help their peers through concerns with brain health, but they are also given guidance on when and where to direct individuals if they need more serious help.
"This workshop, I feel, tapped into what our students' God-given talents already are to really create a culture here of care on brain health," Boge said.
The Peer Support Workshop was funded by Marty and Nancy McNamer. Since the death of their son Joey, they have been committed to ending the stigma around brain health and will often be seen sharing their personal story and emphasizing how words matter.
For more information about the Peer Support Workshop, please contact Jane Boge at JBoge@dbq.edu.