Spartans of UD - Jacob Whitbeck
By University Relations Staff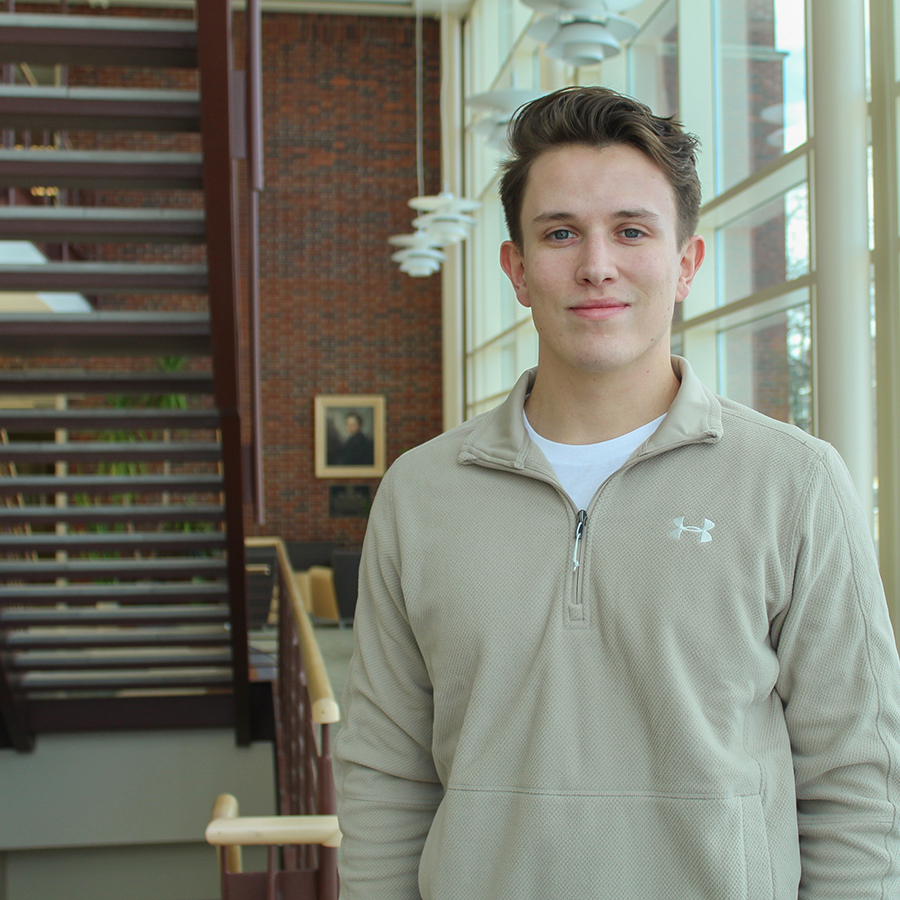 Spartans of UD highlights what makes the University of Dubuque special - the people.
Jacob Whitbeck, of West Salem, Wisconsin, is a senior biology major. He will attend the University of Wisconsin-Madison School of Pharmacy starting fall 2022.
What inspired you to attend pharmacy school?
"My decision to attend pharmacy school derives from a lifelong fascination with medicine. Growing up playing sports year-round has introduced me to countless injuries that have left me sidelined. However, it was always medicine that had helped me get back on the field, and that was something that I have grown a deep interest in over the years. My fascination had turned into curiosity, and that curiosity had led me to wanting to study medicine and how it works within the body. Another aspect of pharmacy that was always mind-blowing to me is the knowledge and expertise displayed by pharmacists on a day-to-day basis. Pharmacists know most medicines like the back of their hand, and they are always able to relay that information to patients in terms that the patient can understand. Being able to display that knowledge to help people live a healthier life is intriguing to me and is something I want to do in my future."
Kendall Loggins, MA, health professions advisor at the University of Dubuque, worked with you through your application journey to pharmacy school. Can you share how Kendall's guidance helped you during the application process?
"I really cannot thank Kendall enough for all the help she has given me through the application process, and I would not be in this position without her guidance. When I decided to start the application process, I honestly had no idea where to even begin. I met up with Kendall in hopes that she would be able to point me in the right direction, which thankfully she did, and I was able to finally get the ball rolling with my application. Kendall was kind enough to assist me with any questions I had while working on my application, and it was clear to me that she wanted my application to be perfect as much as I did. Along the way, she was also able to set me up with a mock admission interview, revise my personal statement numerous times, review my application before submission, and give me access to resources that taught me how to be the strongest applicant possible. She always went the extra mile to make sure I was set up for success during the application process, and that is something I am incredibly grateful for."
What advice do you have for other students interested in attending a health professional school?
"My first piece of advice to other students interested in pursuing a health profession is to embrace the grind of being a science major. Finding success as a science major takes countless hours of hard work and determination, but excelling and earning the grades you desire makes the grind worth it. Additionally, don't be afraid to work together with your classmates and learn from one another. If it weren't for studying with my classmates, I wouldn't have found as much success as I have as a science major, and I hope that I was as helpful for them as they were for me. A second piece of advice is to gain experience, whether that be through research or experience that pertains to your specific career goals. Not only does the experience help build a strong resume, but there's a lot to learn while actively taking part in the opportunities that arise during the undergraduate journey."
How has the University of Dubuque's Department of Natural and Applied Sciences prepared you for your transition to the University of Wisconsin-Madison School of Pharmacy?
"The University of Dubuque's Department of Natural and Applied Sciences has prepared me for pharmacy school through the education and opportunities that are provided to all students. The faculty within the Department of Natural and Applied Sciences have shown that they have a passion for educating their students, and that passion made receiving an education at the University of Dubuque more enjoyable and effective. The University of Dubuque Department of Natural and Applied Sciences has also given me many opportunities to broaden my knowledge beyond the classroom. For example, I was fortunate enough to be a part of the 2021 Joseph and Linda Chlapaty Summer Research Fellowship. This fellowship gave me the opportunity to conduct my own research project with the assistance of a faculty member. My mentor, Dr. Sinton, did an excellent job of ensuring that I was gaining knowledge of working in a lab and performing my own research, which will be necessary skills I will need as I move on to my next chapter at UW-Madison School of Pharmacy. The Department of Natural and Applied Sciences has done a fascinating job preparing me for the next four years in Madison, and I have the utmost confidence in my education going forward."
Why did you choose to study biology at the University of Dubuque?
"I chose to study biology at the University of Dubuque because I knew my best choices of majors for a pharmacy career path were going to be biology or chemistry. During the college application process, I noticed that the University of Dubuque had an exceptional science program that I knew I wanted to be a part of. Being that I have always been fascinated with the science behind living things, I chose to major in biology. However, about a year into my undergraduate education, I found that I was also very interested in chemistry, so I decided to add chemistry as a minor. Adding chemistry as a minor was one of the best decisions I have made here at UD because it allowed me to expand my knowledge of science by diving deeper into chemistry, which will also help me transition into studying pharmacy at UW-Madison."