Spartans of UD - Savannah Stookey
By University Relations Staff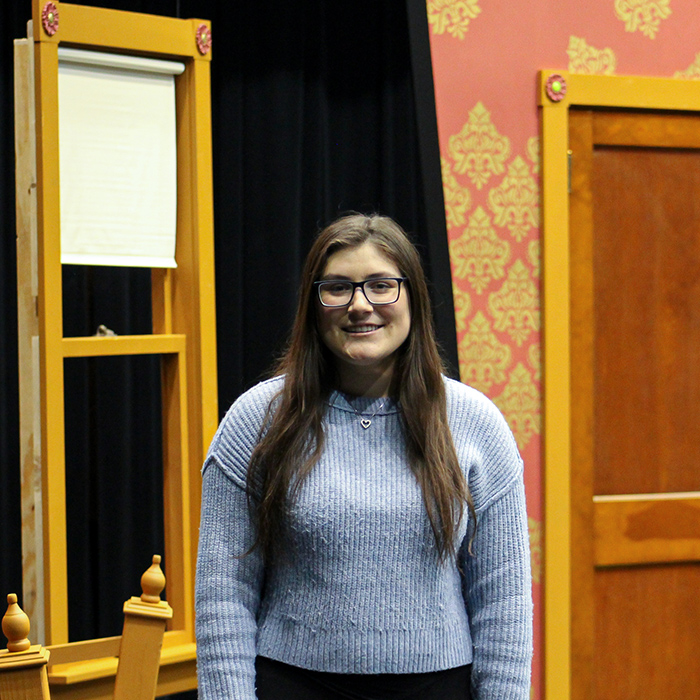 Spartans of UD highlights what makes the University of Dubuque special - the people.
Savannah Stookey, of Solon, Iowa, is a first-year pre-education and elementary education double major. A theatre minor, Stookey will be in the Department of Fine and Performing Arts' performance of The Underpants, by Steve Martin, at 6:00 p.m. Thursday-Saturday, March 16-18, 2023, in Babka Theatre, Heritage Center.
What inspired you to get involved with theatre?
"I was involved in theatre from the age of 10 and have kept going with my passion. I love being in the arts; the theatre is a special place with so many benefits. The people are the best ones you will ever meet and will become some of your best friends. I stayed involved because I wasn't ready to let go of those connections that you can make."
Can you share your role in The Underpants, the spring theatre performance? How have you approached developing your character?
"My role in The Underpants has been a challenging one. Louise is the name of my character, and she is a stay-at-home wife in a German home. She is such a real person that I know existed at one point in time. Throughout the story, Louise meets two men that are trying to pursue her interest in love. She is conflicted as she wants to love her husband, but he is not the best husband for her. I have struggled to play this role because Louise needs to be a person pleaser and a stay-at-home wife. As a woman today, I have worked to get where I am. I have gotten past the 'housewife' figure and have been able to get my own job, have my own opinions, and have access to other opportunities that women 100 years ago or even 50 years ago didn't have. Going back in time for this play has been a challenging one, but I know that my co-actors have nothing but respect for me and the other women in this play."
What do you hope the audience will take away from the performance?
"The one thing that I hope the audience takes away from this performance is that happiness and love is all around you - whether it is in the people who are with you or even within yourself. I also hope they take away that everyone deserves to be happy even if they do not believe so."
This is your second theatre performance at the University of Dubuque, having played Belinda/Flavia in Noises Off in the fall. What have you enjoyed most about being involved in the theatre program so far?
"The main thing that I have loved being in the productions here at UD is the confidence builder. Greg Wolf, assistant professor of theatre, has worked so closely with all of his actors and has been equal parts a teacher just as much as a friend. In the theatre, he gives us corrections with ease and allows us to explore our characters through helpful pointers. He is always saying how well we are doing and it is so encouraging. Since being in this program, my confidence and self-esteem has gone through the roof. I have been able to grow as a person and have found a family here in Dubuque."
What advice do you have for future Spartans who aren't theatre majors but may consider participating in theatre?
"The one piece of advice that I have for future Spartans is to just go for it. Theatre is so new to many people and it is one of the best things you can do on campus. When you are part of a show, you meet people who build you up and love you for who you are. You also discover a new part of yourself. Acting can be such a scary thing, but in the end, you know you are doing the best you can and that is enough. Being in the theatre has made me realize that I am good enough."