Spartans of UD - Samantha Wubben
By University Relations Staff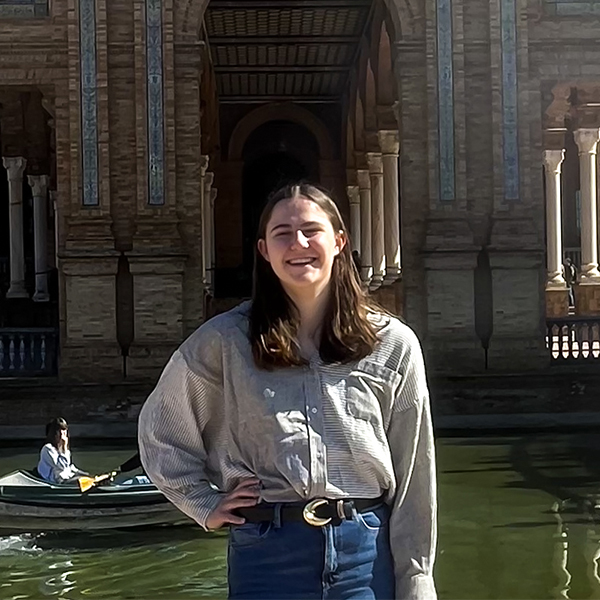 Spartans of UD highlights what makes the University of Dubuque special - the people.
Samantha Wubben, of Fennimore, Wisconsin, is a junior human health science major. She traveled with the women's volleyball program February 25, 2023, through March 5, 2023, to explore and play volleyball in Europe. The trip is one of many study abroad opportunities available through the University of Dubuque to diversify students' education, build cultural competencies, and connect with a global community.
What will you treasure most from your time traveling and playing volleyball in Europe with the women's volleyball team?
"I treasure the time that I got to spend with my teammates. We spent a lot of time together and became closer as a team as we explored a different culture. I not only got to learn more about the world on this trip, but I got to learn more about the girls I was traveling with."
How did it feel to play volleyball with teams in Portugal and Spain?
"Getting to play against the teams in Spain and Portugal was an unbelievable opportunity. Some of the rules were different than in the United States including how they warmed up. I especially liked it when we ate dinner with some girls from the Sevilla team after the game. Though there was a language barrier, we still got to have a great time learning about each other."
What is something you learned during this particular trip?
"I learned a lot about Portuguese and Spanish architecture and food. We got to see many beautiful buildings as well as eat so much delicious food. The people we met along the way were so welcoming and eager to share all of it with us."
What is your advice for other Spartans interested in study abroad or international travel opportunities?
"You should take any chance you get to explore the world with different people because it helps you grow as a person and appreciate others a little bit more."
In your opinion, what makes the University of Dubuque special?
"I think what makes UD special is the people. The small campus allows you to really get to know your professors and peers. Everyone is so friendly and ready to help you succeed. UD also has numerous unique opportunities to become involved, meet people, and do things I thought I would never have a chance to do."