Spartans of UD - Riley Sindt
By University Relations Staff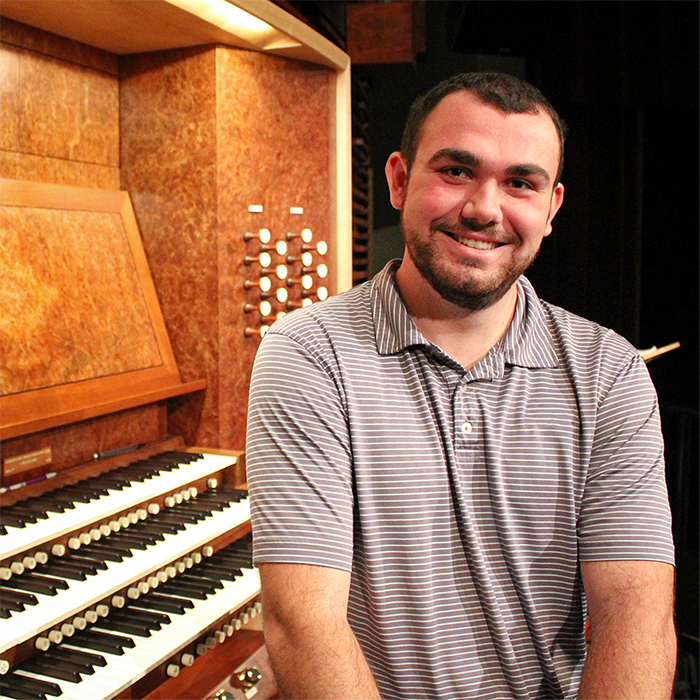 Spartans of UD highlights what makes the University of Dubuque special - the people.
Riley Sindt, of Eldridge, Iowa, is a sophomore music major with an emphasis on the pipe organ. The band arrangement of his original piece, The Peace Within, premiered at the Fall Concert presented by the Department of Fine and Performing Arts on October 22, 2021, in John and Alice Butler Hall, Heritage Center.
1. How would you describe The Peace Within?
"The Peace Within is a memorial piece commemorating one of my longtime childhood friends, SJ Madden, who tragically passed away in a car accident. It is a soft, contemplative piece that is designed to aid someone in grief. Originally written as an organ solo, it contains lots of different sounds to represent the different stages of grief. It is written in a minor key and is soft, representing sadness and pain. The melody is intentionally thinned out at the beginning, representing the lack of words when the initial shock of grief sinks in. As the piece progresses, the melody grows stronger and stronger, representing the whirlwind of emotion surrounding the situation at hand, ranging from the major key modulation representing joy from memories and the soft clarinet solo representing the words beginning to flow from a broken heart. Finally, the piece ends in a thin, yet rich, major chord, representing the hope that we will one day be reunited with our loved ones."
2. Is The Peace Within the first piece of music you composed?
"It is not. My first composition was when I was in third grade. My piano teacher and I worked on it together to submit for the annual Composition Contest. This piece was titled Paths of Parkview, and I still have the original copy. In 2020, I wrote an organ suite titled Music Theory Suite. This suite consisted of seven pieces, with each piece being written for a different member of the class and concludes with a Toccata. I have written a few piano and organ pieces that range from original melodies to hymn voluntaries and even a couple of choir arrangements of hymns, which I primarily write and use at my church. However, The Peace Within is my first piece to be performed publicly with a full ensemble and is the first piece of mine to be professionally transcribed for a full concert band. I am currently in the process of writing a choir piece, as well as a couple of piano pieces."
3. What is your process when composing a piece of music?
"There really isn't a set process. I believe that music must be truly felt and connected with before it becomes a piece. I periodically like to sit down and just play whatever comes to my mind. Most of the time, they are usually just a compilation of random notes with no meaning. However, every now and again, I will play something that sticks with me and connects with me. Sometimes, it will bring up a memory, or it might just simply seem catchy to me. These are the pieces that I eventually write out.
"First, when I find a piece worth writing, I record it. Then, I write it out based on what I hear. After I write it out, I re-record what I have written, then play it back and make any needed edits. I repeat this process until I am happy with what I have produced. This can take as few as two times to as many as 15 times. Finally, I write a cover for the piece. The cover includes the inspiration behind the piece, a brief composer biography, who the piece is dedicated to, notes about the piece, performance notes, etc."
4. How did you feel during the world premiere performance of the band arrangement of The Peace Within?
"I had a ton of emotions running through me during the world premiere. First, I was incredibly grateful for the opportunity. This was my first official debut of a piece, and the Madden family, the family of my late friend whom the piece was dedicated to, had come to the performance. I was also filled with appreciation for my late friend. It was when I was seated at the bench that night when I realized all that he had done for me, both when he was living, and in death. It was a truly life-altering experience. I admit I still felt a bit of pain, since I know that if my friend had still been alive, he would have been there for my performances, and I do miss him dearly in those moments. It was through music that we bonded. But I also felt a great deal of peace, since I could feel his presence both in the auditorium, and with me."
5. When did you know you wanted to play the pipe organ?
"Believe it or not, it was a coincidence. In October of 2013, I was supposed to play the piano for a wedding. However, my piano teacher had informed me that the church's piano was broken, and she showed me how to use the manuals (keyboards) of the organ, and I was instantly hooked. Over the next year, I began to explore the organ, playing and practicing when the sanctuary was empty after church. Shortly after that, our pastor got word that I was beginning to dabble in the organ, and he began to get me involved with the music at church. I began to play bits and pieces of the service, which eventually turned into full services. Then, in 2018, my friend passed away and I played for his funeral service. It was after this that I began playing for more and more services. Word spread around my town that I had picked up playing the organ, and by the end of 2018, I was the organist for four churches. It was at this point that I knew that I could make a career out of this. Fast-forward to the present, and I am the director of music for a church here in Dubuque, and I serve as a substitute organist at several churches both here in Dubuque and back in my hometown."
6. Why did you decide to attend the University of Dubuque and play the pipe organ?
"I had known I wanted to study pipe organ music before I knew about UD. Playing the organ was, and still is, truly a passion of mine. I have played at least one service a weekend for the last four years, and I still get excited when I am preparing to start the opening hymn. I chose UD because of its small campus and the new organ program. I knew that coming here would give me that one-on-one setting that I rely on to improve, and Dr. Barland offered me a studying path that was absolutely perfect for my needs and my end goals."