Spartans of UD - Molly Zogas
By University Relations Staff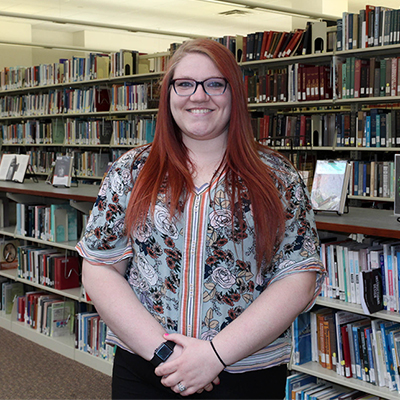 Spartans of UD highlights what makes the University of Dubuque special - the people.
Molly Zogas (C'17) is the library office manager at the Charles C. Myers Library.
What do you enjoy most about being the library office manager?
"Working in the library has been such a fun experience. I started when I was a student as a work-study job and when I graduated, the office manager was leaving, so I applied. I really liked all the people I worked with so when the possibility came up of me working full-time, I jumped at it. I love working with the people here. We all love what we do and have fun doing it. We work really hard to highlight each other's strengths and we are all close so working never really feels like working. Besides the people, I love that my job is not the same thing every single day. It would get really boring for me if I did the same thing day after day. There are a lot of projects, displays, and miscellaneous things for me to do that keep the workday interesting and exciting!"
What are some of your favorite activities/events that you have been able to help with in the library?
"My favorite program that we do at the library is hosting Finals Study Break, because it is a lot of fun to set up the food and snacks for students to have a little break while studying for finals. The students all seem to really appreciate it and it's nice to talk to the students and see how they are doing. It's nice to provide a little distraction during such a hectic time for them. I also really enjoy putting on Apex. It is really amazing to see the work that the students put into research and projects. They work so hard so showcasing that is really great. Another thing the library does multiple times a year is set up displays around the library. We have book and movie displays around the library that are fun to set up because we get to highlight different books and themes that we think students would like to see, but we also have an interactive display and new voting display that are super exciting. It's a lot of fun to set up an interactive display and see how the students interact with it: be it building with the Legos, leaving inspirational notes, or voting on whether they think Die Hard is a Christmas movie. It always feels good when I hear students debating on polls or talking about their Lego creations."
What do you wish you would have known about the library when you were a student?
"When I was a student, I spent a lot of time in the library. I was a student worker there and I had a class taught by a librarian. Because of that, I knew a lot of things about the library, but I also realized how many things the library provided that students didn't know about. I think the biggest thing was just how many resources were available. Yes, you can go to the library for help on research and finding resources for papers, but there are also so many other things that the library offers. The library has over 160,000 physical books so there are a lot of options for educational or leisure reading. We also have tons of board games, phone and computer chargers, happy lights, audiobooks, umbrellas, and external DVD drives. We are always looking for more suggestions as well. I think it would have been really cool to know just how many things the library had to offer, because you don't always realize all the things the library can provide."
Can you share some advice for students as we approach finals week?
"My advice as you approach finals week would be to hang in there and take your breaks. Oftentimes we forget about taking care of ourselves when we are in 'crunch time.' But self-care is so important. You can't run on maximum forever. Put in the work, but don't forget to prioritize yourself. Schedule breaks if you need to, but make sure you think about yourself as well."
What is your favorite book or book series? Why?
"This is always a tough question for me. There are a lot of good books out there and narrowing it down can be tough! I guess I'll just mention what I've read recently and really enjoyed. I have been on a Stephen King kick, so anything by him is usually a winner for me! But one series I really enjoyed was The Raven Boys series by Maggie Stiefvater. It is a YA series that has everything I love in a book: mystery, suspense, unexpected twists, and more! And I love the way Maggie writes her books!"