Spartans of UD - Mackenzi Young
By University Relations Staff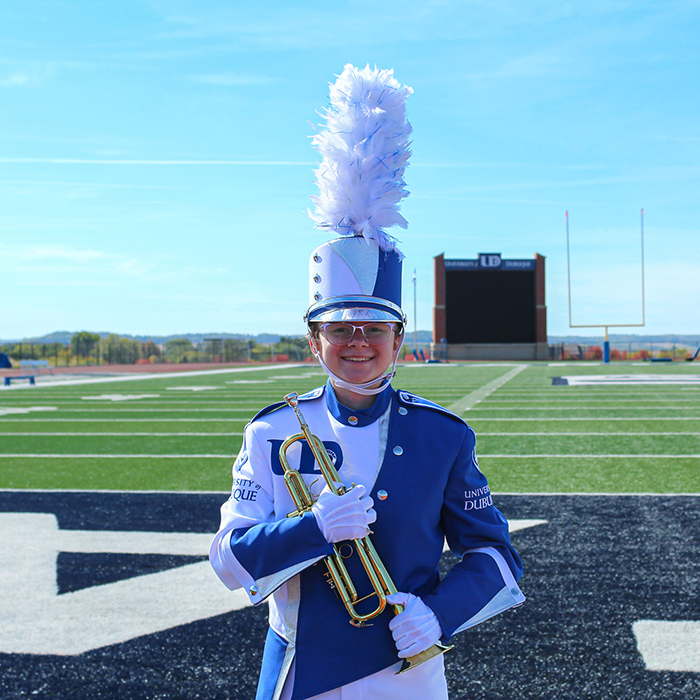 Spartans of UD highlights what makes the University of Dubuque special - the people.
Mackenzi Young, of Epworth, Iowa, is a sophomore accounting and music double major who is one of the original members of UD's Marching Band. She plays the trumpet in the new ensemble that performs at athletic events throughout the fall semester.
What do you enjoy most about being part of the inaugural season of the marching band?
"I enjoy getting to meet new people and be a part of a marching band again. I loved marching band in high school and I am so glad I get to do it again in college."
In your opinion, what does the marching band add to athletic events?
"Marching band adds more team spirit to games. We help cheer the team on with music and hype up the crowd all game long!"
Why did you decide to join the marching band?
"I decided to join marching band because I loved it in high school and missed it. I also wanted to join because I wanted to meet new people."
What inspired you to play the trumpet?
"My dad inspired me to play the trumpet. He played the trumpet all through high school, so when I was deciding what instrument to play I knew I wanted to play his trumpet. I still have his trumpet and play it today."
What advice do you have for a fellow Spartan who is interested in joining the marching band?
"If you want to join marching band talk to Evan Glickman, director of jazz and athletic bands. We would all love to have you and can't wait to see how big our marching band can get!"