Spartans of UD - Lexi Maas
By University Relations Staff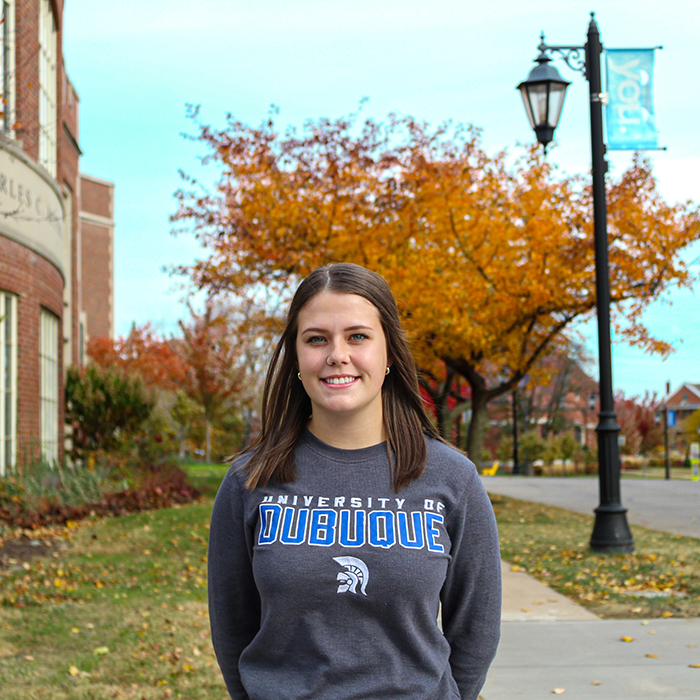 Spartans of UD highlights what makes the University of Dubuque special - the people.
Lexi Maas, of Dubuque, Iowa, is a senior psychology major. She is president of Lambda Pi Eta, the student honor society of the National Communication Association, as well as the National Society of Leadership and Success.
What inspired you to study psychology?
"When I took psychology in high school I fell in love with the topic, partially because of my amazing teacher, Adam Miller. After my first psychology course, I just couldn't stop thinking about how the brain works and researching why people behave the way they do. I also love to help people, specifically children, so psychologists get to do both. They get to research people but also help in a variety of ways. Psychology has also been a huge part of my own life. I have learned to overcome challenges and better myself by understanding the inner workings of my own self through psychology courses."
Why did you decide to get involved on campus and become president of Lambda Pi Eta as well as the National Society of Leadership and Success?
"When I came to UD, I felt there was a lack of student involvement. I really wanted to change that and create organizations that people would want to be a part of. As a transfer student, it was also hard to make new friends and adjust to a new university. So, I got out of my comfort zone and got involved in what I could on campus. As president now, my goal has been to create a place for students to have fun and make new friends outside of class, and I think our organizations have done a great job at that so far."
What do you enjoy most about being involved in those student organizations?
"I enjoy the support from students and staff. Being part of these organizations has made me a better person academically and professionally. I really enjoy being part of something that makes me feel good at the end of the day and helps students succeed at UD. I have also met so many different people that I wouldn't have met otherwise. Being in an organization really helps meet other students outside of your major or minor that you wouldn't normally interact with. That's what I love about it because there's so many people to meet and you always learn something new from them."
How do you balance your academic responsibilities with your student organization responsibilities?
"Every minute counts when you have multiple priorities. Even if it's a 20-minute break between classes, I use every minute to start or finish something. It's also important to take time for yourself to be able to stay productive. It's always okay to say: 'I need a minute to myself.'"
What advice do you have for future psychology majors?
"My advice to psychology majors is to really absorb the content and apply it to your own everyday experiences. Whether that's observing yourself or others around you. Psychology is everywhere. There are so many careers that are tied to psychology, so find what fits you best and be passionate about it. Use psychology to make the world a better place."