Spartans of UD - Larry Murray
By University Relations Staff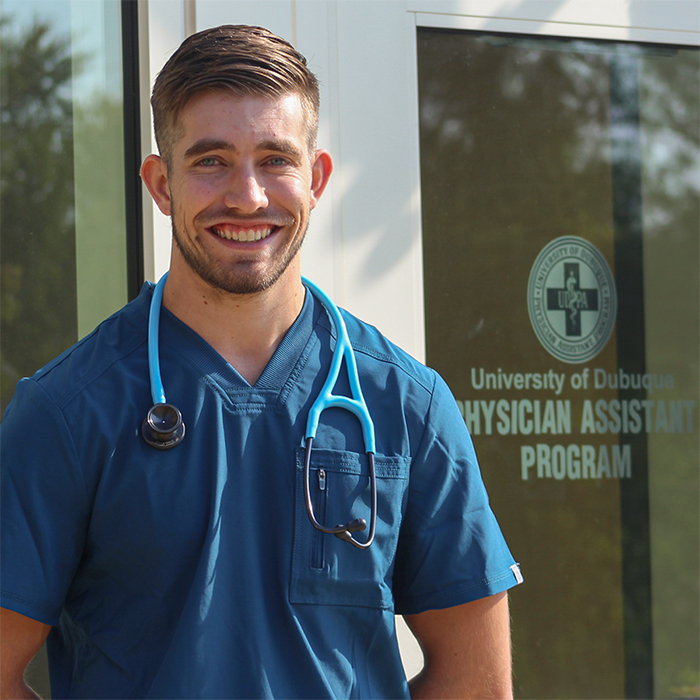 Spartans of UD highlights what makes the University of Dubuque special - the people.
Larry Murray, of St. Louis, Missouri, is enrolled in the master of science in physician assistant studies program. Prior to his arrival at the University of Dubuque, Murray worked as an EMT in St. Louis and was deployed to New York City as a COVID-19 Task Force Member (EMT-B) to provide emergency 911 care in the midst of the pandemic.
How did you learn about the opportunity to work on the front line of COVID-19?
"I was selected from my operation in St. Louis to go. In April 2020 COVID-19 was declared a federal emergency in New York City. During this time, NYC was experiencing twice as many 911 emergencies and a large portion of the city's first responders were forced to quarantine after contracting COVID. So there was a huge deficit in their health care system, and they needed people to take care of all the patients and run all the calls. I was one of the people that was selected to do that."
Even though you were picked, you were not required to go. Why did you decide to become a COVID-19 Task Force Member (EMT-B) in the Bronx during the pandemic in April and May 2020?
"For a lot of reasons, I guess. There was a huge void and people's lives were at stake. Anytime you have an opportunity to help someone who really needs it, I think it's important to go and answer that call."
How did that experience affect your life and decisions that you make now as a physician assistant student?
"On the basis of COVID, I've been really active in informing people the severity of COVID and the complications that people have experienced from contracting this virus.
"From a health care experience, many of the sickest patients I cared for were during my time in NYC. I learned a lot. I had to take on a lot of skills and responsibilities that weren't typical in a normal work day back home in St. Louis. I just saw a lot more sick patients and a lot of things I didn't see in St. Louis.
"My intention is to go into emergency medicine, so having that experience prepared me hopefully for whatever comes my way in clinicals and my career beyond."
You will enter clinicals in January 2022. How will your experience on the front line of COVID-19 and as an EMT in St. Louis help you in your clinicals?
"Being an EMT and having to assess patients out in the field is certainly going to help me with asking the right questions and being comfortable talking to patients during my clincials because it was part of the job daily on the ambulance.
"From my experiences in New York, I learned the challenges that may arise when providing health care to a diverse population. I thankfully minored in Spanish in college, but it was still a challenge to provide a high level of care in the Bronx where much of the population was strictly Spanish speaking. In general, I believe my experience as a first responder in New York during the pandemic has prepared me for hopefully anything I will encounter during clinicals because we cared for patients with a wide variety of medical emergencies while we were there, along with all of the COVID cases."
When did you know you wanted to become a physician assistant (PA)?
"When I shadowed my first physician assistant and saw how much interaction he had with family members and patients, I had a pretty good idea I wanted to be a PA. I had shadowed doctors before and it just didn't seem as hands on. The PA I shadowed worked in a burn unit and he provided daily care to all the patients in the unit, which allowed him to build a strong personal relationship with the patients and their families, which I thought was a special thing.
"Working as an EMT also reinforced my belief that direct patient care was an important aspect I wanted in my future career. It was the combination of those two experiences that did it for me."
What do you enjoy most about attending the University of Dubuque?
"In terms of the program, the faculty are awesome. They've been an excellent source of information, they've been great mentors, and they've been great people overall. I've really enjoyed being on campus because it's kind of like being an undergrad again at times. I've been pretty involved whether it be working out in the rec center, going to various UD events on campus, or playing in intramural sports with my classmates. It's overall been a great experience for me."